Where the world gathers for
plating, anodizing, & finishing Q&As since 1989
-----
The problem about the internal stress in nickel sulphamate electroforming bath
2005
Would you please give me some idea why my nickel sulphamate bath have compressive stress. According to some books, the sulphamate will give the tensile stress but not compressive stress in the condition that are shown in below:

The conditions: Nickel sulphamate: 501 g/l
Boric Acid : 45 g/l
Volume of the bath: 5 L
Wetting Sodium dodecylsulfate (SDS) 0.2 g/l
Saccharin : 3 g/l
Temperature : 57 °C
pH : 4.2
Anode : platinum coated titanium mesh (insoluble anode)

The current density: 5 A/dm2

Equipment used : spiral contractometer

Stress measured : -83.3 MPa
Can you please give some idea why compression stress but not tensile stress
F.Y.CHAN
R&D - H.K.
---
2005
You have two very good reasons! Saccharine will drive the stress compressive and you are using a LOT of it. This will typically reach a given level and stay there until you add more. It may slightly climb due to drag out.

Your stress will definitely become more and more compressive as you use it because you are using an insoluble anode! The anode reaction breaks the sulfamate radical down and one of the breakdown products is very strong in driving the product compressive. Also, your pH should be dropping instead of rising, so you are probably having to add caustic or similar to maintain the pH. (which is a pain)

I have no idea of what you are plating, but you should be using S nickel in bagged titanium mesh anode boxes. If you have a very nasty place to get plating into, you should restrict the insoluble anode size to the absolute minimum and consider using a separate power supply to apply a minimum voltage/amperage to the insoluble anode.

I would suggest that you do some extensive reading on sulfamate nickel so that you will know what will happen when you get away from traditional plating.

Replenishment of the nickel ion costs a lot more than using S nickel anodes.
James Watts
- Navarre, Florida
---
2005
I do not know what books you are reading, but saccharin will cause compressive stress, as you have discovered. Furthermore, from your process description, the saccharin is doing exactly as it should. I also do not know why you are using inert anodes - sulphamate nickel works extremely well with S nickel anodes and they are cheaper than using nickel salts to replenish your metal ion content. I would also reduce your pH to between 3.7 and 4.2, not keep it at the top end, which will invariably rise further as the bath is used. Other than that, I think your process is in good working order.

Trevor Crichton
R&D practical scientist
Chesham, Bucks, UK
---
2005
Thanks for give the idea why my process have a high compression stress. For my process, I need to achieve a very small object. If I use the nickel anode, it may have some small particle coming out when the anode dissolving out and stick on the surface of the object. Can you suggest some solution about it. I think the pore of anode bag is too big to let the 'dirties' come out.
F.Y.CHAN
- HK
---
2005
Use a very good filter system; say 10-12 tank turn-overs per hour and a filter of 0.5 microns. You can also put one anode bag inside another; this will improve the collection of any debris around the anode.

Trevor Crichton
R&D practical scientist
Chesham, Bucks, UK
---
2005
Mr. Chan,

I absolutely agree with all the other responders. In fact, Saccharin causes stress, allow to drop down the content of Saccharin to max.2 g/l. But what I was missing is the content of chloride, this should not be above 3 g/l (literature says 2-5 g/l Chloride).
About the anodes:

Using of Nickel S rounds (or pellets, etc.) has a lot of advantages, one of them is to reduce your "free" break downs. If you use anode bags (made out of cotton or PP) you should not got a problem with rough deposits. If so you can try to use filtration agents.

Pumps:
A electrolyte turnover of 4-5 times/hour should be enough, more turnovers are mostly not necessary and can cause a bad nickel distribution.

pH is perfect@ 4.0 adjust if necessary with sulfamic acid (dropping down) and to increase use nickel carbonate or (carefully) diluted ammonia, be aware, first one is difficult to dissolve. Also I would NOT suggest to use caustic soda to adjust the pH.

Regards,
Dominik Michalek
- Mexico City, Mexico
---
2005
Dominik, I know why you say a high filtration rate can cause bad nickel, but if the outlet and inlet pipes are correctly located, this should not be a problem. Recommended filtration rates are always being increased and I stand by my 10-12 t.o./hr. This is easily achievable and it keeps your plating solution very clean. The use of nickel carbonate has been widely discussed on this site and I advocate using sodium hydroxide to increase the pH; I say so because nickel carbonate is a particularly nasty material, with a strong indication of being carcinogenic, or so the health and safety people say. I would never use ammonia to increase the pH as this will induce stress into the deposit. Note that when sulphamate is heated to over 70 °C it hydrolyses to form ammonia and sulphate - this is bad news for low stress deposits and is why no-one operates nickel sulphamate at 70 C!

Trevor Crichton
R&D practical scientist
Chesham, Bucks, UK
---
2005
Heavens NO NO NO - do not use ammonia to raise the pH ! Ammonia causes brittleness in the deposit and the complex it forms cannot be removed. Ammonia forms naturally with high current density, inert anodes, and high temperatures.

Robert H Probert
Robert H Probert Technical Services

Garner, North Carolina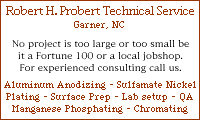 ---
2005
Hey Trevor, Hey Rob,

okay, ammonia would might not be the right stuff to adjust the pH, carbonate for sure is kind of dangerous (humanside), but I neither like to adjust the pH with caustic due containing of Sodium, anyway, under normal conditions it is not necessary to raise the pH "manually" (happens alone), but if so I agree with you both and I would also recommend to use diluted Caustic Soda [affil link] .

Greetings from the Alps
Dominik Michalek
- Switzerland
Ed. note: Regarding the subject of what chemicals to use to raise the pH of a nickel bath, readers may also be interested in that discussion on letters 9380 and 18637.
---
2005
I had the same stress problem, and is possible to find the root cause by using Design of Experiments and Response Surface Methodology, first you will find the significant factors an second you will use the significant factors to optimize the stress response, you can use Stress Tabs to perform the DOEs.

I hope this helps.
Alejandro Frías
- Nogales, Sonora, Mexico