Where the world gathers for
plating, anodizing, & finishing Q&As since 1989
-----
Electroless Nickel plating on C14500 Tellurium Copper
2005
We want to call out an electroless nickel plating on a C14500 tellurium copper part. We would like to use electroless nickel because of its uniform coverage of irregular shapes, internal surfaces and edges. Its hardness is also a plus. The environment is not corrosive.
Questions:
1) What is the practical minimum thickness range that can be specified?
2) At that minimum thickness range, does heat treatment provide any increased hardness benefit?
3) What callout can we put on the drawing that will be understood by most shops? What do the various classes and types mean? (It looks like the MIL spec is obsolete. Is ASTM the way to go?)
4) Can electroless nickel be used in the United States where there is incidental food contact?

Thanks very much for any help. We have not previously used electroless nickel.
John Bussan
manufacturer - Chicago, Illinois, USA
---
2005
The MIL spec is obsolete, but still available from AMS as AMSC26074 [affil link]. However, ASTM B733 [affil link] is a much better choice for specifying EN coatings.

1) I am assuming from your description that you will be using the coating either for storage protection (anti-tarnish) or a small amount of wear resistance. If this is correct, you will need 0.2 - 0.3 mil of coating to be effective. If wear is more severe, more thickness will be needed.

2) Yes heat treatment will increase the wear resistance of the coating if the wear is light.

3) Using ASTM B733 [affil link], your callout would be:
SC1, Type I, Class 1 or 2, which is 0.2 mil minimum thickness, with no phosphorus content requirement, and without or with heat treatment.

4) EN can be used with food handling equipment. However, NSF 51 [affil link] now requires that the EN coating be lead free. You will have to add this requirement to the ASTM callout.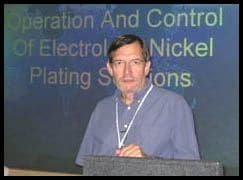 Ron Duncan
[deceased]
- LaVergne, Tennessee
It is our sad duty to note Ron's passing on Dec. 15, 2006. A brief obituary opens Episode 13 of our Podcast.