Where the world gathers for
plating, anodizing, & finishing Q&As since 1989
-----
Why water is in liquid form
2005
Is there an actual explanation for that? I have been thinking does it associate with the secondary bond or something? and this is not for my school work--I am just curious.
Jimmy K.
student - Adelaide, SA, Australia
---
First of three simultaneous responses -- 2005

There are attractive forces between the water molecules tending to hold them together (tending to produce liquid or solid).

There are repulsive forces tending to keep them separate (mainly the kinetic energy of their motion at any temperature above absolute zero)(tending to produce vapour or liquid).

Different combinations of temperature and applied pressure give different balances between the two types of force.

At what we regard as normal temperature and pressure, it happens that the balance causes mostly liquid with a bit of vapour. That applies where you and I are. Down south on the Antarctic continent, the balance happens to favour solid.

I guess it's that "happening" that's one of the things that allowed life to flourish on this planet. In extra-terrestrial locations, with a different temperature-pressure balance giving different solid-liquid-vapour balance, who knows? - could be a case of "It's life, Jim, but not as we know it."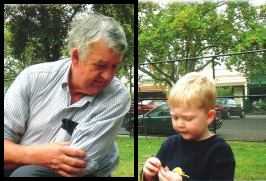 Bill Reynolds
[deceased]
consultant metallurgist - Ballarat, Victoria, Australia
We sadly relate the news that Bill passed away on Jan. 29, 2010.
---
Second of three simultaneous responses -- 2005

Look up Hydrogen bonding, I have a strong feeling you will find the answer there.
Brian Terry
Aerospace - Yeovil, Somerset, UK
---
Third of three simultaneous responses -- 2005

Each hydrogen atom shares an electron with the oxygen; this is an ionic bond. Water also has the ability to ionise (as you would expect from an ionic bond!) and it dissociates into a hydrogen ion and hydroxyl (H+ and OH-). The hydrogen ion then combines with another water molecule to form H3O+. Now, moving on to a slightly different subject, the melting point of a given set of similar chemicals is related to the molecular weight of that chemical series. The higher the molecular weight, the higher the melting point. However, when you look at the melting points of H2O, H2S and H2Se, this does not seem to apply and water has a higher melting point than would be expected. This is because molecules of H2O join together through another bond called a hydrogen bond. This effectively makes the molecular weight much greater and hence the melting point is elevated.

Trevor Crichton
R&D practical scientist
Chesham, Bucks, UK