Where the world gathers for
plating, anodizing, & finishing Q&As since 1989
-----
Finger printing on Zinc & Clear passivate
2005
We currently have components rejected by our customer, due to finger prints on the Zinc & Clear surfaces.
Even when our production operators handle the components with cotton gloves, the surface can also be marked.
Chris Bannerman
- Glenrothes, Fife, Scotland.
---
2005
Tell them not to scratch their heads and face (or touch anything else I might be missing) with their gloves on.
Guillermo Marrufo
Monterrey, NL, Mexico
---
2005
I will recommend to rub hands with calcium carbonate frequently to neutralise hands acids.
Jose Cesta
- Santo Andre SP, Brasil
---
2005
They need to change their gloves more often.
Calcium carbonate is a bit strong. Bicarbonate of soda is less aggressive on the hands.
James Watts
- Navarre, Florida
---
2005
Hi, James, thanks for your comments but there are things to consider:
Gloves are expensive.
Sodium bicarbonate isn't a good idea because it is water soluble and we have oil and humidity on hands.
We will have a very bad effect.
Calcium carbonate is far less soluble in water than sodium bicarbonate.
We should try magnesium carbonate but is expensive.
Athletes rub hands with magnesium carbonate to improve grip on bars during exercises.
Jose Cesta
- Santo Andre, SP, Brasil
---
First of two simultaneous responses -- 2005

We washed gloves and reused until they had holes.
James Watts
- Navarre, Florida
---
Second of two simultaneous responses -- 2005

Chris

Ask your people not to touch anode and cathode bars during operation .

Regards,
Qutub Saify
- Ajmqan, U.A.E.
---
2005
WATER SOLUBLE LACQURES AFTER CHROMATING ENHANCE CORROSION PROTECTION AND ABRASION RESISTANCE.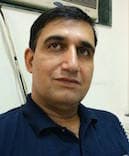 Ajay Raina
Ludhiana, Punjab, India
---
First of two simultaneous responses -- 2005

Dear Chris!

Is it maybe possible, that pieces were touched BEFORE plating; so, fingerprints, what you see after plating, are not made on plated and passivate surface but maybe on raw pieces.
We had similar problem, because parts were cowered with some grease. So, when worker puts a piece on the rack, he makes some prints. There, where raw piece is touched, fingerprints remain after plating process.
We solve this problem so, that ALL of the surface is rubbed with a cloth when it is put on the rack. After the plating we become an equal surface appearance.

Some greases are very resistant to degreasing agents. After electro-degreasing and pickling on the surface remains tiny film of residuals nevertheless how much current you "put" on the pieces That can be removed only by rubbing the surface...

Maybe I kick in the stone with my suggestion, but in our case it works!
Dimitrij Us
- Kranj, Slovenija (EU)
---
Second of two simultaneous responses -- 2005

Be sure to check the effectiveness of the clear passivating chemistry. It seem to me that it should protect against fingerprints if the film is correctly formed. However, gloves are still a good idea following the others suggestions.

Don Baudrand
Consultant - Poulsbo, Washington
(Don is co-author of
"Plating on Plastics"
[affil link to the book on: Amazon or AbeBooks ])