Where the world gathers for
plating, anodizing, & finishing Q&As since 1989
"Hard Anodize on 6061-T6 Alum"
-----
2005
I am designing a small spring retainer. I am thinking about using 25 mm X 25 mm X 50 mm 6061-T6 Aluminum block and hard anodise it because the retainer must slide over a Teflon rail.
As the spring opens and closes inside this block, the block moves a bit with the spring - which is what we like to see.
What does hard anodize do to a mechanical integrity of this aluminum block? Does it make the block stronger, or stiffer?
Mike Kojima
- Irvine, CA. USA
---
2005
Tougher - no way! Stiffer - lose again! Hardcoat, or any anodic coating, is strictly a surface enhancement. While thicker, hardcoat is still aluminum oxide - a brittle, ceramic like SKIN that makes the surface more abrasion resistant, but in metallurgical sense, actually weakens the material - lowering the fatigue strength (this is why thin Type I chromic anodize is preferred over thicker Type II sulfuric anodize). Basically, the thicker the oxide, the more degradation to the materials fatigue strength there is. If strength is what you need, consider an alloy change - 7075 alloys are stronger than 6061 alloy is stronger than etc. Beauty is skin deep but doesn't give one a clue as to how strong one is!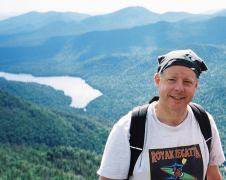 Milt Stevenson, Jr.
Anoplate Corporation

Syracuse, New York