Where the world gathers for
plating, anodizing, & finishing Q&As since 1989
"Flame anodizing durability & controlled use of colours?"
-----
2005
Hi all,I'm a New Zealand artist working in engraving & decorative sandblasting techniques on glass,ceramics & Zippo lighters (with Zippo's permission. I've recently been introduced to flame anodizing & was overjoyed to see the beautiful colours flame anodizing could produce on a chrome plated brass cased Zippo. Unfortunately my science skills are sorely lacking hence these questions:-

How durable is the flame anodizing?

Is it possible to somehow "mask" an area off?

Is it possible to use something on the metal to influence the colouration? e.g., oil, a chemical,something to either inhibit or encourage the process?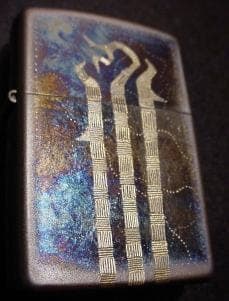 Please accept my humble thanks in advance for any help on this, Paul
Paul Fleming
Engraver/Sandblasters - Christchurch, Canterbury, New Zealand
---
2005
Someone has applied an improper name to this process. Flame tinting would come closer to being technically correct. But, what ever you call it it is a high temperature oxidation process. Any masking would have to be able to survive the temperature and then be able to be removed. I am not sure that there is such a product.
You might be able to use a smaller torch and semi control the amount of heat applied to a given area. You might be able to use a large metal heat sink formed to an area that you do not want to color and held to the case as you apply the torch to areas around it.
All guesses.
James Watts
- Navarre, Florida
----
Ed. note: We have a number of informative threads about flame tinting or flame coloring, including letters 2662 and 25767.
---
2005
Perhaps look into trying scalex for a masking compound. I've never used the product but it is used by enamelists to coat metal with while annealing to prevent oxidation from occurring. After you are done firing the piece the scalex is supposed to just flake off or be brushed off under water with a toothbrush.

The color you get is dependent on how much heat is applied, they appear in the same sequence. So maybe try heating it up to a higher temp to get a color like blue...then use a Dremel [affil link] tool with a polishing point on it to buff off the color in the areas you want (you could probably mask off the area with electrical tape if you are careful with the polishing...bead blasting may be an option too)then reheat the piece to a lower temp to get a different color like bronze/straw. the bronze color will only appear in the areas you buffed.

Using different oils will affect the colors.

The oxide layer is fairly thin and will slowly fade as it is worn off. it can also be scratched off fairly easy. from what I've experienced it is more durable than a titanium anodize(hobby type anodize..not a TiN coating) but weaker than an aluminum anodize in most cases.
Jason Aube
- Flint, Michigan
---
2005
Thanx ever so for the feedback guys - it's much appreciated.This all leads to the next question of a clear lacquer/sealant that can be applied to protect the flamed tinted finish & that will set rock hard,be heat resistant & avoid scratching?Any ideas?
Paul Fleming
- Christchurch, Canterbury, New Zealand
---
2005
If you're looking for a product that will mask your metal, check out your local metalsmithing/jewellery tools store. There's a product, kind of like nail polish, that you can use to mask an area off. Goldsmiths and silversmiths use it. As well, you could try using jewelers' flux on it, but I'm not sure how it would react to chrome. I know flux comes in solutions for copper/brass/silver/gold, and steel. It's nice and cheap, though, might be worth experimenting with.

As for something to finish your metal, use automotive clear coat. I use it for jewellery that I've put the same flame tinting finish on, or for jewellery that I've used chemicals on to alter the color/finish of the metal. Keep in mind that it will eventually wear off with use. There is also an identical product available that is made specifically for jewellery, but I have no idea what its called or where to get it, its just a 'better' version of automotive clear coat. (Being a jewellery student, cheaper ends up being better)

Hope those help. I'd also suggest contacting a goldsmith/silversmith in your community, they have a wealth of knowledge about metal of almost any kind.
Meg Hockaday
- Calgary, AB, Canada
---
2005
If you are doing the flame coloring in a low volume basis you can use a piece of stainless steel plate with the required shape placed onto the surface (use pliers or similar and do not stick it but just hold it over) during the treatment. It will absorb the flame oxidants and heat leaving the surface below intact.
Guillermo Marrufo
Monterrey, NL, Mexico
---
2005
I have had great results with clear powdercoat on heat tinted steel. The part has to be baked 350-400 degrees I believe. So, if all the other elements of your piece can handle the temp. I believe that would be the way to go. I bought a little setup from a car restoration catalog.$150.00 or so.
Eric E. Burris
- Durango, Colorado, USA
---
October 30, 2010
I would just like to add, that I have one of the anodised Zippo lighters, that Paul Fleming has turned his hand to.
It has great colour, and is a true piece of art ...
Paul creates some extremely good pieces, and he knew I was after an anodised Zippo when I bought this one from him.
Temperature is an important word here. Distortion is a bad word.
Thanks Paul.
Jeep ..........
Mark Cowley
- Wisbech,Cambridge,UK.