Problem? Solution? Chime right in!
-- this is a no-registration site.
-----
"Thin glass coating or transparent ceramic coating for abrasion resistant purpose"
2005
Dear sir,
I want to know the process of thin layer of glass coatings or Transparent ceramic coatings to be done on the poly carbonate sheet or acrylic sheet. The process should help the product be abrasive resistant and resistant to wear and tear.If possible then please advice on above or reply.
Rajnish Sharma
Stanford Trade - Mumbai, India
^
---
2005
There are commercial preparations newly available which allow the chemical disposition of clear thin ceramic films (glass-like) by dipping or spraying on polycarbonate/acrylic surfaces which increased abrasion resistance.

Once deposited the film is chemically hardened by addition of 2nd component or can be thermal cured (160 °C 1/2 hour). The downside is these coatings are relatively expensive but do go a long way as the thickness is of the order of 4-8 um.

regards
Dr Paul Chadwick
- Birmingham, UK
^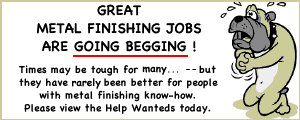 Plating Shop Manager [Salisbury, MD]
Junior Quality Engineer [Santa Clara, CA]
Plating Process Engineer [Wenatchee, WA]