Problem? Solution? Chime right in!
-- this is a no-registration site.
-----
"Aluminum boat in salt water"
2005
I have a new aluminum boat that is marine grade aluminum or 50/52 aluminum. Can I run my boat in salt water and do I have to worry about corrosion or pitting. I do have zinc plates installed on this boat. Please let me know of any concerns I should be aware and in advance thank you for your time answering my e-mail.
Mike Rodgers
Rog Millwork - Phila, Pennsylvania
^
---
2005
YOU HAVE KEPT ZINC AS ONE ELECTRODE. HOWEVER, DUE TO INHERENT PRESENCE OF AL2O3 OVER THE SURFACE OF ALUMINIUM BOAT YOU NEED NOT WORRY ABOUT IT'S SALT WATER CORROSION. THE ATTACK OF MgCl & OTHER SEA SALTS IS NOT THERE ON AL2O3. (SEE ELLINGHAM DIAGRAMS FOR DETAILS)
Er Manuj KAUSHESH
- INDIA
^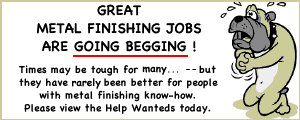 Plating Shop Manager [Salisbury, MD]
Junior Quality Engineer [Santa Clara, CA]
Plating Process Engineer [Wenatchee, WA]