Problem? Solution? Chime right in!
-- this is a no-registration site.
-----
"Stains on a copper roof"
2005
We have a small copper roof (approx. 25 square feet) over a bay window that became somewhat discolored over several years. My wife was advised by someone she works with that applying ketchup to a rag and wiping the roof would "clean" it. She wiped it over the entire surface about 2 years ago and this left it even more discolored. We thought the rain and other Michigan weather would get rid of the discoloration, but it did not help at all. Are there any reliable products on the market in large enough quantities to take care of the problem? I know Brasso [affil. link to info/product on Amazon] makes a copper cleaner for utensils but this is a much larger project. Can someone help? Thanks.
Steven Farrell
Homeowner - Saline, Michigan, USA
^
---
2006
I am in Michigan also and am searching for an answer to this question. In searching, I just found this website. www.coppercanopycleaner.com

I just spoke to the lady who answered the phone there and she seemed quite confident it would handle my problem. My only problem is I am not physically able to do the work myself and must find someone before I can try it. Professional copper cleaning companies want 400.00 or more to do the job. Which is about the price it would cost to but a whole new copper roof on my bay!

If I can find a handyman to put apply it for $100.00 or so I might give it a try. If I do I will try to post the results
Linda OMeara
- Macomb, Michigan
^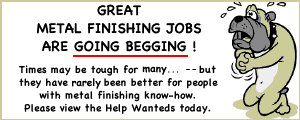 Plating Shop Manager [Salisbury, MD]
Junior Quality Engineer [Santa Clara, CA]
Plating Process Engineer [Wenatchee, WA]