Problem? Solution? Chime right in!
-- this is a no-registration site.
-----
"Plastic or Titanium Clip"
2005
We attach a plastic "leader" to a coil of ferrous material. Leader is 6" in width with a thickness of .020". Material widths vary from 6.5" to 8.5" with a thickness of .002" to .010". At the beginning of a coil of ferrous material, we attach the leader & pull it through a cleaning line. We currently use tape to attach both, but chemistry gets caught in the tape contaminating the cleaning bath. I am looking for a better way to attach leader/ferrous material & prevent chemistry from being dragged from cleaning tank to cleaning tank. I do need it to be as low profile as possible.
Christopher Sullivan
- Attleboro, Massachusetts
^
---
2005
Instead of tape could you use something like Crazy Glue? Just an idea. GMR-Mexico
Guillermo Marrufo
Monterrey, NL, Mexico
^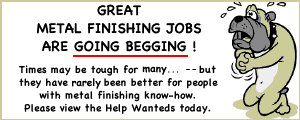 Plating Shop Manager [Salisbury, MD]
Junior Quality Engineer [Santa Clara, CA]
Plating Process Engineer [Wenatchee, WA]