Where the world gathers for
plating, anodizing, & finishing Q&As since 1989
-----
Rusting, corroded 316 stainless steel chain
2005
I am using 316 stainless steel chain as part of a dock anchoring system in salt water. I now understand, through reading this excellent forum, that submerging stainless steel in salt water is not a good idea. Now after six months of use the chain has failed. Though most links look new some have worn dramatically and there are some lightly rusted areas. The chain is magnetic though not at the same level as mild steel. Some links are more magnetic than others though these do not appear any more or less degraded than other links. Also, there are large pits in some links.
Would 316 stainless chain typically become magnetic as part of the manufacturing process?Is any of this an indication that inferior metal was used (this is not of US manufacture)? Or would you expect to see this kind of deterioration in 48 deg. f salt water?
Chris Maas
Boat builder - Center Island, Washington, USA
---
2005
Obviously, 316 ss should NOT be magnetic. It should also be more resistant to the salt water than you are indicating. I would suspect that this is not 316. There are some manufacturers that are "reportedly" adding large amounts of Mn and lower Cr and Ni and selling it as 316.

The only way you can know for sure is to have someone analyze it. If you know someone with an X-Ray analyzer it is quick and easy.


Lee Kremer
Stellar Solutions, Inc.

McHenry, Illinois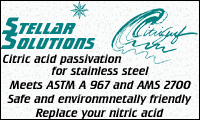 ---
2005
The opinion of Mr. Lee Kremer is right, not only 200 series without magnetic as 316, 304N1 is also same, so the best way is to test the chemical composition.
William Li
- Shanghai, China
adv.: