Where the world gathers for
plating, anodizing, & finishing Q&As since 1989
"Stainless steel oxidation"
-----
2005
I am starting my research about the oxidation of stainless steel. Basically I would like to grow or make an oxide layer on 316L stainless steel in order to get a substrate to deposit a layer of calcium phosphate on top of it.
Hebert Molero
Universidad de Carabobo - Valencia, Carabobo, Venezuela
---
2005
As you are no doubt aware, one of the attributes of stainless steel is the fact it has a built in oxide layer over it. This is in the form of chromium oxide and it is this that gives it its corrosion resistance. If you want to enhance this, you have to be careful how you do it; if you simply anodically polarise it, you will run the risk of breaking down the existing layer and dissolving out the metals. You could try putting it in hydrogen peroxide and leaving it, or better still, try electropolishing it. This will give you a metal oxide/phosphate layer that is technically "oxidising" the material. Alternatively, try giving it a conversion coating by treating it either chemically or electrochemically in dichromate or permanganate solutions.

Trevor Crichton
R&D practical scientist
Chesham, Bucks, UK
---
2005
What Trevor states is correct. The chromium oxide layer that exists on the surface is what gives the excellent corrosion resistance. It is not that simple, of course, on a molecular level, since the surface is chrystalline in nature-- austenite in this case.

The purpose of passivation of the surface is not only to clean and remove free iron, but to maximize the chromium content of that top, very thin "layer" of chromium oxide. (Other metals in the alloy also greatly affect this.) This gives the best corrosion resistance, but may in fact INHIBIT adhesion to the surface by your Calcium phosphate. You need to test for this. Enhancing the chromium oxide layer makes it more passive (less active) therefore may make it more difficult to adhere to, depending on the adherant.


Lee Kremer
Stellar Solutions, Inc.

McHenry, Illinois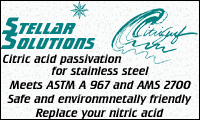 ---
---
May 25, 2011
Are there any ways to create an electrically resistive layer on the surface of 316 stainless steel? Some papers say that magnetron sputtered thin layers of Chromium Oxide may show Megaohm surface resistance. Are there any easier ways to get such a resistive coating on the stainless steel surface?
Russ Ivanov
fusion - Burnaby, British Columbia, Canada