Problem? Solution? Chime right in!
-- this is a no-registration site.
-----
"Chrome(Cr6) free finishing in European Markets"
2005
Hi,
I am working in a wheel manufacturing industry in South Africa (Pretoria). I have heard that chrome free products will be a requirement in the European Markets. I want to know the reason behind this and what can replace the chrome in the pre-treatment. We supply European market and we must obviously start complying.
Donald Bokaba
Alloy wheels manufacturing. - Pretoria, South Africa
^
---
2005
Quote from the European Union website

'Directives 2002/95/EC on the restriction of the use of certain hazardous substances in electrical and electronic equipment and 2002/96/EC on waste electrical and electronic equipment are designed to tackle the fast increasing waste stream of electrical and electronic equipment and complements European Union measures on landfill and incineration of waste. Increased recycling of electrical and electronic equipment will limit the total quantity of waste going to final disposal. Producers will be responsible for taking back and recycling electrical and electronic equipment. This will provide incentives to design electrical and electronic equipment in an environmentally more efficient way, which takes waste management aspects fully into account. Consumers will be able to return their equipment free of charge. In order to prevent the generation of hazardous waste, Directive 2002/95/EC requires the substitution of various heavy metals (lead, mecury, cadmium, and hexavalent chromium) and brominated flame retardants (polybrominated biphenyls (PBB) or polybrominated diphenyl ethers (PBDE)) in new electrical and electronic equipment put on the market from 1 July 2006.'
John Martin
- Cardiff, Wales
^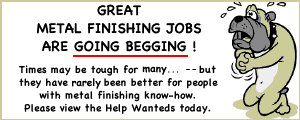 Plating Shop Manager [Salisbury, MD]
Junior Quality Engineer [Santa Clara, CA]
Plating Process Engineer [Wenatchee, WA]