Problem? Solution? Chime right in!
-- this is a no-registration site.
-----
"VOIDS on Solder Die Bonding"
2005
Is anyone can help me on how can I eliminate the voids on the solder after Die Bonding process? The voids is around 20 ~ 30% of the area of the chip.
Marife Villalus
Semiconductor Industry - China
^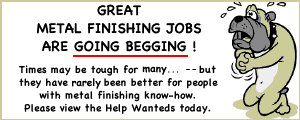 Plating Shop Manager [Salisbury, MD]
Junior Quality Engineer [Santa Clara, CA]
Plating Process Engineer [Wenatchee, WA]