Problem? Solution? Chime right in!
-- this is a no-registration site.
-----
"Specs needed chrome plating ABS plastic automotive exterior"
2005
We would like to put out for bid "chrome plating" of 5,000 part made of chromeable ABS plastic that will use in an exterior automotive application. We want to have a good quality product that we can advertise as having "OEM quality Chrome Plating". As we would like all bids to be bidding the same quality of plating we are in need of specifications to list on the bid sheet, but have not been able to one. It is our understanding that specifications may include the number and thickness of each layer. Can anyone direct us to where this information can be found or if there is an "indusrty standard"

Any assistance would be greatly aprreciated.
Tom Call
VATA - Portland, OR, USA
^
---
2005
Mr Call,

You may want to get hold of a copy of "ASEP Standards and Guidelines for Electroplated Plastics".

It can be ordered online.

Regards
Ong Lay-Boon
- Singapore
^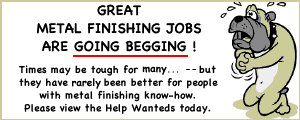 Plating Shop Manager [Salisbury, MD]
Junior Quality Engineer [Santa Clara, CA]
Plating Process Engineer [Wenatchee, WA]