Problem? Solution? Chime right in!
-- this is a no-registration site.
-----
"Help with Zinc-Nickel per AMS2417 Type 2"
2005
I have some 4130 Steel parts that are being zinc-nickel plated per AMS2417 [affil. link to spec at Techstreet] Type 2. When they were sent in from my supplier, there were little scratches through the chromate coating.

How can I tell if the scratches have also gone through the zinc-nickel coating without running full 500-hour salt spray testing?
Marshall Mosty
Weber Aircraft LP - Gainesville, Texas
^
---
2005
I think 500 hrs has passed since your inquiry, but better late than never, eh? The copper sulfate or the ferroxyl test might work here.

Alternatively, profilometry could be used to determine scratch depth and if the scratch is less than the coating thickness you should be okay.

A little off-topic, but even if the scratch is deeper than the coating, you still might be okay. We've used a SEM to characterize the surface of hand-scribed test coupons and found it can be quite difficult to break thru a ~0.5 mil electroplate. Test coupon scribe variability was so great that it confounded and essentially ruined salt fog test results. We have since adopted a repeatable machining technique for scribe creation in our galvanic corrosion tests.

Regards,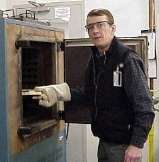 Thomas Hanlon
, Materials Engineer
aerospace finishing - East Hartford, Connecticut, USA
^