Where the world gathers for
plating, anodizing, & finishing Q&As since 1989
-----
ASTM A967 Type II Passivation leaves yellow or brown spots on 300-Series stainless
Q. I am facing difficult challenges in getting rid of all brown stains left on SS 303 parts. Parts are small connector hardware socket with treads inside. It's very hard to rinse out all passivation fluid inside, that's believed to turn brown and sticky after the heat drying process. Tried to run with small quantity, short of rinsing each part individually- nothing works. Requirement is ASTM A967 [affil link] Nitric 1, AMS2700 [affil link] F Method 1 TYPE 2. Any suggestion on how to thoroughly rinse/ eliminate this stains will be much appreciated.
Norm May
- Dallas, Texas
March 11, 2021
---
March 19, 2021
A. Type 303, being a free machining grade, has a high sulfur content which could be the source of any brown stains.

But insufficient rinsing is also always a problem, especially with the nitric acid methods, especially with blind holes and such with trapped acid. You may want to consider having the parts in the rinse bath an extra long time, or using an ultrasonic tank for your rinsing, or using a solvent rinse (acetone, alcohol, etc.) to purge all remaining water and acid from the parts.

And of course anything with blind holes, the orientation is important when you're talking about getting fluid inside and then back out again, so just dumping the parts in a basket might not be sufficient

Ray Kremer
Stellar Solutions, Inc.

McHenry, Illinois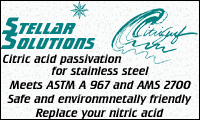 ---
---
↓ Closely related postings, oldest first ↓
---
---
2005
Q. We manufactured some parts made from 304 stainless steel and according to the print had them passivated per ASTM A967 [affil link] Type II. Our customer has rejected the parts saying that they are rusted. Our passivater says that they are not rusted but have sodium dichromate on them from the passivation type II. He says the proper type of passivation would be type VI, VII or VIII which does not have the sodium dichromate additive which is only needed for 400 series stainless. Is he correct?
James Kjorsvig
Machine Shop - Minneapolis, Minnesota, USA
---
2005




A. It is not nice to throw stones at another plater/passivator, but we always used a dual counterflow rinse and ended with a warm DI rinse and blow down to avoid spotting. Darn few customers will accept spotted SS parts, and I do not see why you should have to unless you beat up the passivator on price.

James Watts




- Navarre, Florida






---

2005




A. Sounds like your passivator has given you a big clue as to the problem, the solution should be obvious and doesn't have to involve a change in process. All you need to do is instruct your passivator to rinse your components properly to ensure all traces of sodium dichromate are removed.

When you are supplied a part with sodium dichromate on, you have a Health, Safety and Environmental nightmare on your hands! Especially as the proposed exposure limits for hex chrome in the USA are extremely small.

As for using one of the other types, the best bet is to carry out some small scale trials before committing to a change. The other options will give you less of a Health and Safety problem, but check compatibility first.

Brian Terry




Aerospace - Yeovil, Somerset, UK





---
2005
A. Yes he is.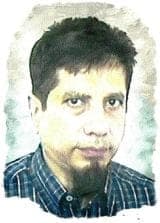 Khozem Vahaanwala
Saify Ind

Bengaluru, Karnataka, India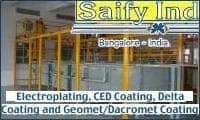 ---
2005
A. No!
ASTM A967 [affil link] type II is not the same as QQ-P-35C [link is to free spec at Defense Logistics Agency, dla.mil] in that in the ASTM standard there are Citric and Nitric passivate processes and you do not indicate which one is called for.

Even if processed per the Military standard there should be no visible staining of the parts, no dichromate residue would remain. Sounds like poor rinsing or other issues exist.
Bill Grayson
- San Jose, California
---
2005
A. I would advise you to double check the spec. ASTM A967 [affil link] Nitric 2 method does not allow sodium dichromate. Nitric 1 method does. Parts may be passivated to the incorrect spec..?
Chris Hemann
- Minneapolis, Minnesota, USA