Where the world gathers for
plating, anodizing, & finishing Q&As since 1989
-----
Why is white gold ring yellow not silvery?
Ed. note; This is an interesting thread, and only one of many. Before you get too confused, you might want to start with our FAQ on Rhodium Plating and White Gold to get an overall understanding :-)
2005

I just got a white gold ring that we had ordered. My understanding was that it would look more like silver than like gold. When I looked at it (this is the first time I have seen it, no wear) It looks more like yellow gold. Nothing was mentioned of having plating, but I was led to believe it would look more silver nonetheless. Does it look like yellow gold because it did not get plated in the first place and is there somewhere I can find real pictures of the different karats of white gold so I can compare before sounding foolish at the jewelry store?
Nicolette Prouty
amateur - Minot, North Dakota
---
2005
G'day, Not sure haven't seen the ring but they may have sold you a silver ring that has oxidised. White gold is very expensive.
Richard Bancroft
- Carrum, Vic, Australia
---
2005
You could always take the ring to another jewler and have them take a look at it, or you could compare it to other white gold rings they offer.

Seeing the different alloys in real life will beat pictures everytime.

Just so you know, white gold will normally not appear silvery; that bright white gold look is achieved by plating the ring with rhodium. There is a great string of letters here specifically on white gold, I believe it is accessible under the frequently asked questions link on the main page, and it may be useful to you.
Jim Gorsich
Accurate Anodizing Inc.

Compton, California, USA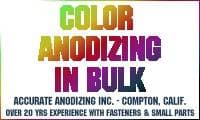 ---
2005
Unfortunately there are few jewelers left in the world. They have been replaced by jewelery sales people. Integrity is virtually a myth now. How anyone can sell a gold alloy ring with a few millionths of iridium plating a white gold is beyond me, but it is the norm.
My wedding ring is white gold, i.e., gold, platinum and cobalt. Not cheap! After 45 years of wear, the ridges are gone, but the color is exactly the same.
James Watts
- Navarre, Florida