Where the world gathers for
plating, anodizing, & finishing Q&As since 1989
-----
SS 304-2B 22 Gauge - can rust occur in a water storage application?
2005
Q. I use the SS above in an agricultural application. The material is pressed to a basin shape and then clips are spot welded to the outside bottom and finally a heating element is clipped into the clips. The basin stores water from city or farm sources for drinking.

I notice that in some user instances, the weld spots and even the outline of the heating element below show as brown 'rust' in the basin with water. I have not so far seen these rust discolourations as the source of a rusted-through hole, but users are not happy with this appearance and are using scrubbing objects and products to get rid of the stains. Some users swear the stains eventually cause a hole, but I have no returned product to prove that yet.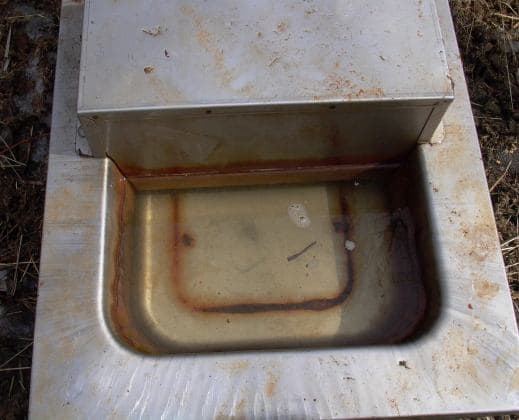 I have no doubt, from what I have read on this informative site, that because this problem is sporadic, it is the user's water source and animal salt intake residue that is likely adding to the problem, as well as their scrubbing methods and products!

So my questions are:
- Is my material not compatible for my application. Would 316 provide the best corrosion resistance? Any other suggestions?
- If I have no control on the kind of water (iron content etc..), and can not stop the animal salt deposits, how should I advise my user to maintain their basin to gain optimum life and protection?
- Does my spotwelds and continuous heating of the underside causes the metal to slowly break down its SS finish/coating thus making those areas susceptible to 'rusting'?

Thanks for any opinions on this subject.
Ainley Ching
Agricultural Manufacturing - Ontario, Canada
---
"Stainless Steels: An Introduction and Their Recent Developments"

from Abe Books
or

Affil. Link
Your purchases make finishing.com possible
2005
A. Type 304 is not really suitable for environments that contain chloride ions. Type 316L (lower carbon content) will provide better resistance than Type 304. You should have the welded assembly properly passivated after welding for optimal corrosion resistance.
Toby Padfield
Automotive module supplier - Michigan
---
2005
A. I AGREE, SOMEWHAT WITH TOBY. BUT IS THE WELDMENT CORRODING MORE THAN BASE METAL OR YOU ARE FINDING STAINS AT APPRECIABLE DISTANCE FROM THE WELDMENT.
MANUJ KAUSHESH
- INDIA