Where the world gathers for
plating, anodizing, & finishing Q&As since 1989
-----
Spot test on clear chem film
2005
What is the fastest test to verify there is chromate present on a clear chem filmed panel.

Need to know asap thank you all.
Jesse Santillan
- Sylmar, California
---
2005
Hmmmm. This a trick question. There is no such thing as "clear" chromate film. Yes, I know the MIL spec talks about "clear", but...chromium compounds are highly colored. No color at all = no chromate film at all.

Most people who buy and sell "clear" chromate understand that it is really pale yellow. Maybe very pale, but yellow nevertheless.

Some purchasers insist that their "clear" chromate have no color whatsoever. The shops who supply them do so in the same way as you make a very, very dry martini - just wave the Vermouth bottle over the glass...and just wave the parts over the chromate tank.

Sorry I can't be of more help, but if you have absolutely no color whatsoever, you aren't going to find any chromium by a test, because there isn't any. See if you can settle on "almost clear", and then you can tell by eye whether it is there.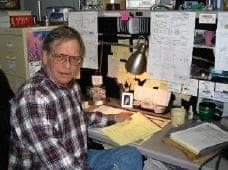 Jeffrey Holmes, CEF
Spartanburg, South Carolina
---
2005
Having been around this industry for many years I have seen the development of conversion coatings. There indeed was once clear: this is done by leaching a yellow conversiion coating (dichromate) in an alkaline solution until clear. Here you have the reason Jeffrey says a little yellow: if you leach too long you don't know if your clear has any chromate left so most just leave a hint of yellow. (these have the highest corrosion resistance of clears) To further muddy the waters blue bright finshes are also referred to as clears and these came along years later billed as brighter, more appealing and less expensive as a single dip process. Now the above were all hexavalent, today there are trivalent finishes some of which can come out truly clear (generally these are designed as a base for yellow dye).

Gosh ain't this confusing.
Gene Packman
process supplier - Great Neck, New York
---
2005
You can find traces of Cr+6 by using kits that detect Cr+6 in water. If you see the violet color even if it very faint than you know you have chrome on the film. Make sure the panel is clean as the test is very sensitive.
Moshe Yaakov
- ISRAEL