Where the world gathers for
plating, anodizing, & finishing Q&As since 1989
-----
EN Porosity Test with Copper Sulfate
2005
Good Day,

We are researching using Copper Sulfate as a means to test porosity in our Electroless Nickel plated components. The substrate material is Si-iron. This test works. However, I can't seem to find a spec on this testing method. The parts are used in the Aerospace industry, and I was also wondering how to clean the Copper Sulfate off of production parts after testing. Does anyone have any comments on this procedure, or knowledge of a spec that calls this test method out?

Thanks,
Larry Peters
Aerospace Engineering - Wallingford, Connecticut
---
2005
As one who is a participating member of both ASTM's Committee B08 and SAE Committee B that issues and revised AMS specs, I'm fairly certain that there are no EN specs that use copper sulfate for a porosity test. This answer is also based on my hands-on experience, both plating and testing, with EN for over 25 years. Copper sulfate works well for passivated stainless where you're testing a large open surface area where a color change (steel gray to red copper) is readily apparent. Using it for microporosity in EN would be difficult to ascertain the color change due to the tendency of pits in EN to be very, very small. That's why a ferroxyl test where the color change to blue is pronounced is the universal porosity test for EN. In addition, you could try salt spraying the plated part as this to is nothing but a porosity test when used for nickel as chloride has ZERO attack on EN. Lastly, as the copper sulfate solution is acidulated to keep it active, the parts you test should be cleaned with a mildly alkaline solution such as Baking Soda dissolved in water.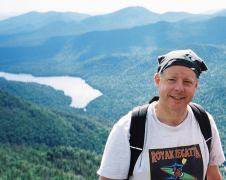 Milt Stevenson, Jr.
Anoplate Corporation

Syracuse, New York
---
2005
To add to Milt's fine answer: the ferroxyl test he mentioned is not covered in ASTM B733 [affil link], the ASTM spec for EN. Yet it is in ASTM B689 [affil link], for electroplated nickel, in Annex A2.

Lee Gearhart
metallurgist - E. Aurora, New York