Live! From beautiful Pine Beach New Jersey: Welcome to the world's most popular metal finishing website
topic 3584
Aluminum reflectors: alloy selection and finishing
1999
Q. I need to specify a fine textured yet bright finish on a small aluminum spinning part used in a small indoor retail light fixture.
I don't know what to specify that is commercially inexpensive to do. It's not a highly engineered component and it's to be a commodity product to sell at relatively low cost. The inside needs to be a fine sand-etched like texture but I have to keep it as bright as possible (the texture removes unwanted striations in the light patterns from the light bulb filament and the brightness reflects more light). How do I preserve the finish from oxidizing considering the metal will get up to 175 °C (Hot). Will anodizing dull the finish much? Thanks for any input.
Gary Cross
---
1999
A. Hi, Gary.
You may want to retain a consultant for very specific advice for your particular application, of course, but the general technology for aluminum reflectors is bright-dipping (in Nitric-Phosphoric acid or a similar proprietary solution) followed by a thin conventional sulfuric acid anodizing. The anodic coating is more glass-like than metallic, so for commercial use the effect on reflectivity of a thin coating of anodizing is not prohibitive.
Naturally an etch which imparts a matte finish is at rather cross purposes with a bright dip which imparts a specular finish, but I don't think it should prove expensive or technically challenging to get the finish you want. There are shops in our Jobshop Directory who could handle this project for you. Good luck.
Regards,
Ted Mooney, P.E.
finishing.com
Pine Beach, New Jersey
---
1999
A. I used to work in a job shop that did bright dipping, and we occasionally received requests such as yours. We used to finish a part to what we called "Satin-bright" finish. It was done by alkaline etching and desmutting to give a satin finish, followed by bright dipping to give the parts a satiny bright luster that I believe you want, which is very different from straight bright dipping. Just understand that heavy scratches which are hidden by a satin etch may reappear after bright dip. The process is very dependent on tight controls of the baths, and is VERY alloy dependent. It is very difficult to get reworks to match once-through parts. Some type of light bead-blasting, sanding or other mechanical finish prior to bright dipping are also options, depending on cost restraints.
On the proper alloys anodizing will not affect the luster much up to about .2-.3 mils. Thicker coatings will dull the surface. A light anodize is actually necessary to maintain the luster, as humidity and air would quickly cloud the surface of unprotected aluminum.
As Ted says, you will probably have to work with an anodizer who does bright dipping to get the finish you want. Albright-Wilson in Richmond, VA. supplies the lion's share of phosphoric acid for bright dipping in the U.S., and they have experts who can help you if you are getting into bright dipping, or give you contacts in your area if you are looking for a bright dipper/anodizer.

Phil Johnson
- Madison Heights, Michigan


---
---
1999
Q. I work in our printed circuit shop and have access to the chemicals and equipment to etch and brighten aluminum. Could you give me some approximate ratios required of Nitric, Phosphoric and Sulfuric to do bright dipping of etched aluminum? What post treatments are required? i.e., DI water rinse, bake, etc. Thanks for your assistance,
Richard M
[last name deleted for privacy by Editor]
- albuquerque, New Mexico
---
1999
A. Hi, Richard
I'd prefer to list books where those formulas can be found rather than print the formulas here because studying the books may lead people to examine all facets of the proposition, whereas just printing a recipe can lull readers into false security.
For example, aluminum bright dipping is very different from the processes that people working in a PWB shop would usually be familiar with. It rapidly evolves copious quantities of noxious mustard-color nitric acid fumes, not only in the bright dip tank but in (at least) the first rinse as well. The usual lip-type lateral exhaust or push-pull ventilation you use on your PWB tanks is wholly inadequate! Everybody in the shop will be running for the doors when you put the first piece of aluminum into the tank. You need an enclosing "garage" or lab hood for starters, and then you need a really efficient fume scrubber to deal with the NOx fumes.
Then, too, there is the issue of secondary containment: this hot and powerful acid eventually weeps through even 316L stainless tanks, and will cut through lesser materials in proportionately shorter order, and demands secondary containment in a really compelling way.
It's best to see an aluminum bright dipping operation and say "oh......wow!" before you begin planning your own. Second best is reading some books about it. But the choice you don't want to make is to just read a formula and mix up some nitric-phosphoric in an available tank :-(
After bright dipping, the aluminum is normally rinsed and anodized. Best of luck!
Regards,
Ted Mooney, P.E.
finishing.com
Pine Beach, New Jersey
---
---
March 29, 2011
-- this entry appended to this thread by editor in lieu of spawning a duplicative thread
Q. Hi, I'm looking out for the best suitable Grade of Aluminium Reflector sheets to make Parabolic reflectors for High wattage (Hot Lighting) source. The temperature would be around 350 °C or more.
The thickness would be 1.2 mm. I also want to know what is the best way to go about Anodising and plating them. A friend of mine recommended that I should read more about the Alzak process from Alcoa. I also made a couple of phone calls to Alcoa but they are not even aware about the word Alzak.

So I am looking at the Grade of Aluminium as well as the Anodising and plating process.

With Regards
Nitin Shenoy
Specialised Lighting Manufacturer - Mumbai, Maharashtra, India
---
November 2013
A. Hi Nitin. Pure aluminum is ideal, but most sheet alloys are okay. What is no good is silicon in the alloy, but this usually applies to castings rather than sheets.
You'll want to do chemical bright dipping (or possibly electropolishing) first, then a pretty thin (say .0001") anodizing
Regards,
Ted Mooney, P.E.
finishing.com
Pine Beach, New Jersey
---
---
May 7, 2012
Q. We are looking for a hard protective anodizing treatment -- ASTM B580 [link by ed. to spec at TechStreet] A or B -- that would keep the part's original mirror finish (6061 alloy). Is this possible, or only thin decorative coating will achieve the required brightness and reflectivity?
Nicolas Geoffroy
- Montreal, Quebec, Canada
---
May 9, 2012
A. Hi Nicolas.
Your question is a good one but too abstract for really focused answers because we don't know how hard the coating has to be, how thick, or what the required brightness and reflectivity are. Although countless millions of bright dipped and anodized aluminum reflectors are in use for outdoor lighting, dentists' lights, indirect lighting, etc., sorry, but it is very necessary to limit the thickness of the anodizing because it is not water-clear.
But an important point is probably the alloy used: the purer the aluminum, the more transparent the oxide film. It is also possible to electropolish aluminum for an even smoother and better starting point than bright dipping, but again, what do you need? ASM Metals Handbook Vol. 5 has a good deal of data on these subjects.
Luck and Regards,
Ted Mooney, P.E.
finishing.com
Pine Beach, New Jersey
---
May 12, 2012
adv.
We have electropolished aluminum reflectors without hazardous chemicals. The results can be seen on the photo attached. Also see the electropolished aluminum versus non-electropolished aluminum.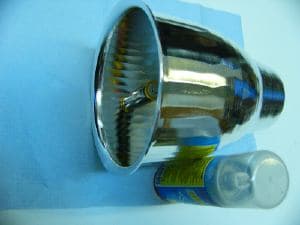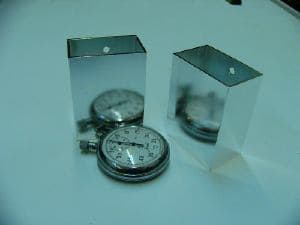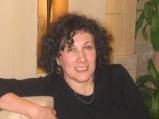 Anna Berkovich
Russamer Labs
Pittsburgh, Pennsylvania
---
---
Satellite dishes as solar reflectors: what is the best material/finish?
November 20, 2013
Q. Satellite TV dishes are cheap and plentiful, but made of galvanneal? Or galvanized steel? Is nickel plating durable?
Quotes for chrome were out of my price range, over $300 per dish.
Other choice is aluminum dish with appropriate finish.
Took me a long time to find an American manufacturer that already has the dies and will turn out a small order for me. But the price quote was very good. What alloy, if any, is better than 6061?
End use is solar reflectors, 2 each 2' parabolic dish in clamshell configuration for flexibility of heat range at common focal point (make the spot match the pot).

Durability is a higher priority than "power".

Any advice/suggestions?
Thanks,
Bill
William Moore
hobby/solar cooking - Hyde Park, Utah, USA
---
November 2013
A. Hi Bill. Nickel and chrome look shiny but they don't work well as solar reflectors; they are too absorptive (think how hot a chrome bumper gets in the sun -- chrome is for collectors rather than reflectors). Bright dipped anodized aluminum would be good, and alloy 6061 should be okay. I have seen reflectors dyed a gold color for supposedly maximum infrared reflection, but I don't really know whether gold-tone or undyed aluminum would be ideal for your satellite dish solar reflectors.
Regards,
Ted Mooney, P.E.
finishing.com
Pine Beach, New Jersey
---
November 24, 2013

Thanks, Ted.
It is nice to find experts willing to take the time to help us amateurs.
Steel dishes getting trashed tomorrow.
William Moore
- Hyde Park, Utah, USA


If you have a question in mind which seems off topic, please Search the Site