topic 3537
Suggested temperature of alkaline cleaner and electrocleaner for zinc plating process
(1999)
Q. We have several alkaline cleaners and electrocleaners on our Zinc and phosphating lines (all barrel lines)and we typically control our baths at 160 degrees F. We have limited ability from our boiler system to increase that temperature. We also have some cleaning problems when trying to clean fasteners that have several kinds of heading,threading,heat treat and grinding oils. My question is this, if we were able to increase our temps. to the 180 degrees F to 195 degrees F range, would we experience better cleaning?
Mike
[last name deleted for privacy by Editor]
- Rockford Il
---
(1999)
A. Hi Mike, I definitely think it is worth investigating. You mention several lines, can you try it out first on one of your smaller lines to prove it? I have been taught that for every 10 deg. rise in temperature your cleaning efficiency will double. The one thing to watch out for will be transfer time out of the cleaner and into the rinse. You might have to speed it up to keep the cleaner from drying out on the parts before the rinse.
Rick Richardson, MSF
Dayton, Ohio
---
(1999)
A. One other issue is the effect on the equipment. 195 F is too hot for plating barrels if this is barrel plating!
Regards,
Ted Mooney, P.E.
finishing.com
Pine Beach, New Jersey
---
(1999)
A. Ted, You are absolutely right on checking the equipment for the higher temperatures. Plastic tanks may need to have extra reinforcement or metal liners and Koroseal lined steel tanks should never be ran over 140-150 deg F. But we have a six station automatic barrel line for plating electroless nickel and our barrels have held up fine for many years. They are polypro and the normal operating temp. is 188-192 deg. F.
Rick Richardson, MSF
Dayton, Ohio
---
(1999)
A. You would probably see some improvement in the cleaning if you have heavy oils. The rate of chemical reactions generally doubles for a 10 C , not F, temp rise. This is a rate, not cleaning quality.
If your cleaner is silicated, I would not do it. Some of the additives in some cleaners will degrade much faster with the increased temp.
Consider converting one of your cleaner tanks to an electrocleaner, or better yet, add one to your line if possible.
You might have to tumble or grit blast some of the parts to get them clean.
James Watts
- Navarre, Florida
---
(1999)
A. Mike- Another avenue to explore is adding some agitation to the tank. This may provide the boost in cleaning action needed to get into the threads, etc. If this is not possible, then an increase in temperature or chemical concentration or even a low temp cleaner might be the answer. We have low temp cleaners for the plating industry. Check our website for some ideas.
Dan Brewer
chemical process supplier - Gurnee, Illinois
---
(1999)
A. Dear Mike
Increasing temperature of cleaner reduce the viscosity of the oil to be remove and as a result there achieve of better cleaning.
In some proprietary formulation especially those with non ionic surfactant, increasing the cleaner temperature over the cloud point of the cleaner will result reduce cleaning efficiency .
I suggest you to investigate every solution before increasing temperature.
Yours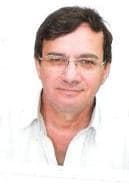 Yehuda Blau
YB Plating Engineering and Quality - Haifa Israel


This public forum has 60,000 threads. If you have a question in mind which seems off topic to this thread, you might prefer to Search the Site