topic 34970
Removing chrome or nickel plating from brass or aluminum should be left to professionals as I've learned by experience
adv.
(2005)
This is not really a question, but I wanted to tell others about my experiences to hopefully prevent them from falling into the same trap that I did. I had a few large brass pieces that I wanted to remove the chrome/nickel plating from, and I figured this would be simple since the finish was already rubbed through in a few places. I read about a possible "home brew" remedy on this website which I decided to try. It basically suggested that I mix a combination of boiling water, drain cleaner (NOT ones containing acid, but those containing sodium hydroxide or potassium hydroxide) and ammonia. It was suggested that I keep the solution hot and keep adding ammonia as it "gasses off" with heat. Suffice it to say that I spent about $30.00 for the supplies, chemicals, etc. Luckily, I had access to free propane and burners. In the end, after boiling for 2 full days, I have a 5 gallon bucket full of blue liquid, and a bunch of brass parts which are still plated with nickel and chrome. After boiling away for 2 days, nothing has happened. I also had some small aluminum frames which were coated with blue chrome. I wanted to get rid of the blue finish, and I read that this may be able to be accomplished with muriatic acid. Well, the problem is that I invested about $15.00 in acid and a bucket, etc. I checked the parts every 5 minutes or so after coating them with the acid, and in the end, the aluminum literally melted and fell apart before the blue tinted chrome came off.
I am now out $45.00, and must still find a professional finisher to remove the chrome and nickel from these brass parts, and I must now purchase new aluminum parts to replace the ones which melted. Those came from an antique jukebox and will probably cost another $40.00 to replace. Take it from my example; The people here like Ted Mooney who tell you to take your items to a professional plating shop to have the chrome and nickel plating removed are correct. Otherwise, you'll be out lots of money and will probably still have to take them to a professional plater to do the job correctly after you're done experimenting.
Now, if anyone knows of any professional plating companies who will have mercy on my soul and remove this chrome and nickel plating from my brass parts for a reasonable cost in light of the fact that I've already spent about $50.00 trying to do this myself, please let me know!
Michael Joncas
Hobbyist - New York, USA
---
(2005)
Thank you for posting that. Every day there are questions posted here asking how to do metal finishing at home with no training and no knowledge. Some of those who pose such questions seem to have the opinion that the pros here are hiding some sort of secret information, or overemphasize the potential hazards and problems. I have never felt that to be the case; in fact there are many here who go out of their way to suggest things which can reasonably be done by a hobbyist. On the other hand, there are processes and chemicals which cannot be safely used without proper training and equipment. Most metal finishing chemicals are potentially dangerous, and to try to use them at home is foolish.

Another question often seen here is along the lines of "What chemicals can I mix up at home to do metal finishing instead of the dangerous or expensive ones which are used by professionals?" Believe me, if any of us could answer a question like that, we would already be using those chemicals. None of us would voluntarily work with chemicals like hydrofluoric acid or potassium cyanide or hexavalent chrome compounds if there were satisfactory substitutes.

Metal finishing is still part science and part art, and it takes a long time to learn enough to do it well and safely. I've earned my living in this field since 1964, and it's obvious to me that there is so very much I do not yet know.

The restoration of parts can be a very complex and time consuming job, and refinishing old parts often costs more than buying new ones. This can be difficult for a hobbyist to understand; and that reminds me of a very funny happening which I witnessed a few years ago.

A fellow who was restoring an old car walked into our shop one day, and approached the shop foreman.

Foreman: "Can I help you?"
Customer: "Yeah, I wanna' get this bumper chrome dipped."
Foreman: "Well, we can restore that bumper for you."
Customer: "How long will it take to get it dipped."
Foreman: "Actually there's a little more to it than just dipping, but we can have it ready in a week."
Customer: "I can't wait that long. I gotta' have it today. Why can't you just dip it while I wait?"
Foreman: "Well, sir, first we have to strip the old plating, then remove the rust, then straighten it, polish and buff it and then plate it. That will take about a week."
Customer: "Nuts. I don't need all that stuff. I just want it dipped in chrome."
Foreman: "Well, sir, that just won't work. There's more to replating than dipping."
Customer: "Look, I need this dipped right now, so stop running me around and dip it. Okay?"

----The Foreman made several more attempts to get this guy to understand that replating involved more than dipping, and the customer became more adamant that he was going to get his bumper dipped while he waited----

Finally, in frustration, and hot under the collar, the foreman said: "Okay, buddy, you win. Wait right here while I dip your bumper in the chrome tank."

He then took the bumper, dipped it in the chrome tank, handed it back to the guy, still dripping with chromic acid, and walked away. Probably not the right thing for him to do...but I still laugh about it anyway.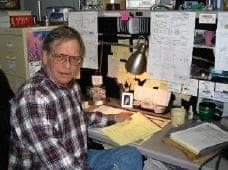 Jeffrey Holmes, CEF
Spartanburg,
South Carolina
---
(2005)
This could get to be an interesting string.
One day a potential customer walked in with about 50 steel racks for a bread oven and wanted them plated with something bright. He did not like our sulfamate nickel look and really liked the cadmium. I refused and he was adamant. I finally convinced him when I told him that the only way that I would cad plate them was if he gave me a signed and notarized letter stating that he had been advised by our firm that it was against the law to sell that product with cad plate and that we would not be held responsible for any following lawsuits.
James Watts
- Navarre, Florida


This public forum has 60,000 threads. If you have a question in mind which seems off topic to this thread, you might prefer to Search the Site