topic 34893
Dissolving copper at room temperature
(2005)
Need to separate small amounts of fine metallic copper that are physically mixed with plastic pellets. Would like an aqueous solution that would disolve the copper efficiently at room temperature.

Tried 3% H2O2 w/ sulfuric acid catalyst, but got very limited reaction. Just make the copper shine. Ammonium hydroxide solution turned blue, but dissolved very little of the copper.

Any suggestions?
Dr. Stephen Paspek
- Westlake, Ohio, USA
---
First of three simultaneous responses -- (2005)
Sodium persulfate w/sulfuric acid, or a nitric acid solution will probably work.
James Totter, CEF
- Tallahassee, Florida
---
Second of three simultaneous responses -- (2005)
Speed is what you want? Try with nitric acid. Beware, it's very aggressive, toxic and noxious but it will do the job fast. Get advise about your local EPA regulations to dispose of waste and work under conditions that neither your people nor the guys from OSHA would object.
Guillermo Marrufo
Monterrey, NL, Mexico
---
Third of three simultaneous responses -- (2005)
Use a mixture of ammonia/ 35% Hydrogen Peroxide [linked by editor to product info at Amazon]. It will work well at room temp, but is not very stable and will last for only a few days.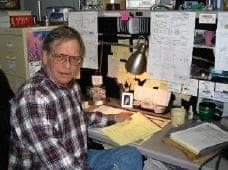 Jeffrey Holmes, CEF
Spartanburg,
South Carolina
---
(2005)
You mentioned you tried hydrogen peroxide with sulphuric acid.
Copper has been etched in the printed circuit industry by this method but you need higher concentrations and the peroxide needs to be specially stabilized to minimise breakdown because of the copper. A printed circuit chemical supplier could help in this area.
Geoffrey Whitelaw
- Port Melbourne, Australia


This public forum has 60,000 threads. If you have a question in mind which seems off topic to this thread, you might prefer to Search the Site