topic 34780
Repair E-Coating Scratches?
A discussion started in 2005 but continuing through 2017
2005
Q. My company is currently recycle computer hard disk metal-base which is E-Coated. I'm looking for the solution to cover-up the scratches on the outer surface of the E-Coated surface. We had tried using many kinds of marker pen in the market, but unable to find a similar to the e-coating color.And below is my concern,

1.Any method to cover the scratches without re-e-coat the base?
2.Any suggestion to cover the scratch surface?

Please advise. Thanks.

Best regards,
Shawn Ching
Global Service Industry - Singapore
---
---
June 30, 2017
Q. Currently we have small parts that are finished with a black e coat. Occasionally these parts get scratched. Is there a method to repair these scratches?
Gary Pullen
Product designer - Clarinda, Iowa
---
October 11, 2017
A. Hello Gary, When it comes to e-coat repairs it can be a little tricky. Each repair will be a little different.
If the part has a large high polished surface or the area in which you would like to repair is in a high polished smooth area, it might be best to just strip and re-coat. The method I use most on e-coat repairs is: Apply a methylene chloride based stripper to the damaged area. Try to spread the stripper to any contour lines, engraving, edges or anything else that will help hide the break being made in the coating. Polish/pen plate the damage, then run the part back through the e-coat line. The cured e-coat will act as a masking and the exposed area will coat again. There will be a faint line where you made the break once the part is cured again, that is why it is important to use anything you can on the parts surface to hide it.
You might need to scale back your voltage a bit as the high voltage tends to want to loosen the the cured lacquer around the spot for repair. Remember you are only applying current to the area being fixed. If that area is 1/100th of the area you normally coat you will have to adjust the rectifier accordingly. I have only used this method with a cathodic bath styled line. Hope this helps.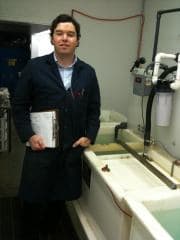 Chance Dunstan
Electroplating/Forming/Coating Manager
Placerville, California USA
---
October 16, 2017

One of the best answer with minute details with rectifier current.
I really admire you Sir.
Avnash Vidhate
- Nashik, Maharashtra, INDIA.


If you have a question in mind which seems off topic, please Search the Site