topic 34589
Iron Phosphate colours
(2005)
We are trying to iron phosphating shot-blasted steel. We obtain a good phosphate cover with normal bluish tint only there is also yellow tint. I understand there are different colours within phosphate and we do have an irregular spraying pattern within our tunnel meaning that the item does not receive a uniform wash but is the yellow part of the phosphate or is it rust?
David Blake
- London, UK
---
(2005)
Hi David,
Sometimes a phosphate coating can look like flash rust. The best thing to do is take a cloth and wipe the suspect area. If you can wipe something off (assuming it isn't soil), then it's rust. You can't wipe off the phosphate coating.
George Gorecki
- Naperville, Illinois
---
(2005)
The color of an Iron phosphate coating depends mainly on two variables. Number one is the accelerator being used, number two is the coating weight. If you have a phosphate that is "normally" blue, the yellow color indicates a little heavier coating weight. This is very common with blasted or sanded surfaces because the surface will hold the solution much longer, (and more of it) causing more phosphate coating to form. With good rinsing and good bath pH control this is not a problem. If the bath pH gets too low or if the line stops the yellow will become more pronounced and will begin to flash rust.
Jeff Watson
- Pearland, Texas
---
(2005)
THE COLOR OF THE IRON PHOSPHATING ACCORDING TO THE COATING WEIGHT
PALE BLUE : 10-15 MG/FT2
MEDIUM BLUE : 15-35 MG/FT2
BLUE / LIGHT GOLG : 25-35 MG/FT2
BLUE ROSE GOLD : 35-50 MG/FT2
ROSE GOLD :50-75 MG/FT2
VIOLET GOLD: 75-90 MG/FT2
GRAY : 90+
SO, YOU WILL FIND A MIX OF THIS COLOR OVER THE STEEL SURFACE
NOTE: THE OPERATING CONDITIONS
THE TEMPERATURE 50-60 C, PH 4.5-5.2 FOR HOT ROLLED STEEL AND 5.4-5.8 FOR COLD ROLLED STEEL, ACCELERATOR TYPE(MOLYBDATE,CHLORATE,NITRITE,NI,CO,HAS,.......) AND THE TREATMENT OF STEEL (DEGREASING)
THIS FACTORS HAVE A BASIC ROLE FOR THE COLOR APPEARD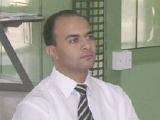 Ahmed Fouad Serag Eldin
Ein Shams - Cairo - Egypt
---
(2006)
Dear Mr. Ahmed Fouad,

Aslam O Aliakum,

How are you? Hope you are fine and enjoying good health.

I want to ask some questions.
1. I want to Multi Color phosphating on steel (it is possible?)
2. I want to do single color phosphating on steel or carbon steel it is possible.

if it is possible, please tell us complete method and processing to phosphating chemicals name.

we hope you will help me and God help you every time and way.

We pray for you.
Thanks and regards,

Naveed
Muhammad Naveed
- Punjab, Pakistan


This public forum has 60,000 threads. If you have a question in mind which seems off topic to this thread, you might prefer to Search the Site