Where the world gathers for
plating, anodizing, & finishing Q&As since 1989
-----
Safe, environmentally friendly aqueous aluminum cleaning
2005
I need to obtain an aluminum surface that is oxide- and smut-free (base metal alloy with a thin native oxide). Are there proven recipes for safe, environmentally friendly cleaning of aluminum (1100 and 6000-series, wrought and extruded, with machined and as-extruded surfaces), without nitric acid or nitric plus hydrofluoric acid (or ammonium bifluoride)? For example:1. Mild etch alkaline cleaner at elevated temp.2. Rinse.3. Citric-acid based cleaner at elevated temp.4. Rinse.
Grant Kiehne
manufacturing - Bloomfield, Connecticut, USA
---
2005
Dear Mr Kiehne,We are not aware of any published home-brew recipe like that, but there are proprietary solutions for your situation. We offer such a product called 'Picklex'. You can learn more about this product in the April 2003 issue of Plating & Surface Finishing magazine in the article "Non-Polluting Metal Surface Finishing Treatment and Pretreatment/Conversion Coatings" by Ferguson and Monzyk.Regards,
Ranjit Sen
- Huntsville, Alabama
---
First of two simultaneous responses -- 2005

Let's not express a "good cleaner" as a function of the metal to be cleaned but rather as a function of the "soil" to be removed.Let's not etch in the same tank we clean in. Combination Cleaner/etchers start etching sooner where the soil is thinest and by the time it soaks off the heavy soil it has etched an ugly stepped pattern into the surface.Finally, there is no such thing as "a good aluminum cleaner" for the same reason that you cannot clean and re-use a Kleenex. If paraffin based soil, wax, chlorinated or sulfurized soil, etc, is on the surface, then ONLY solvents will take it off without tearing up the fragile aluminum. That said, however, the latest best development on this subject is the new citrus based cleaning compounds. Although you did not give us quite enough information, if I interpolate your words, you need to clean in a citrus based cleaner and follow with a phosphoric-detergent type acid cleaner which most cleaner companies have.

Robert H Probert
Robert H Probert Technical Services

Garner, North Carolina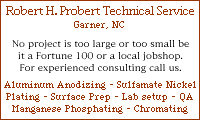 ---
Second of two simultaneous responses -- 2005

You can try next solution:
2oo ml phosphoric acid
1 lit water
45-9o C temp.
Good luck!According to:M.Straschill/Neuzeitliches Beizen von Metallen,Saulgau 1972.
Goran Budija
- Cerovski vrh Croatia
---
2005
As I understand, the recommended steps for cleaning (pre-treatment) of wrought 1100-type and 6000-series aluminum with machined and as-extruded (unmachined) surfaces are:1. Alkaline soak clean.
2. Rinse.
3. Alkaline etch.
4. Rinse.
5. Deoxidize/desmut.
6. Rinse.In particular, I am interested in the options for Steps 3 & 5. Is it feasible to use:3. Alkaline etch (non-silicated, mild-etch alkaline cleaner at elevated temp. as a substitute for Caustic Soda [affil link] etch);
5. Deoxidize/desmut (citric acid based cleaner at elevated temp. as a substitute for nitric, nitric/HF, or tri-acid)?It seems a mild etch should be as good as a strong etch, if one is willing to wait. Will the citric acid cleaner be effective as a deoxidize/desmut?Also, I'm a bit fuzzy on the terminology here, since the so-called "etch" step must also be removing surface oxide if it is going to remove base metallic aluminum. By definition, the etch step should remove all of the oxide, right? So, if all of the oxide is removed by the etch step, why do we have a "deoxidize" step that follows? Does the etch step leave an oxide layer that must be removed with an acid? Or is the deoxidize step really only a "desmut" step that removes surface residue left by the etch process?
Grant Kiehne
manufacturing - Bloomfield, Connecticut, USA
---
2005
Your understanding sounds correct to me except for step 5. 'Deoxidize' is unfortunate terminology and you are right to call it 'desmut'. The smut is silicon, copper, and basically anything in the alloy that is not dissolved by the alkaline etch, and which is actually surface enriched by the dissolution of the aluminum. To get rid of that stuff you probably need something a lot stronger than citric acid, like HF for silicon and nitric acid for copper.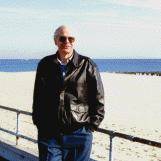 Ted Mooney
, P.E.
Striving to live Aloha
finishing.com - Pine Beach, New Jersey