Live! From beautiful Pine Beach New Jersey: Welcome to the world's most popular metal finishing website
topic 34366
Material of construction for Caustic tanks: steel or stainless
A discussion started in 1998 but continuing through 2018
1998
Q. I have to buy a new recipient for pre-treatment of nickel plating as a step on chrome plating process.
This pre-treatment is the removing of the remaining grease from the object.
The recipient will contain: NaCN 50 g/l, NaOH 40 g/l, NaCO3 20 g/l, Na3PO4 20 g/l
Can the recipient be made of stainless steel?
Will the stainless steel give more endurance to the mentioned recipient?
Your help will be very appreciated.
Tommy Kerekes
---
1997
A. By "recipient", are you referring to the material of construction of the tank which will contain the mentioned cleaner formulation?
I have seen stainless steel used to contain cleaner solutions, but usually because a spare tank happened to be available.
Tom Pullizzi
Falls Township,
Pennsylvania
---
A. Hi Tommy. Stainless should be fine, but steel is fine too. What is probably best in a plating shop in my opinion, however, is vinyl ester fiberglass. Best of luck.
Regards,
Ted Mooney, P.E.
finishing.com
Pine Beach, New Jersey
---
---
2005
Q. I am changing the duty of some deep washers (Alumina industry), to use as caustic storage tanks. The caustic (NaOH) solution will be stored in the tanks at 70 °C, and at 300 g/L, which are made out of mild steel AS149. What I am asking is whether caustic embrittlement and Stress Corrosion Cracking will be a issue with the caustic at this temperature and concentration?
Greg Murphy
Engineer - Brisbane, Queensland, Australia
---
2005
A. Not at all whatsoever. Mild steel tanks last indefinitely holding hot caustic soda solutions.
Guillermo Marrufo
Monterrey, NL, Mexico
---
---
May 21, 2013
Q. Dear Sir
I am synthesizing an industrial product used mainly in food in which 40% NaOH is used. Sir please tell me can we use Steel Pot for reaction. can you please tell me the effects of NaOH on Steel.
Babar Khan
Research - Islamabad, Pakistan
---
May 23, 2013
A. Hi Babar. You haven't yet told us the temperature or pressure (if any) or what the reaction product is. But I would agree with Guillermo that steel is fine for aqueous caustic soda. In my career I designed hundreds, and saw thousands, of hot soak clean, electroclean, and black oxide tanks which lasted decades, and the overwhelming majority were plain low carbon steel :-)
Regards,
Ted Mooney, P.E.
finishing.com
Pine Beach, New Jersey
---
May 31, 2013
A. Hi
I would absolutely agree with Ted until I saw the word "food" in the question.
Most of the experience on this site is with surface finishing and caustic in that context quite rightly uses mild steel tanks, but I would need to have much more knowledge of the food processing regulations, etc., before making a recommendation in this case.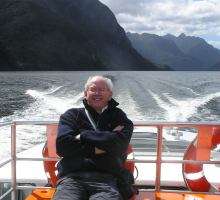 Geoff Smith
Hampshire, England
---
September 2013

Important point, Geoff. Thanks! I guess I blew right past that word without it registering.
Regards,
Ted Mooney, P.E.
finishing.com
Pine Beach, New Jersey
---
November 15, 2013
A. I would hazard a guess that the iron being pulled out of the tank and into the solution would make a bare mild steel tank unacceptable for food processing. There is an NSF-61 standard for materials used for potable water and I would suggest looking at materials that are made to that standard. If the temperature is below 140 °F there are rigid plastic inserts and/or flexible drop in liners that could be used and are acceptable for food grade/potable water applications.
Andrew Hotchkies
- Claremore, Oklahoma
---
---
Caustic tank liner material
September 27, 2016
Q. I am designing a caustic dip tank for the removal of grease, paint, etc. from carbon steel pressure components. As stainless steels cost is high I would like to know the problems I might encounter by using carbon steel as a liner. The operating temperature ranges from 50 °C-100 °C, pH of 7-13, basic medium is Sodium hydroxide, sodium metasilicate, and Tetrasodium pyrophosphate.
Brian Thomas
engineering and design - Grande Prairie Alberta Canada
---
September 2016
A. Hi Brian. As people have noted, plain carbon steel tanks have been successfully used in similar applications thousands of times. Is there something special about your application? Thanks.
Regards,
Ted Mooney, P.E. RET
finishing.com
Pine Beach, New Jersey
Striving to live "Aloha"
---
October 24, 2016
A. Dear Brian Thomas,

You can either use Mild steel tank (life will be less) and other option will be use POLYPROPYLENE (HOMOPOLYMER) Which gives you more life and withstands temperature.
Ilesh G Vyas
Gunatit Builders
Manjalpur, Vadodara, Gujarat
---
---
May 30, 2018
-- this entry appended to this thread by editor in lieu of spawning a duplicative thread
A. Is there a cheaper alternative to SS304 for Parts Washers? Liquid will mostly be alkaline with pH ranging from 8-12.

Thanks.
Kunal Vanjare
- Mumbai, India
---
May 2018
A. Hi Kunal. Plain steel will probably be fine, although not very aesthetic. Just make sure it stays alkaline.
Regards,
Ted Mooney, P.E. RET
finishing.com
Pine Beach, New Jersey
Striving to live "Aloha"


If you have a question in mind which seems off topic, please Search the Site