Live! From beautiful Pine Beach New Jersey: Welcome to the world's most popular metal finishing website
topic 34112
Steel vs. aluminum patio furniture: corrosion resistance?
A discussion started in 2001 but continuing through 2018
2001
Q. Hello,
I am getting ready to buy an outdoor patio set. I found two different sets that I like one is aluminum and one is coated steel. I like the steel one the best but I have heard that aluminum won't rust. Will the coated steel rust? What are the differences and which is the better choice?
Thank you for any info you have!
Amy Higgs
- Denver, Colorado
---
2001
A. Aluminum won't "rust", but it will corrode. Both will corrode over time since they'll be outside. How long depends on numerous factors: the quality of the paint, thickness, quality of the pretreatment, the environment, alloy used, etc.
How long your equipment will last is unknown. It was most likely coated at a job shop. Some job shops conduct outstanding pretreatment and use quality paint. Others, wipe off the dirt and spray on the cheapest paint that will stick.
My personal choice would be aluminum since it will (theoretically) form an oxide layer that helps reduce corrosion. Plus, if it does corrode, it's not as apparent as red rust. I'd also imagine aluminum to be lighter than steel, assuming the same design.
Christian M. Restifo
Circle-Prosco, Inc. - Pittsburgh, Pennsylvania
---
2001
A. I live on a salt-water lagoon and can certainly echo what Mr. Restifo says about coating quality being the most important parameter!
We bought some painted steel folding lounge chairs for our patio last year and, without exaggeration, rust was seriously discoloring the paint in two weeks. Unfortunately, we had thrown away all the packing materials and labels by then.
We also bought a steel 'umbrella table' and set of six chairs, and have seen no signs of rust yet even after leaving them out near the salt water all winter.
Think about your car, which is steel, and which can last years outdoors without rust despite every kind of adverse situation from overheating to gravel chips to road salt to sub zero temperatures.
Buy the patio set you like, with confidence that it should give you no trouble regardless of what metal it is made of. But if the finish proves shameful, show them your letter here and ask them to take it back; and if they won't, include all the particulars on your next letter
Ted Mooney, P.E.
finishing.com
Pine Beach, New Jersey
---
---
To minimize your searching efforts and to offer multiple viewpoints, we've combined some threads into the dialog you're viewing. Please forgive any resultant repetition or failures of chronological order.
---
---
2005
Q. As a patio furniture manager I am seeking detailed information as to what type of a customer should buy steel furniture based on their proximity to salt water. Can someone give me any information that I can pass along to explain why steel furniture rusts when the customer lives within 10 miles of salt water? My customers do not understand that although they do not live "by the ocean" they do live close enough for the salt to do damage. I would love some pro/con steel versus aluminum information about this subject so that I can better inform my customers from erroneous and expensive purchases. I have had no luck at all trying to find this information on the internet. If someone knows of a site that I can find this info, I will be eternally grateful.
Melissa Ciccone
[name of retail chain deleted by editor] - Neptune, New Jersey
---
2005
A. You may not like this answer, Melissa, but people who live near the ocean don't need to buy aluminum cars nor aluminum patio furniture :-)
Steel is absolutely fine no matter how close you live to the ocean if it has a quality finish! -- which is the job of the manufacturer.
I live on a salt-water lagoon in Tom's River, not far from you. Our patio/deck/dock furniture can't fit into the house or garage, so its sits out all winter as well as all summer. Our steel patio table and chairs are over 5 years old, have never been maintained in any way at all, and no rust.
On the other hand I bought some steel lounge chairs (from the same retailer) in the spring that were an unsightly rusty mess before fall.
The problem is not steel furniture, it is low quality paint jobs. It may not be easy for a retailer to market only patio furniture with a quality finish, but that is the real answer. Stop by for a margarita come spring, and I'll look up what brand of furniture I bought that your buyers should be arranging for your customers to get!
Encourage your customers to return bad furniture, then dump any manufacturer who doesn't support you. It's not hard to build corrosion-resistant steel furniture, so don't let manufacturers get away with making you look like an unreliable outlet.
Ted Mooney, P.E.
finishing.com
Pine Beach, New Jersey
---
2006
A. To my knowledge GI Plates (Galvanised iron plates) never rust at any circumstances. You may try to do the furniture by GI steel plates.

"Wish you All the best"
S. Albert
- India
---
July 25, 2012
-- this entry appended to this thread by editor in lieu of spawning a duplicative thread
Q. Good Morning,
This is a great resource. My question is: living on the Atlantic Ocean, what is the best "finishing" on Lawn Furniture to withstand the peeling and corrosion caused by the salt air? If possible, please recommend "Lawn Furniture" that can be used in these conditions. Thank you.
Dr. Betty Green
- Palm Coast, Florida
---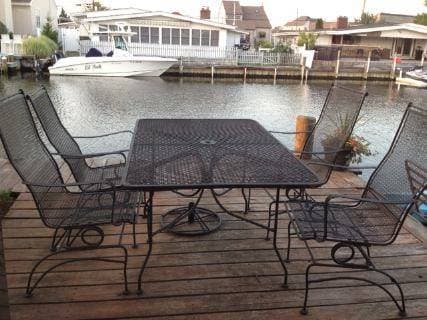 Outside on my saltwater lagoon, 365 days a year, still doing fine after 13 years of zero maintenance!
Manufactured in Wadley, Al by Plantation Patterns Div. of Meadowcraft.
"...carbon steel...electrodeposition dip primer system...polyester powder coating..."
July 25, 2012
A. Hi Doc.
In the above discussion from 2005, I had talked about my 5 year old steel patio set. Well, it is now 13 years old, and here is a photo of it (less the cushions), taken last week =>
The corrosion resistance of this set is remarkable by today's standards, and that's because it received proper pretreatment and finishing. It was purchased from Target and was "powder coated". But here's the rub: it's sitting next to a 3-week old Rolston gazebo, also purchased from Target, also powder coated, that is already rusting. The Rolston gazebo is a perfect example of furniture that is worthless due to super-cheap painting (I won't call it 'finishing' since it is an embarrassment to professionals in the finishing field to call it 'finishing' -- and I distance myself and my industry from it).
So here's the problem: the material of construction is unimportant to the corrosion resistance, but you can't trust most retailers to require quality finishing these days. And if it's manufactured and finished 12,000 miles away by people of a different culture who some say even occasionally take pride in shrewdly outmaneuvering you in your attempt to buy quality -- then what can I tell you? :-)
For now I think the only thing you can do is either buy your lawn furniture from LL Bean with its unconditional guarantee, or budget to have the finish stripped and re-applied by a local shop, or be so lucky as to find the few companies who adhere to Collis Potter Huntington's rule "We Shall Build Good Ships Here; At A Profit If We Can, At A Loss If We Must, But Always Good Ships." Good luck.
Regards,
Ted Mooney, P.E.
finishing.com
Pine Beach, New Jersey
---
---
Plastic "wicker" patio furniture vs. steel
September 10, 2014
Q. Thank you so much for all these tips. I would just like to ask one more question. I'm interested in investing in some wicker patio furniture, but I can't decide whether to push through with my plans or to get steel furniture instead. I found quite a lot of options at beliani.com/patio-furniture, but want to make sure that I'm making a good choice for all-weather durability. Thoughts?
Hollie Rae McLean
- Vancouver, Canada
---
September 2014
A. Hi Hollie. Unfortunately, the durability of any of this stuff depends on factors that you can rarely tell from looking at it or by reading the seller's sales pap. Plastic imitation wicker certainly can't rust, but it's only guaranteed for a year. Although people tend to write reviews while their furniture is still new, if you can find a consensus about this furniture in reviews that are a few years old (and on a site not run by the seller), I think that would be your most reliable guide.
Furniture purchases are a matter of taste, as well as durability, but if heavyweight steel furniture suits your taste, I think it's the most durable. In my case with furniture sitting on a windswept deck over a lagoon, the weight of steel furniture was an important factor; neighbors' plastic chairs and aluminum beach chairs blow into the lagoon rather frequently :-)
Good luck.
Regards,
Ted Mooney, P.E.
finishing.com
Pine Beach, New Jersey
---
---
July 5, 2017
Q. I purchased a metal gazebo and have not put it together yet. What can I do to help prevent rusting even before it is used? Also, would it be a good idea to wrap all connections with electrical tape to prevent water getting inside the different metal legs & brackets?
Susan Casella
- Boynton Beach, Florida
---
July 2017
A. Hi Susan. If you can find plastic caps or plugs of the right size, I'd try that rather than electrical tape. Otherwise, carry on :-)
But most of this stuff is made from hollow steel tubing (with no paint inside), and the parts usually start rusting very quickly.
Regards,
Ted Mooney, P.E. RET
finishing.com
Pine Beach, New Jersey
Striving to live "Aloha"
---
---
Suitability of galvanised metal for outdoor furniture
April 27, 2018
-- this entry appended to this thread by editor in lieu of spawning a duplicative thread
Q. I have been offered outdoor furniture for permanent outside use. I know that anodised aluminium has been altered by use of chemicals and electrical current to cause controlled oxidation. I have read some articles on this, so I know that oxidised aluminium is well suited for outdoor use and there are some tips on how to maintain it and that it won't rust.

A UK company has offered me a galvanised metal leg/frame tables on a solid grade laminate top. The legs/frame will be powder coated. Is there any advise as to whether galvanised metal will last longer or less in an outdoor application than that of anodised aluminium? The galvanised metal will be powder coated. I understand that if the zinc coating is worn off the metal underneath could rust.

This is inland use, so not near the coast.

Thank you!
Terry Ayles
- Orpington, Kent, England
---
---
August 2, 2018
Q. Hi All, I am looking to purchase a set from Lowes. Garden Treasures Steel table and Charis. Reviews are 4.5 stars.... 100+. Can anyone offer any input regarding the rust resistance/lasting for this set I may purchase from Lowes? I usually leave my furniture out all year and do live on the lagoon, so salt is an issue. Thanks.
kim carrera
- Beach Haven West, New Jersey
---
August 2018
A. Hi Kim. We generally don't print praise or slams of any particular products because on this "no registration required" site it leads to spam and sales agents posing as satisfied customers.
Garden Treasures is a Lowes trademark rather than a manufacturer name, and I'm finding nothing on Lowes.com that tells me where it's made, the manufacturer's name, or anything about the finish except "powder coated". But the finish is only guaranteed for a year, and in answer to questions on the Lowes site regarding rust resistance, Lowes responds that it should be covered and stored. That doesn't mean it won't last, but I think you'll have little to go on except your general satisfaction with Lowes' products … although if there are no hollow tubes involved, that's to the good :-)
Regards,
Ted Mooney, P.E. RET
finishing.com
Pine Beach, New Jersey
Striving to live "Aloha"


If you have a question in mind which seems off topic, please Search the Site