60,000 Q&A topics -- Education, Aloha, & Fun
topic 34002p3
Dangers/Toxicity of inhaling muriatic acid fumes
---
< Prev. page (You're on the last page of this topic)
---
A discussion started in 2005 but continuing through 2019
February 5, 2016
Q. I was washing a toilet this morning using some chemical that produce fumes its like I mixed two acids together it later started producing fumes now I can't breathe properly, am also coughing and my chest is producing whistling sound what should I do? I have taken milk as an emergency treatment. Am I in danger of getting some lung disease?
mary sorty
- dammam,saudi arabia
---
February 2016
A. Hi Mary. I feel for your situation, but if a trained and experienced doctor would never attempt to diagnose someone via an internet posting, the idea that strangers with no medical training can do so is silly. You have to get to a doctor ... it's really that simple.
Regards,
Ted Mooney, P.E. RET
finishing.com - Pine Beach, New Jersey
Aloha -- an idea worth spreading
---
---
May 21, 2016
Q. I work for non profit organization for 2 years; they provide me a room and sometimes food but they use me a lot. In my room they put camera and don't let me shut off the screen. I work as a cleaning person and I do everything such as dishwasher. They pay me same salary every month, no overtime, no insurance, no days sick, and no vacation. But lately I get sick; one of my eyes are bigger than other and I feel tired after less work, I feel I just want to sleep, nervous, disappointed and also my throat tsh is low what can I do?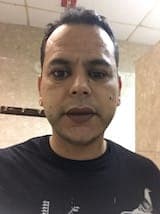 Mohamed el yakoubi
- New york
---
February 5, 2017
Q. My boyfriend is working in a company who refills bottles of Muriatic Acid,and I am afraid of the possible effect on his health.Can you please help me make sure that he is safe. Thank you.
Cecille Marie Manzon
- Manila, Philippines
---
---
March 13, 2017
Q. Four days ago I came to visit my mother and discovered a foul smell in the bathroom. I couldn't detect where it was coming from. After two days of breathing in the fumes (each time I visited the bathroom) I noticed I was feeling weaker and weaker, my body ached everywhere and was barely able to move by the third day, and awoke with a very painful neckache and headache. That day I discovered that my mother's helper (she's elderly) put an entire bottle of Lyme A-Way down the toilet to take away a water ring in the toilet. It took away the ring, but the stench of the stuff (46% hydrochloric acid) has been lingering in the air for four days now, despite every attempt to get rid of it. (Flush it down and keep the fan in the bathroom on.) I finally got wise to the idea of closing the bathroom door and just not using that bathroom while I'm here this trip. (Da!) Within hours, my energy returned and body aches are nearly gone. I will see my doctor when I return from this trip, but just wanted to add my story to the lot, as I've never experienced anything like this before. That said, I found reading these entries very helpful. Thanks!
Susan Low
Massage Therapist/Sensory Therapist - Palm Desert, California USA
---
March 13, 2017

PS! I overlooked mentioning the most important aspect of my experience with inhaling the hydrochloric acid over several days: by the time I understood what was happening, I decided to find a spa in my local area (where I am visiting) so I could use a sauna and sweat out the toxicity. I also sat in a Himalayan rock salt room - great for detoxing - the spa workers said. Then I had a massage and moved all those nasty toxins into the blood to be cleansed. So the moral of my story is: after getting poisoned - get it out asap! Detox, sauna, massage. It helped clear it all expediently and the next day I felt nearly normal again. No breathing probs, headaches, aches or weakness. It's very empowering ~ assisting ourselves in our own healing process! :-))
Susan Low
[returning]
Massage Therapist/Sensory Therapist - Palm Desert, California USA
---
---
April 4, 2017
Q. Hi, I am a chemistry teacher working in Africa. As there are not proper equipments in lab, I safely pipetted 1.6 ml of HCl by mouth. Later the possibility of fumes toxicity crossed my mind. So here I am with no apparent symptoms of any sort, no cough, shortness of breath etc, its been 4 hours and I am still fine. Should I seek medical attention? Medical services are poor in my area.
Adnan Ahmad
- Basse, URR, The Gambia
---
April 8, 2017
Q. Can inhaling muriatic acid give you mycoplasma pneumonia? I work in a place where they are always using muriatic acid to clean up. Most of the times they don't let me know, and I inhaled a lot of this chemical! I went to the hospital yesterday and I got diagnosed with mycoplasma pneumonia, I started having problems to breathe, pain in my chest and pain on my abdomen. I want to know if there is any possibility muriatic acid causes this?
Javier Solis
- Gilmer Texas USA
---
April 2017
A. Hi Javier. Anything is possible ... on the one hand, it strikes me as entirely plausible that overexposure to HCl could precipitate such a problem; but on the other hand, plating shop workers often work with it day after day, year after year, for decades on end without any serious problems. The hospital can probably inform you better than strangers on the internet regarding what part, if any, hydrochloric acid may have played in your illness. If they won't, an industrial hygienist/physician may be able to help. If your suspicion, based on the totality of the situation is strong, you might consult a personal injury attorney. Feel better.
Regards,
Ted Mooney, P.E. RET
finishing.com - Pine Beach, New Jersey
Aloha -- an idea worth spreading
---
April 26, 2017
A. I have worked with HCl acid while working at a galvanising plant. I can tell you that although our acid was diluted to about 16% it was still very sore on the lungs, and although I'm still only 31 I do have chest problems which I attribute to this. It's also worth mentioning that the doors inside that were closed to the acid had turned black with rot and the overhead cranes above the acid need weekly maintenance while the other one didn't need much more than the odd service
John Crawford
- derry, n.ireland, uk
---
May 29, 2017
A. Other than being a strong irritant to eyes and nasal passages, there is little toxicity from HCl fumes. The OSHA TWA limit is 5 ppm, but most people would not tolerate 1 ppm in the air that they breathe.
Lyle Kirman
consultant - Cleveland, Ohio
---
---
October 14, 2017
Q. I put cleaning acid thinking it was battery acid. It is smelling awful and suffocating. How dangerous is it and will it subside or need to get rid of the whole battery? Can anybody please help me immediately?
Teeka Bhattarai
- Kathmandu Nepal
---
October 2017
A. Hi Teeka. I don't know exactly what you mean by "cleaning acid", but presume you mean muriatic acid. I would certainly suggest that you immediately dispose of the muriatic acid, and rinse the battery repeatedly before filling it with proper battery acid.
The lifetime of lead-acid batteries is only about 3 years; so if this is an old battery, I'd simply dispose of it. If it was a brand new battery I think I'd try to use it after replacing the acid.
Regards,
Ted Mooney, P.E. RET
finishing.com - Pine Beach, New Jersey
Aloha -- an idea worth spreading
---
---
February 21, 2018
Q. I work in metal finishing. There is no scrubber or direct vent over the acid tank. I can smell the fumes and am starting to taste the acid in my mouth. Should there be a scrubber over the acid or some kind of hooded vent. Is this an OSHA requirement or something the company is not obligated to do.
Eric
[last name deleted for privacy by Editor]
- St.Louis, Missouri
---
February 2018
A. Hi Eric. My understanding is that the company is obligated to provide a safe working environment, and to employ engineering controls rather than personal protective equipment when feasible (in other words, an exhaust hood for the tank rather than a respirator for you). An exhaust hood is almost surely required.
The fumes probably require scrubbing before discharge, but that part doesn't personally affect you as a worker as long as they are exhausted from the workplace.
opinion! Workplaces have gotten progressively better with time, and personally I feel that we have reached the point where "the social contract" demands that workplaces be free of such fumes regardless of specific codes, rules, or laws.
There is an OSHA Hotline you can call if your relationship with management is too tenuous for you to suggest the exhaust hood though. Good luck.
Regards,
Ted Mooney, P.E. RET
finishing.com - Pine Beach, New Jersey
Aloha -- an idea worth spreading
---
February 23, 2018
A. The human nose is very sensitive to HCl fumes and can detect < 1 ppm. OSHA limits are much higher than most people would tolerate. But, in addition to the human discomfort, the fumes are extremely corrosive to your plant and equipment, so exhaust is really needed.
Lyle Kirman
Consultant - Cleveland Heights
---
---
November 3, 2018
Q. I used the muriatic acid to descale mill scale on steel. I didn't inhale much or any. I brushed it on and left the area for 25 min then wiped it off. I then woke up with a headache the next morning, but that's the only problem. Could it be from inhaling the acid. I also have two kids and they often give me one also. Thanks.
Matt debush
Fabrication - Gladstone Michigan United States
---
November 2018
A. Hi Matt. As we constantly remind readers, we're not doctors. But as Lyle tells us, just above, we're unlikely to voluntarily endure a level of HCl which is considered dangerous. Further, lots of swimming pool workers and plating shop employees have similar exposures every day without reporting headaches. I'm not suggesting that HCl is good for you, but a mundane single exposure sounds unlikely to give you a headache.
Regards,
Ted Mooney, P.E. RET
finishing.com - Pine Beach, New Jersey
Aloha -- an idea worth spreading
---
April 20, 2019
A. My name if Frank Pierson and I have been a bricklayer for over 20 years. Being said that I have been in close proximity with this acid for many many years. Other than a pretty good sting when a drop or two goes in your eyes. And a slight burn when I dip my hand in the bucket to fill the cup up to splash on the wall before it gets scrubbed. I would have so say I'm not sure if some people are out for money or I'm sorry but I guess the word is unhealthy or weak. But I could believe all the comments I just read. Anyways here's living proof of the long term affects. Healthy as can be working 10 hour days 6 days a week.
Frank pierson
- Gulfport Mississippi United States
---
---
June 14, 2019
Q. My name is sandy , my husband was maintenance man for a hotel for 17 years and part of his duties was taking care of the pool and hot tub the chemicals "muriatic acid and sodium hypochlorite" were in a small very hot room with no ventilation and the chemicals have rusted everything in the room. My question is what, if any, long term damage could this have done to my husband's health. He was diagnosed with severe COPD a few months ago and there are many days he struggles to breathe. I have read some on these chemicals and quite frankly it has scared the hell out of me.
sandy glasgow
- oskaloosa , iowa
---
June 2019
A. Please inquire of a personal injury lawyer whether there are any grounds for further study. Sorry for your husband's condition and the scary situation; but if he smoked, that sounds like a much bigger risk factor for COPD than acid or chlorine. Hundreds of thousands of pool workers, galvanizers, and plating shop workers have been exposed to these chemicals for their whole lives and to my limited knowledge no strong link has been established; but again, personal injury lawyers would be more up to date on such statistics. Good luck.
Regards,
Ted Mooney, P.E. RET
finishing.com - Pine Beach, New Jersey
Aloha -- an idea worth spreading