topic 3464
Spalling of sulphuric acid anodizing
(2006)
Q. I am looking for probable causes for the spalling of anodized 2024 material after being heated to 130 °F and wiped with Isopropyl Alcohol [linked by editor to product info at Amazon] ?
Bill Haufler
machine tools - Petaluma, California, USA
---
---
(1999)
Q. A client of ours is sulphuric-acid anodizing parts machined from aluminium alloy 7075 (Al -1.6% Cu -2.5% Mg -5.6 %Zn) to a coating thickness of 10 micron, then dyeing black and sealing. A subsequent operation entails heating at 150 ° C for two hours. After this it is found with some production batches, that the coating spalls off, having crazed. Examination of a prepared cross section under a microscope shows the craze cracks as well as cracks along the metal coating interface. Anodizing conditions are 15% m/m sulphuric acid concentration, temperature 13-16 °C, and current density 1,6 A/sq dm.
Can anyone suggest how to overcome the crazing and spalling?
John Leitch
aluminium company - Pietermaritzburg, South Africa
---
(1999)
A. John,
We had this type of phenomenon occur before on a 2024 alloy that saw significant temperature excursions (200C) during the build process. The problem emerged at the same time that a new vibratory deburring machine was put on line. This deburring process is used as a post machining clean/deburr prior to anodizing. The problem was in the energy of the deburring equipment and overloading of the tub. Instead of deburring, the media was merely folding over the machining artifacts, creating interstices that were difficult to rinse and ultimately trapped processing chemicals in the part surface. This resulted in the spalling and "mud-cracking" you describe.
Another thing to look at is your desmut operation prior to the anodize. The fairly high zinc level in the 7075 requires a fairly aggressive desmut after etching to remove alloying elements from the surface to ensure integrity of the anodic film. I have found the "tri-acid" desmut works well for the 'dirtier' alloys: 50% HNO3, 25% H2SO4, 25%H2O, 50g/l ammonium bifluoride 10-20 seconds @ room temp.
I hope some of this helps.
Keith Wicklund
, CEF-SE
avionics - Minneapolis, Minnesota
---
(1999)

Keith,
Thanks for your input which I am studying. So just a quick and non-comprehensive comment: I will follow up on the possibility of a "smeared" surface, but I think the answer might lie in the desmut. Again, Thanks.
Regards,
John Leitch
aluminium company - Pietermaritzburg, South Africa
---
---
(2003)
Q. Sir:
I am doing project on hard anodizing and I want to know why the material becomes so hard when we anodize at low temperatures, what are the reactions?
2. Sir why sulphuric acid or any acid is mixed with water for electrolyte what is the purpose of adding acid to water.
Sir, please give me the response within 2 days because I have to give seminar on it
Anupindi Raja Srinivas
engineering student(mech) - India
---
(2003)
A. Hi Anupindi. The anodizing process involves two competing reactions: the formation of the oxide film caused by the applied electricity, and the dissolution of the oxide in the sulphuric acid. This is what gives the anodized layer the properties you seek, and it requires that the type, concentration, and temperature of the acid be controlled. If you anodize in different acids like chromic, or phosphoric, or boric acid you get an anodized film with very different properties.
The anodizing may become harder in hard anodizing, but it certainly gets thicker. "Hard anodizing" is distinguished from standard anodizing more by thickness rather than hardness. Hardcoat anodizing is first and foremost anodizing that is 0.002" thick. There is certainly more to it than just temperature, but a central idea is that at higher temperature the anodized film would dissolve too fast in the acid to continue building up. The purpose of the dilution of the acid is to produce a solution with neither too much nor too little dissolving power. Good luck.
Ted Mooney, P.E.
finishing.com
Pine Beach, New Jersey
---
---
April 26, 2013
Q. Good day to all,
I have a problem we haven't seen in 50 years the company has been anodizing with the same process and I need help to solve it.
We have been anodizing and coloring sunroof rails for 7 years now and one month ago some parts started to spall or strip off the anodize layer. To understand the problem let me explain our process line - We have four (4) tanks of anodize (sulfuric acid at 15% more or less) and three (3) electrolytic coloring (Tin based). The main problem is that we have seen parts of all the anodize and all coloring tanks with the stripping off but we process 3000 parts a day and only find 30 with the problem, so not all the parts fail and that makes the problem harder to find. We have changed the solutions of everything and verified the rectifiers but we continue to see the problem.





The anodized layer thickness of the parts is between 12 and 20 microns, and we are coloring between 19 and 21 volts.
If somebody knows the problem or need more information to help me, please don't hesitate to let me know.
Thank you very much.
Francisco

Francisco Hornelas
- Mexico City
---
Anodize Spalling / Blistering After Heating
October 19, 2017
Q. We have experienced a spalling or blistering only on one surface of the part after being processed through a heating conditioning requirement of 265 °F to 275 °F for 1 hour; this heating conditioning is performed months after the anodize process.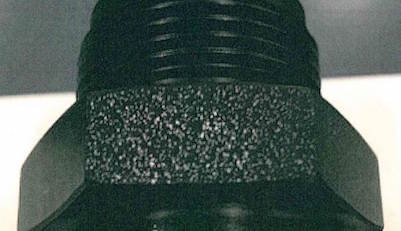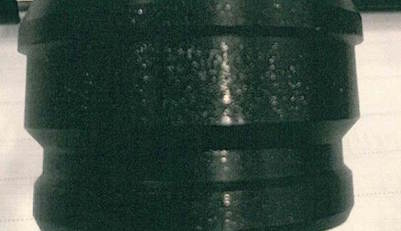 The material is 2024-T351, the type of anodize is MIL-A-8625 Type II Class 2 (Dyed Black), our pre-clean routine is Alkaline Clean & Rinse, Alkaline Etch & Rinse, Deoxidize & Rinse then the Anodize process is performed. We are using an elevated temperature dye (130 °F) and Nickel Acetate Seal (190 °F) with a multiple rinse after anodize and rinse after dye and multiple rinse after seal of which the last rinse is hot.
We have never encountered this type of defect in the past and were inquiring if there were any insights into the cause and correct for this condition.
Dan Gustafson
Coating Shop Employee - Fort Walton Beach Florida USA


This public forum has 60,000 threads. If you have a question in mind which seems off topic to this thread, you might prefer to Search the Site