topic 33866
Rusting/corrosion of nails
(2005)
Q. I am doing the project on the corrosion of nails, my three solutions were soda, vinegar and water. My experiment turned out more with tarnish than rust. Mr. Mooney did I use the wrong type of nails? the nails with the vinegar and soda tarnished but none of the nails rusted. Could you please tell if I should do this over or not and use a different type of nail.
David F
[last name deleted for privacy by Editor]
student - Detroit, Michigan
---
"Hands-on" learning is fun, maybe try a precision scale? . . .
(2005)
A. Maybe someone could e-mail me the actual textbook instructions or teacher instructions on this project, David, so I can understand the situation? We get hundreds of similar questions, and if neither the premise/purpose nor the instructions are clearly stated, we've got nothing. We can't clarify the instructions without knowing the hypothesis you are trying to prove, and we can't guess at the hypothesis from vague work instructions. All I can say about the hypothesis is that the stronger the acid the more corrosion. As for the work instructions I think the nails should be sandpapered hard so that bare steel shows through any coating that may be on them.
Acids are used in industry to remove rust, not to cause it! That is, although acid will dissolve metal, it will dissolve rust a lot faster and easier. So it is certainly possible for vinegar or soda to corrode a nail without revealing rust.
The real way to determine corrosion is by weighing the nails before and after exposure. If your school has an analytical balance, that's ideal. If not, and if you have the money and a very strong interest, highly accurate electronic pocket scales are available these days. Good luck with it!
Ted Mooney, P.E. RET
finishing.com
Pine Beach, New Jersey
---
---
January 12, 2009
Q. I am doing a class experiment on what is more corroding to nails. We have been given two solutions already (tap water and NaCl). But what our teacher left us to do is find a third solution that we think will have an effect on a nail. We thought that orange juice might be a good go but I can not find out which is more acidic among the three. So my question is what is more acidic? And could you think of a better solution to go with? Thanks!
Cheyenne M
[last name deleted for privacy by Editor]
student - Alpha, Illinois
---
January 18, 2009
A. Hi, Cheyenne. Water and salt water are not acidic at all -- they are neutral. So if you can determine that orange juice is acidic, your answer is that it is the most acidic of the three.
But you can play a dirty trick on your teacher by picking bleach (NaOCl, sodium hypochlorite) -- because it is very corrosive and you will find and it's alkaline rather than acid :-)
Read the label and never mix bleach with anything except water or laundry detergent. Good luck.
Regards,
Ted Mooney, P.E. RET
finishing.com
Pine Beach, New Jersey
---
---
March 16, 2009
Q. Hey, my name is Julie and I am in year 9 and I am doing an experiment on the rusting of nails. I have water as my control and bleach, vinegar and Sprite as my independent variables. 250 mL of each liquid is going to be placed in a transparent cup. I would like you know which one would rust more and how would I measure the amount of rusting. I would also like to know how does it rust? Is it because the stronger the acid the more corrosion there will be on the nail? Please help me with my experiment. Thank-you :)
Julie V
[last name deleted for privacy by Editor]
student - Australia
---
March 27, 2009
A. Hi, Julie. Your work instructions are fine. Be careful to not mix the vinegar with the bleach though! -- I repeat the warning for you .
If you don't have a scale, after the experiment you can at least rub the rust off of the nail and onto a coffee filter, and then pour the solution through the same filter, so you capture the rust in one place.
Everything else you asked is already here on this one page I think. Good luck.
Regards,
Ted Mooney, P.E. RET
finishing.com
Pine Beach, New Jersey
---
April 22, 2009

Q. Thanks for the help. I actually looked at a number of sites you replied to but I would like to know after I've done this experiment that nothing happened to the water because it wasn't acidic. Also the sprite rusted very well as well as the bleach and vinegar. You told me to use a coffee filter but I don't have one so is there any other way to measure how much rust is on the nail. I would lastly like to know when I did this experiment why did the colour of the liquids change colour. After 10 days (the liquids were all transparent and clear at the beginning) the water was still clear, the sprite had changed to a orangy liquid, the bleach dark red and the vinegar dark brown. Does the rusting have to do anything with this or the PH of the liquid. And also, I don't know which liquid has the higher Ph because it's very hard to determine because the rusting on the nail look like the same quantity. Thank-you for the help and I didn't mix the liquids together :L

Julie V

[returning]




- Sydney, Australia





---

A. Hey Julie. This experiment is not primarily about acids or pH. Bleach is not acidic, it's quite alkaline, and yet it's very corrosive, as you have seen. You cannot judge the pH from the corrosivity. Water is not non-corrosive, it's just less corrosive than the other liquids.

By a "coffee filter", I merely mean the discardable paper element that people often use when making coffee. If you can't get one, you can use a paper towel, although it is messier.

Rust is reddish brown and accounts for the discoloration you see in the liquids.

Regards,

Ted Mooney, P.E. RET

finishing.com

Pine Beach, New Jersey

(for Kindle)
Unforgettable Experiments
that make Science Fun



---
April 27, 2009
Q. Oh thank you but I still don't have the coffee thingy sorry. I tried measuring the mass of the nail but it was too light to measure and all of the nails had the same mass as each other. I have looked on information about alkaline and acidic and the difference and they both sound similar. I still don't know which nail rusted the most but I'm guessing the bleach did because rust formed the fastest. I my guess true? The pH of the sprite is m.4, the pH of vinegar is 2.9, the oh of water is 7.0 which is neutral and the pH of bleach is 12.5. I have looked at my pH scales but I still don't know which has the most rust and lastly my mum has accidentally put my nails in the bin which makes it harder to determine. Although when I had my nails I did daily observations and took photos of it to see the change in it. Please help me cause I don't know which on has the most rust and why?
Julie V
[returning]
- Sydney, Australia
---
April 29, 2009
A. If all the nails had the same mass, your scale isn't accurate enough. The chemistry department doesn't have an analytical balance?
I can't tell you which has the most rust. If you are going to go by appearance, and you've said that the one in the bleach had the most rust, that's your answer.
Acidic liquids have an excess of hydrogen ions in them, and alkaline liquids have an excess of hydroxide ions in them. But that's not really what caused the rust in the bleach. Rust is iron oxide; i.e., iron that has come into contact with oxygen and formed iron oxide. The formula for bleach is NaOCl. It is a very unstable chemical that wants to release it's oxygen by having it contact iron and convert it to rust.
Regards,
Ted Mooney, P.E. RET
finishing.com
Pine Beach, New Jersey
---
---
November 8, 2010
Q. I want to do a project that tests the effect of pH on metal.
I'm doing lemon juice, coffee, ammonia and bleach. However, I am choosing iron for my metal. I read that it is high corrosive and I want a metal that will actually corrode in the solutions.
Is this a good choice of metal? And where can I find iron to use?
Jessica V
[last name deleted for privacy by Editor]
- Alexandria, Virginia
---
November 8, 2010
A. Hi, Jessica. To help you find iron, let's start with what the word means. "Iron" sort of has two meanings. On the one hand it is an element, actually element no. 26, one of the 91 building blocks of nature. On the other hand "iron" is a metal of a specific composition (mostly the element iron, plus a small amount of carbon and silicon). Steel is also a metal which is made almost completely out of the element iron, and ironically it is purer iron than the metal iron. So, you can understand why I think you can probably use steel for your "iron" experiment.

Steel is the most common metal of all; it's what bridges, towers, cars, and large ships are made of. Skyscrapers may look to be made of glass or bricks or stone, but that's just a skin; a steel frame is the backbone that makes them possible. But the easiest form of steel or iron to get to corrode would be the one that has the most surface area for your liquids to attack; see if your parents have or can get you some steel wool. Good luck.
Regards,
Ted Mooney, P.E. RET
finishing.com
Pine Beach, New Jersey
---
---
June 25, 2012
Q. Hi, just a quick observation I noticed with my sample of nail in Salt water and sparkling water (carbonated):

I noticed that at the onset, the nail in the salt water began to show evidence of rust while up to the 3rd or 4th day from commencement of the experiment, my sample of nail in the sparkling water only showed some bubbles around the nail with no evidence of rusting (no discolouration).

However on the 2nd week, the salt water remained the same while the whole carbonated water is now redish with evidence of heavy rust on the nail sample in it.

Please any idea on why this is so?

My guess is that could there be a carbon coating preventing the rust at the initial stage which later gave way?

And why is it that it had more rust than the other sample -- was it because of the acidic nature?

Thanks
Lanny
[last name deleted for privacy by Editor]
- UK
---
June 25, 2012
A. Hi Lanny.
Carbonated water is water with a lot of carbon dioxide dissolved in it, which effervesces out of it over time (a few days). While the carbon dioxide is still in it, the sparkling water is mild carbonic acid, with a pH of about 3.7 to 5.7. When the carbon dioxide has all bubbled out, it becomes just plain water, with a pH of 7 (this is a slight simplification).
Now, refer to my first response in this thread, where I mention that acid is used in industry to remove rust rather than to make rust. While the sparking water is still acid, it dissolves any rust on the nail and a little iron from the nail, so the nail remains rust-free. But as the carbon dioxide effervesces out, and the pH rises, it can no longer keep that iron dissolved, and the dissolved iron settles out as rust. Good luck.
Regards,
Ted Mooney, P.E. RET
finishing.com
Pine Beach, New Jersey
---
June 26, 2012
Q. Thanks, that explains why after I opened the sample to take the pH reading and the rush of CO2 gas out there after there was significant change in the colouration with films of oxides dispersed all over the sample making it brownish in colour and a strange occurrence I noticed was also that the CO2 became solid (dirty white in colour and floating as solid at the top of the sparkling water sample.

I have always thought that for gas to freeze into solid,the temperature should be reading as low as zero degrees as we have in subsea conditions when hydrates form. Is there any further explanation for this formation especially at an average temp range of 22 to as low as 15° C?
Lanny
- UK
---
---
July 25, 2012
Q. Dear Sir,

I'm doing a project and looking for a way that can use chemicals and break iron.

I will be very appreciative if you can help me in this matter.

Thank you so much!
Kendra L
[last name deleted for privacy by Editor]
- Singapore
---
July 26, 2012




A. Hi Kendra.

Acids will dissolve iron, but it takes quite a lot of very powerful acid (like strong hydrochloric acid), plus time, to dissolve a substantial amount of iron.

I don't understand what you mean by "break" in this context. If you're in jail, with time on your hands, you'll probably need a gallon or two to eat through the tops and bottoms of two bars :-)

Regards,
Ted Mooney, P.E. RET
finishing.com
Pine Beach, New Jersey
---
---
April 11, 2014
-- this entry appended to this thread by editor in lieu of spawning a duplicative thread
Q. Hi...
I would like to ask a question regarding corrosion. I'm a university student, and recently my group did an experiment where we put nails into 4 different solutions for 10 days which were copper (II) sulphate solution, sodium chloride solution (salt water), distilled water and hydrochloric acid.
The results were like this : the nail's mass increment for copper (II) sulphate solutions is the highest followed by distilled water, sodium chloride solution and lastly hydrochloric acid. Why is this so? I couldn't find any answers, especially regarding distilled water and salt water. Why did nail in distilled water corrode faster? And how about the rest? Did our experiment have errors? i really hope you can help me, and understand what I'm trying to convey here. Thanks so much :)
Nasuha Salehhon
- Johor Bahru, Malaysia
---
April 2014
A. Hi Nasuha. I'm not understanding what you mean by "mass increment". Do you mean they all increased in weight? Or do you mean they decreased in weight? Or they changed in varying directions? Are you including the weight of any loosely attached rust?
I can say that ...
- Copper sulfate should have plated out onto the steel nails, and that you should be able to research that reaction and decide whether the copper displacement of iron should increase or decrease the weight of the nail.
- Hydrochloric acid should dissolve some of the iron of the nail, causing a loss of weight.
- Distilled water and salt water should cause the nail to rust, i.e., some of the steel will combine with oxygen; if you remove the rust, the nail will have lost weight. If you don't remove the rust, some will loosely adhere, which would increase the weight, but some will fall off -- so it's hard to say whether the nail will be heavier or lighter.
Regards,
Ted Mooney, P.E. RET
finishing.com
Pine Beach, New Jersey
---
---
March 12, 2015
Q. My daughter and I are working on a project for her Grade 4 science fair. We protected nails from rust using several methods including paint, lubricant, induced current and a sacrificial anode. We noticed several interesting effects that made us wonder about the following:
- Why do bubbles occur during the rusting process? There seem to be more when using electricity.
- On the sacrificial anode, the protected metal had a yellowish build up. Was this oxidation rather than rust? If so, what is the difference?

We appreciate any insight you can help with. Your posts have been great, it's wonderful that you provide answers in an easy to understand manner.

Thanks in advance,
James
James Blase
- Winnipeg, MB, Canada
---
March 2015
A. Hi James. As you probably know, water is H2O (sometimes written as HOH) ... 2 parts hydrogen and one part oxygen. If you apply electricity to your experiment, the pole connected to the "-" end of the battery will become negative and the pole connected to the "+" end of the battery will become positive. What that actually means is that the battery pumps electrons from the positive pole to the negative pole, where they accumulate.
Some of the water in the experiment dish may be pulled apart by this into positively charged H ions that are drawn to the negative pole and negatively charged O ions which are attracted to the positive pole.
The hydrogen ions that accumulate on the negative pole become hydrogen gas bubbles. The oxygen ions that accumulate on the positive pole become oxygen gas. Because there are two parts of hydrogen to each part of oxygen, you'll always see more vigorous bubbling on the negative pole, due to twice as much hydrogen as oxygen.
Even without electricity, you may see some bubbling if you have used an acid like vinegar or lemon juice because acids have a lot of excess hydrogen they would like to trade for metal. If you used diluted hydrochloric acid, HCl, for example, the iron (Fe) in your nails will replace the H in the HCl and become FeCl. When this happens the freed up H ions will bubble off as hydrogen.

Fe + 2HCl => FeCl2 + H2 (gaseous)
I don't fully understand what you used for a sacrificial anode, and the conditions of use, so I don't know about the yellowish buildup on the sacrificial anode. Still, generally the sacrificial anode dissolves into the solution, similar to the equation above. So the yellow may be tramp ingredients in the anode which did not dissolve.
Regards,
Ted Mooney, P.E. RET
finishing.com
Pine Beach, New Jersey
---
March 15, 2015
Q. Thanks for your reply Ted, neat to know where the bubbles came from. As our corrosive solution was white vinegar, salt and hydrogen peroxide, which was fairly acidic, I understand why there were so many bubbles.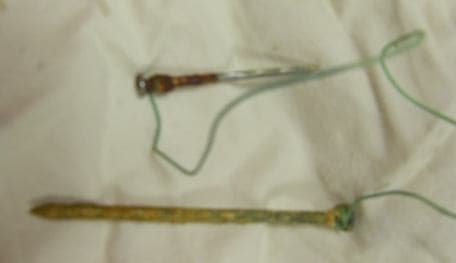 With the sacrificial anode, we were protecting an iron nail with a smaller nail as our anode. I'm curious if you think the solution may have contributed to the build up. There was no orange or red coloured rust, so was curious if this was a different type of corrosion or oxidation. It is possible that whatever was in the container before may have left residue which I suppose could have resulted in build up. Appreciate any insight you can provide.

Cheers,
James
James Blase
[returning]
- Winnipeg, MB, Canada
---
March 2015
A. Hi again James. That looks like a nylon string connecting the two nails -- is it actually a thin insulated wire? Is/was there a metal wire connecting them? You can't do sacrificial protection unless the two metals have a metallic connection between them. I don't think you've told us what the two nails were made from so that we can conjecture deeply about the reactions; but yes, a galvanized nail connected to a plain steel/iron nail by a wire will sacrificially protect the iron/steel nail until the zinc coating is gone. But offering sacrificial protection is not quite the same thing as guaranteeing pristine appearance.
Regards,
Ted Mooney, P.E. RET
finishing.com
Pine Beach, New Jersey
---
March 16, 2015

Thanks again Ted. It is a thin wire, found it worked better than standard household wire. It seems like the sacrificial anode worked pretty well and the build up on the cathode could have come from several different sources.No worries as it doesn't appear to be rust!
Thanks again for your insights.
james Blase
[returning]
- Winnipeg, MB Canada


This public forum has 60,000 threads. If you have a question in mind which seems off topic to this thread, you might prefer to Search the Site