topic 33855
Measuring Thickness of Zinc Chromate on Aluminum
(2005)
I'm working with our Q.C. Department using a microscope to try and measure the thickness of Yellow Zinc Chromate Coating on a Aluminum bar. We've taken a part and cut it into smaller pieces to do the testing with. I've tryed diping one of the parts in Etching solution which we have in-house and it will change the color of the Zinc and the Aluminum enough where under a microscope I can get a reading but it also takes away some of the Zinc, Which gives me a false reading.
Does anyone out there know of a solution I could dip the part into and it will change the color of the Zinc to make it stand out from the Aluminum where I can get a true reading without loosing some of the Zinc Coating in the process.
I was told I could try Vinegar or Food Coloring, I've not tryed these yet. Anyone got any better Ideals ?
Thanks
Eddie K.
Eddie Knopps
- Huntsville, Alabama
---
First of two simultaneous responses -- (2005)
You probably do not mean zinc chromate on aluminum unless you have zinc plated the aluminum and then applied zinc chromate. I shall assume you mean aluminum chromate.
The Military specification and the ASTM specifications show a procedure for measuring the weight gain of chromate coatings, then from that if you really desire the actual thickness you can compute. The industry does not consider thickness of chromate coatings, rather coating weight is measured.
Any of the three NASA plating laboratories right there in Huntsville can show you how to measure coating weight.

Robert H Probert
Robert H Probert Technical Services
Garner, North Carolina
---
Second of two simultaneous responses -- (2005)
How thick of a coating are you expecting? Chromate coatings are generally extremely thin (typically on the order of tens of nanometers) and, unfortunately, I doubt dyes and a light microscope are capable of giving you any sort of valid data. Weight gain is a potential indicator. A quick google search found this paper on chromate coatings that you might find helpful. http://www.surtec.com/Publikationen/DeltacollE.pdf Regards,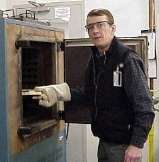 Thomas Hanlon
, Materials Engineer
aerospace finishing - East Hartford, Connecticut, USA
---
February 24, 2012
Coating weight analysis of chromium on metal substrates can be done easily on an x-ray analytical instrument conforming to ASTM D 5723.
Tom Cronin
Pittsburgh, Pennsylvania


This public forum has 60,000 threads. If you have a question in mind which seems off topic to this thread, you might prefer to Search the Site