topic 33338
Taking School Desk Apart for Refinishing
(2004)
Q. I have purchased an antique school desk with the fold down seat, and I am having a very difficult time taking it apart to properly paint it. Afraid to force it as the wood appears to be grooved, but cannot free the legs from the top and back. I have removed all the screws, and applied pressure, but nothing frees it. The person who painted it last did a very poor job, and I really need to get my sander in there to prepare the wood and metal. Any suggestions are appreciated.
James Hill
Student - SAINT LOUIS, Missouri, USA
---
(2005)
Q. I'm in the same predicament, and while searching for the answer on-line found an ad for some restoration compound. At the bottom of the page was this photo of what appears to be the same iron frame as my desk.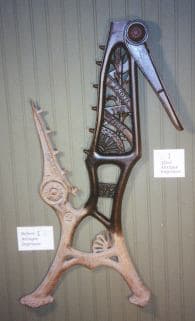 It looks like several posts are what hold the wooden seat in place. My piece, however, like yours, seems to be grooved, as well. So I'm really not sure how to take things apart. Any insight?
Matthew Hostetler
- Atlanta, GA US
---
(2005)
A. The school desks that I have disassembled have dovetailed metal pegs on the legs and corresponding dovetail grooves cut into the wood pieces. There is generally one screw for each slot to keep the parts from sliding--the dovetails are what hold it all tight. You need to slide the wood relative to the metal by about 0.5" to 1" to get the pegs to a wide place in the groove. If you pound on the wood to get it to move, use a wood block to cushion the hammer.
Bob Rummer
- Auburn, Alabama
---
(2006)
Q. I have the same desk at home that a friend purchased and wants me to restore. Where can I find the dovetail slats or the router bit?
Oscar Saenz Pharr, Texas
- Pharr, Texas
---
November 25, 2011
Q. My school desk has tiny wedges holding the metal legs to one side of the dovetailed groove. I disassembled the desk over a year ago and now that I'm ready to put it back together, I've forgotten how the wedges are placed in the groove. Any help?
William Nickles
- Ocean City, New Jersey, USA


This public forum has 60,000 threads. If you have a question in mind which seems off topic to this thread, you might prefer to Search the Site