topic 33308
Why does vinegar cause less rust to form than water?
(2004)
Q. Hello, thank you for listening. I've read these questions and answers and none of them have told me anything I need to find out about my project that I'm doing. So far, none of he questions or answers have anything to do with what I'm about to ask. Why is the vinegar the one that causes less rust on the nail than the water. I know everything about the oxidation and how that plays a major part in the water being the one that causes more rust but, why does the vinegar cause the least rust. I really don't get it because I've researched it and I still don't get it and the questions and answers here haven't helped me a bit so I was wondering if you could help me out a little bit more. Is there something in the vinegar that causes less rust to form or what? please help try to get back to me a.s.a.p. thank you very much!
Mar I.
[last name deleted for privacy by Editor]
science project - Staten Island , New York
---
(2004)
A. Mar,
You spent a lot of time telling us what you know, but not much on what you're doing. So I'll make some assumptions. You had two completely identical nails. You poured some vinegar into a container and covered a nail. You did the same with some tap water.
It's hard to say for sure, without seeing your setup and being able to measure things, why you got more rust on the water nail, because all else being equal one would expect a more acidic solution to have a higher corrosion rate. However, the tap water probably had a lot of dissolved oxygen and the vinegar would have less. Most faucets aerate the water that comes out. Oxygen is crucial to the reactions that include the dissolution of iron, or of zinc if your nails were galvanized (meaning coated with zinc).
The electrons generated when iron corrodes have to go somewhere, and that somewhere is usually a reaction including oxygen. Depending on how full the containers were when you started, whether they were protected from or open to the atmosphere, the ease of getting oxygen into the solution would have varied. Hope that this helps some. You could try things over with water that has been boiled and then cooled without agitation, which will reduce its oxygen content. Also make sure that the nails are identical and have been cleaned identically.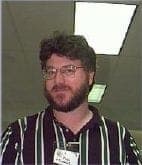 Paul Tibbals, P.E.
gas & electric
San Ramon, California, USA
(My opinions are not related to nor a statement of my employer's)
---
(2004)
A. I'm impressed you know everything about oxidation! I know lots of people who know they don't know as much about it as they would like, so perhaps they can ask you! Seriously, the reason vinegar doesn't rust as much as water is because vinegar is acidic (acetic acid) and this dissolves the metal, along with its oxides, leaving a clean surface. Since the salts it produces dissolve in the vinegar, you often don't easily see them. On the other hand, water is not so acidic, so it corrodes, or rusts, the metal to form an oxide or hydroxide; with iron, this usually appears as a brown mess. To prove the point take two samples of iron and weigh them. Then put one of them into water and the other into vinegar. Leave the for a week and take them out. Carefully wash and dry them and then re-weigh them. Tell us what you find.

Trevor Crichton
R&D practical scientist
Chesham, Bucks, UK
---
March 9, 2013
Q. Hi. I want to know why the vinegar for my iron nail experiment didn't rust when the one in the water did. I left them both in a container with lids for a week and I used 1/2 a cup of vinegar and 1/2 a cup of water for my vinegar solution and 1/2 a cup of water for the water solution. Please answer. Thanks.
Amy L
[last name deleted for privacy by Editor]
- Sydney NSW Australia
---
March 9, 2013
A. Hi Amy. Trevor explained this, but maybe it will help if I explain also; sometimes when you hear it from two different angles you can see it better.
Yes, vinegar is an acid and it is much more corrosive to iron than plain water is. The problem you are having is the assumption that the amount of rust is the same thing as the amount of corrosion; but rust is misleading! Acid is not used very much to corrode iron; rather, it is used to remove rust from iron. That's because, even though acid dissolves iron, it dissolves rust and tarnish even faster.
Try this: take the vinegar solution that had the iron nail in it, and put it in an oven at maybe 225 °F (107 °C) for an hour or so until most or all of the liquid evaporates. You'll see a rusty mess, which shows you that a lot of iron was dissolved into the vinegar but you didn't see it as rust because the vinegar was able to keep it dissolved.
Regards,
Ted Mooney, P.E. RET
finishing.com
Pine Beach, New Jersey
---
March 11, 2013
Q. I have another question. For the experiment I made a solution which had 1/2 a cup of water and 1 teaspoon of sugar in it. I then put an iron nail in it. I left it for a week and it rusted. Can you tell me how? Thanks again.
Amy L

[last name deleted for privacy by Editor]
- Sydney NSW Australia
---
March 11, 2013
A. Hi Amy. The sugar has little if anything to do with it, as you should prove by repeating the experiment without adding any sugar. Water is conductive and therefore it assists electrochemical reactions like rusting. Rusting would occur without water but it would probably take longer. Oxygen from the air, or dissolved in the water, reacts with iron to form oxides of iron (rust).
Regards,
Ted Mooney, P.E. RET
finishing.com
Pine Beach, New Jersey


This public forum has 60,000 threads. If you have a question in mind which seems off topic to this thread, you might prefer to Search the Site