World's #1 finishing resource since 1989
No login needed: Chime right in
topic 33304
Anodized alloy 6061 parts came out gold or green instead of clear
A discussion started in 2004 but continuing through 2017
2004
Q. We have not had a problem having 356T6 sand castings clear anodized. We recently sent out some parts that were machined from 6061-T6 bar stock for clear anodizing and the parts came back a bright gold. The vendor told us the parts just turned that color in the sealing bath. Can this material not be clear anodized? The vendor seems to think not. Thanks.
Evelyn Long
- Columbia, South Carolina
---
2004
A. If the parts were indeed fabricated from 6061 T-6, your anodizer should have no problem at all, as its one of the most common alloys out there. My honest opinion? Your vendor screwed up, and either dyed these parts, or they were chromated, instead of anodize. Any chance you could have written "Alodine" on the PO, instead of anodize? I've never seen a clear anodized part turn gold in a properly maintained seal bath...although, I'm not real familiar with Dichromate sealing, and I understand it imparts a color to the coating, but I thought it was more of a greenish color.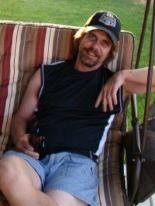 Marc Green
anodizer - Boise, Idaho
---
2004
A. Find a new anodizer.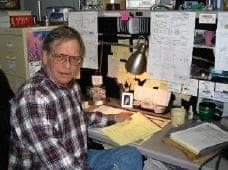 Jeffrey Holmes, CEF
Spartanburg, South Carolina
---
2004
A. I've been around anodizing, getting my hands dirty and pants hole-y for nearly 4 decades! I too have been searching for a way to turn aluminum into gold. If your anodizer has figured it out, he doesn't need your business! If he's just a bad anodizer that can't own up to the mistakes he or his people made, he doesn't deserve your business. Since modern science has pretty much declared alchemy dead, like Mr. Green, I'd suggest you seek out a more honest anodizer with a bit more integrity.
P.S. Sodium dichromate sealing as called for my some military and aerospace specs renders anodize a fairly uniform gold / yellow over Type II - sulfuric anodize and more of a greenish yellow over Type I - chromic anodize. However, anyone asking for CLEAR anodize would never use a dichromate seal.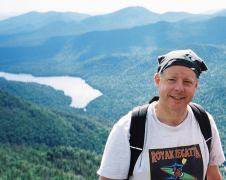 Milt Stevenson, Jr.
Anoplate Corporation

Syracuse, New York
---
2004
A. Sulfuric anodize sealed in dichromate sealing solution will have a yellow/gold color after sealing. When sealed using nickel acetate or DI water the anodized aluminum will have a blue/green to natural color.
Lee Blanton
- Denton, Texas
---
2004
A. I would guess the color is from dichromate seal. This sealing is allowed and even preferred on non-dyed, Mil-A-8625 [link is to free spec spec at Defense Logistics Agency, dla.mil] Type II Class 1, or undyed, AMS2471 [affil. link to spec at Techstreet] E anodic coatings. If you specifically asked for "clear" anodize then the finisher screwed up using a dichromate seal. If you asked for Type II, non-dyed, undyed, or your instructions were not clear (lol, play on words); then you both are to blame.
Chris Jurey
, Past-President IHAA
Luke Engineering & Mfg. Co. Inc.

Wadsworth, Ohio

---
March 27, 2011
A. Yellowish tint to aluminum, Hum, What has a yellow tint? alkaline cleaner solution if not properly rinsed off, in a desmut process, will leave yellowish tint to aluminum. Now, if that part is put through a heat treat or an age process, the yellowish film will be baked into the part.
bob milli
- Ohio
---
February 16, 2012

-- this entry appended to this thread by editor in lieu of spawning a duplicative thread
Q. Hi,

We are a machine shop sending several batches of sandblasted aluminum for clear anodizing per week to a supplier.

We've recently had a major problem where the anodized parts are becoming yellow after a short period of time (1-2 weeks). The yellow is only on the surface and is easily cleaned with "Windex" or any other cleaner.

When we received the parts from anodizing, they are always inspected and are not yellow, this happens after.

I have raised the issue with my supplier and they have no idea so I am asking this question here instead.

Any ideas?

Thanks,

Fred
Fred Dacar
- Dorval, QC, Canada
---
February 17, 2012
Q. Thank you for those prior responses....

A few clarifications:

The parts have been anodized, not another treatment. We use this company all the time and they only do anodizing.

The parts turn out OK when I receive them as I need to inspect them before shipping to my end user. The yellow color seems to appear after. I don't think it's in the tint as it easily cleans off with Windex after.

I'm not technical but the parts seem to "sweat" this yellow residue after. It's not the full part that turns yellow either, only certain areas.

Thanks again for your feedback,

Fred
Fred Dacar
- Dorval, Qc, Canada
---
February 17, 2012
A. We suspect the sand blasting media has been used on steel and has imbedded iron particles into the soft Kleenex-like aluminum. When you oxidize iron you get yellow-brown-red and with heat black. the media MUST be designated "Aluminum Only".

Robert H Probert
Robert H Probert Technical Services

Garner, North Carolina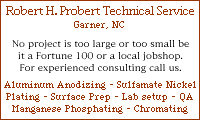 ---
July 31, 2012
Q. What would make 6061 aluminum come out green when it almost always come out a dark grey? The operator said the green parts were run on the same rack at the same time. The customer had the aluminum tested and it is indeed 6061.
We stripped one part and re-coated and sure enough it came out green again?
Help and Thank You In Advance
Jim
Jim Dedmon
- Arlington Texas USA
---
August 1, 2012
A. Never heard of it with sulfuric anodizing, but it will on chromic acid anodizing in a tank that does not have enough aluminum in it yet.
James Watts
- Navarre, Florida
---
January 25, 2013
Q. We are having the same problems with our anodized parts developing a yellow film as they sit in our shop. Our problem sounds identical to Mr. Fred Dacar's from Feb. 2012. I was wondering if anyone answered his issues. or if Mr. Dacar frequents this site and we could compare notes. Perhaps we have a common process in our shop that we can pinpoint to be the cause. We believe this to be atmospheric in nature - as it only occurs during the months where the shop in closed up due to the weather.

RFQ: My other question is there anyone we could send a sample part to had have the residue analyzed? Thanks for any help.

Dave
Dave Vargo
- Cleveland, Ohio, USA
---
January 30, 2013
A. Dave

You do not say if you are the customer or supplier, but I would;

1] Take some parts off the rack before the seal.
2] Hot water seal half of the removed parts, and do not seal the other half.
3] After 1-2 weeks, compare all three.
4] If all three show the discoloration, send some parts to a competitor buddy to repeat the above test.

Do you know if the seal is thermal or chemical? Have you tested IAW ASTM B136-84 [affil. link to spec at Techstreet] ?
William Alexander
- Colorado Springs, Colorado
---
---
March 29, 2013
Q. I am doing aluminium extrusion anodizing but while doing that I am getting pink colour and green colour shade in that, and sometimes white chalk type of patches. What to do to avoid these defects?
Yash Jain
- Gujarat, India
---
April 6, 2013
A. The coloration that you describe is almost certainly due to iridescence rather than any form of pigmentation. Iridescence occurs on anodic films of less than 3 microns. The colors produced by oil on water are also due to iridescence.

The sealing stage can also be a source. There is problem sometimes called "over sealing". The outer part of the anodic film begins to break up. When rubbed,chalky marks are left on the surface. There can also be iridescence due to the different physical properties of the crumbling outer part of the anodic film and solid layer beneath. Over sealing can be controlled by sealing conditions - pH and time and the use of sealing additives. A quick and useful test would be to dry the anodic film without sealing to see if coloration and chalking are present.

More information on your anodizing conditions are needed to point to the cause in your case. Will you give:
1) The anodic film thickness you are trying to achieve.
2) Anodizing time, temperature and current density.
3) What type of sealing are you using. In my comments, I have guessed that boiling water (hydrothermal sealing) is used.
4) Sealing time, temperature and if you are using boiling water, pH.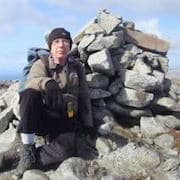 Harry Parkes
- Birmingham, UK
---
Sodium Dichromate Seal Colour has changed
June 22, 2017
Q. We use a sodium dichromate seal on our anodising line but haven't used it for a while and when we have come to use it it is coming out with a gold/brown tinge colour. From memory it used to come out a yellow/green colour, my question is do some alloys take the sodium dichromate seal differently and indeed come out gold/brown or is this likely due to concentration being too low/high?

For clarity, on this occasion it was decorative clear anodising and dichromate seal.
Andrew Hopkins
- United Kingdom
---
June 23, 2017
A. Hi Andrew,
Have you checked the pH of your solution.
Many specs have a range that you should stay within.
Dichromate changes colour with changing pH.
This is due to alterations in the arrangement of oxygen atoms around the chrome VI ion.
Good luck
Mark
Mark Lees
Aerospace - A cloudy and rainy rock in the irish sea
---
June 26, 2017
Q. Thanks for that Mark,

I thought it would likely be down to the pH level but unfortunately we don't have the product data sheet for the sodium dichromate anywhere (this seal was here before my time); and the supplier has ceased production and no longer has the sheet to give me. So I don't have the official info on the ideal pH it should be. Reading from various sources tells me 2 stories: one that it should be around 7, and one that it should be around 5.5 -- which isn't helping. I will take a sample and try some at different pHs to get the desired colour.
Andrew Hopkins
[returning]
- United Kingdom