Live! From beautiful Pine Beach New Jersey: Welcome to the world's most popular metal finishing website
topic 33135
Pre-cleaning oils from carbon steel to be Plated
A discussion started in 2004 but continuing through 2019
2004
Q. My company processes thin wall carbon steel tubes (2" dia. x 24" long by 16 ga) that get several holes punched/drilled in them prior to Zinc Plating. Our tubing vendor applies an anti-rust coating to the tubes prior to shipment. Our Zinc plating vendor is saying that this protectant oil (or a water soluble metalworking processing lube) is not able to be washed by them so we have to prewash all of our parts in a powder paint cleaning line prior to shipping to vendor. The zinc plater had said that, in the past, this oil on tubes had been hand wiped by them to remove it! The plater said that they have had this problem periodically in the past few year but that recently (3-4 months) it has become more common.
Generally: Is it widely common for the customer of a zinc plater to have to pre-clean parts or is this the plater's issue? If pre-cleaning is required then how is flash rust dealt with in transit?
Known issues:
Tubing vendor does not have control of rust preventative application.
Zinc plater has to clean parts by hand or customer runs through a phosphate powder coating pretreat to remove oil.
Suspected issues:
Rust preventative may be reacting with metal working oils.
Metal working oils may be mixed incorrectly for production.
Preventative or working oil may be reacting and gelling during the zinc pretreat baths.
Zinc plater has changed cleaning pretreat mix.
Anyone with background on applicable specifications for pre-cleaning in this type of situation please let me know. Thank you for your information.
EC Lewis
component manufacturer - Nashville, Tennessee, USA
---
2004
A. Hello EC. It's not that the plater is unable to remove oil, it's that he is unwilling to. Twenty years ago your question would have been unheard of and considered ludicrous. The plater would certainly have taken complete responsibility for whatever had to be done to clean the tubing for his plating.
But waste disposal has become such an expensive & regulated issue these days that the plating shop wants the tubing to come to him with the absolute minimum amount of clean rust protective on it. The plater is saying "Hey, tubing vendor, don't think you're gonna solve your own waste disposal problems by just shipping all that dirty oil to me on your tubing!"
In fact, if there are no holes in the tubing and only the O.D. is to be plated, some platers today simply cap the ends of tubing and ship the oil that is in the I.D. right back to the customer :-)
So, unless you are giving the plater a blank check (and not even then if he is having trouble complying with his oil & grease discharge standards), he is not going to accept uncontrolled amounts of oil on the parts you ship him. Instead, yes, the amount and type of oil that is acceptable on the parts is often part of the specification these days.
Ted Mooney, P.E.
finishing.com
Pine Beach, New Jersey
---
February 24, 2011
Q. I am seeking a new method for cleaning the i.d. of 3/4" CS tubes free from oil without using water. Currently we wipe them with wipes soaked in MEK and use a rod to push the wipe through the tube. It takes us approx. 7 passes before we can pass a white glove inspection.
Philip Marinucci
- Canton, Ohio
---
February 27, 2011
A. Hi, Philip

If you have a vapor degreaser or know of a shop that does, it may be able to handle these parts with no labor, depending on how they are racked and how long the tubing is. But why no water?
Regards,
Ted Mooney, P.E.
finishing.com
Pine Beach, New Jersey
---
---
Improving degreasing in nickel plating
January 28, 2019
Q. Hello.
I'm currently responsible for a chrome plating line and I have noticed that most of our problems are related to the cleaning step. We either have peeling problems or grease stains on the metal parts. Right now, our cleaning procedure is very simple:
1. HCl dip for 30 min for rust removal
2. Water rinse
3. Water rinse
4. Ultrasonic bath with alkaline degreaser at 60 °C
5. Water rinse
6. Manual cleaning with a cloth
7. Water rinse
7. Activation acidic dip before plating
Sometimes, using the tools I have available, to improve cleaning of difficult parts I use our chrome removal bath as an electrocleaner. It is made of 100 g/L NaOH, working with anodic voltage at 6 V and a stainless steel vessel as counter electrode. To some extent it is helping cleaning the parts but not always and I can't use it every time since this bath is not inserted in the plating line. I would appreciate some suggestions of how to improve our cleaning procedure in order to ask the bosses for some changes to the line.
Thank you.
Filipe Monteiro
Nickel plater - Aveiro, Portugal
---
January 2019
A. Hi Filipe. You've discovered the missing link through your experimentation with the chrome stripping tank: you need an alkaline electroclean tank after your ultrasonic bath --
It should probably be about 82 °C instead of 60 °; it should probably have a 9 or 12 volt rectifier instead of 6 volts, and the chemistry should be optimized for electrocleaning (a proprietary formulation would be ideal). You probably will no longer need manual cleaning with a cloth after installing the electrocleaning step.
Regards,
Ted Mooney, P.E. RET
finishing.com
Pine Beach, New Jersey
Striving to live "Aloha"
---
January 28, 2019
Q. Thank you for the quick reply. When you mentioned a change from 60 °C to 82 °C, are you referring to the ultrasonic bath or the electrocleaner?
Filipe Monteiro
[returning]
- Aveiro, Portugal
---
January 2019
A. Hi Filipe. I was referring to the electroclean tank but higher temperature usually improves cleaning in any cleaning tank.
Regards,
Ted Mooney, P.E. RET
finishing.com
Pine Beach, New Jersey
Striving to live "Aloha"
---
January 28, 2019
A. Hi Filipe
Ted's advice is good but the alkaline clean should come before the HCl. If the parts are greasy, the acid cannot reach the surface.
There should be no need for manual cleaning. If the cleaning line did not work, a cloth will just add work and possible re-contamination.
Don't forget a water break test before plating to confirm that the parts are clean. It takes seconds and will cut down on your rejects significantly.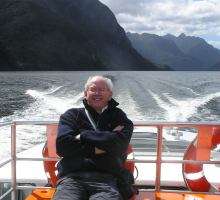 Geoff Smith
Hampshire, England
---
January 28, 2019
Q. Indeed, before my time at the company, we used to have a vapour degreaser made of trichloroethylene, prior to the HCl bath. However, due to safety regulations in my country regarding the use of TRI in closed spaces, we had to give up this step. No alternatives were implemented. Are there any substitutes more "environmental friendly" that we can put in the vapour degreaser?
Filipe Monteiro
- Aveiro, Portugal
---
January 2019
A. Hi again Filipe. For a while n-propyl bromide was hailed as the miracle drop-in replacement, but I have heard to the contrary since, and I don't spend my time tracking such stuff :-( There are a bunch of new proprietary solvents, such as those listed at
https://www.dec.ny.gov/chemical/72273.html
and one or more might be available and workable--although none are "drop-in" replacements. But I would not go back to vapor degreasing for steel parts anyway.
Is it possible to do the ultrasonic cleaning first as Geoff suggests, then the heavy rust removal with HCl, then the electroclean, then the acidic activation dip? That sounds very robust, and you will probably see no water break.
Regards,
Ted Mooney, P.E. RET
finishing.com
Pine Beach, New Jersey
Striving to live "Aloha"
---
January 29, 2019
Q. I will have to ask management if it is possible to make alterations in the line. Indeed we need changes because some material is still grease stained even after going to the chrome removal bath. I have photos showing this issue.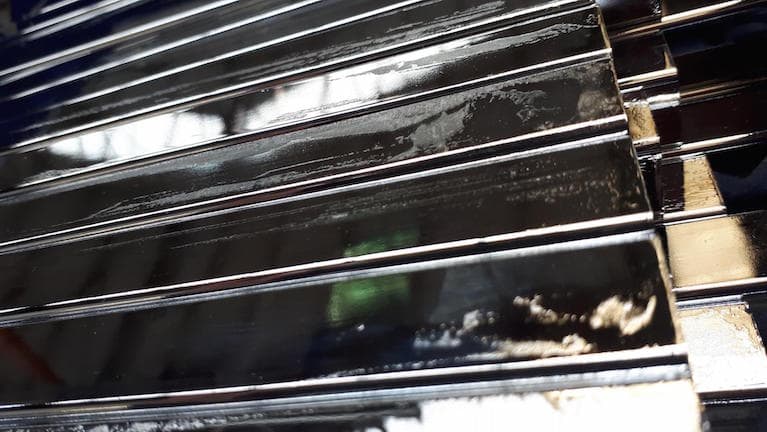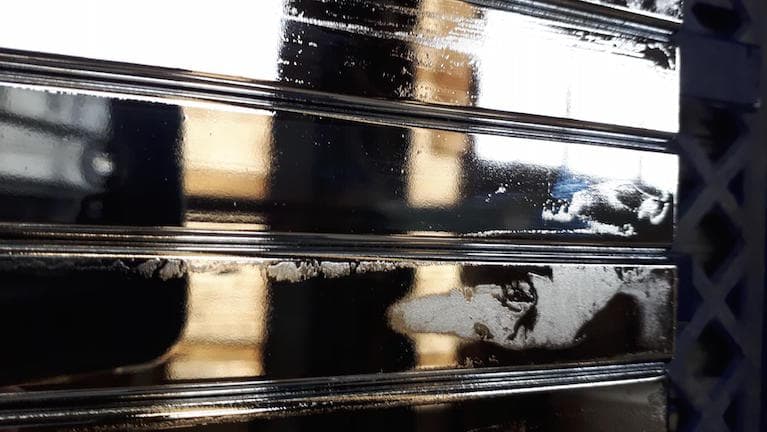 Filipe Monteiro
- Aveiro, Portugal
---
January 2019
A. Hi Filipe. You didn't need to post pics of grease-stained parts for us to believe that inadequate cleaning leads to defects. Just be aware that virtually every production plating shop employs electrocleaning these days, and virtually no production plating shops do hand cleaning anymore.
But your pictures do help us understand your specific components :-)
Thanks & Regards,
Ted Mooney, P.E. RET
finishing.com
Pine Beach, New Jersey
Striving to live "Aloha"
---
January 29, 2019

Pictures were just to include context :) I have been putting pressure on management to see if they update our degreasing procedures. With your help, maybe they will start listening. Thank you.
Filipe Monteiro
- Aveiro, Portugal


If you have a question in mind which seems off topic, please Search the Site