World's most popular finishing site / Internet's friendliest corner
topic 33135
Pre-cleaning oils from carbon steel to be Plated
A discussion started in 2004 but continuing through 2019
2004
Q. My company processes thin wall carbon steel tubes (2" dia. x 24" long by 16 ga) that get several holes punched/drilled in them prior to Zinc Plating. Our tubing vendor applies an anti-rust coating to the tubes prior to shipment. Our Zinc plating vendor is saying that this protectant oil (or a water soluble metalworking processing lube) is not able to be washed by them so we have to prewash all of our parts in a powder paint cleaning line prior to shipping to vendor. The zinc plater had said that, in the past, this oil on tubes had been hand wiped by them to remove it! The plater said that they have had this problem periodically in the past few year but that recently (3-4 months) it has become more common.
Generally: Is it widely common for the customer of a zinc plater to have to pre-clean parts or is this the plater's issue? If pre-cleaning is required then how is flash rust dealt with in transit?
Known issues:
Tubing vendor does not have control of rust preventative application.
Zinc plater has to clean parts by hand or customer runs through a phosphate powder coating pretreat to remove oil.
Suspected issues:
Rust preventative may be reacting with metal working oils.
Metal working oils may be mixed incorrectly for production.
Preventative or working oil may be reacting and gelling during the zinc pretreat baths.
Zinc plater has changed cleaning pretreat mix.
Anyone with background on applicable specifications for pre-cleaning in this type of situation please let me know. Thank you for your information.
EC Lewis
component manufacturer - Nashville, Tennessee, USA
---
February 24, 2011
Q. I am seeking a new method for cleaning the i.d. of 3/4" CS tubes free from oil without using water. Currently we wipe them with wipes soaked in MEK and use a rod to push the wipe through the tube. It takes us approx. 7 passes before we can pass a white glove inspection.
Philip Marinucci
- Canton, Ohio
---
---
Improving degreasing in nickel plating
January 28, 2019
Q. Hello.
I'm currently responsible for a chrome plating line and I have noticed that most of our problems are related to the cleaning step. We either have peeling problems or grease stains on the metal parts. Right now, our cleaning procedure is very simple:
1. HCl dip for 30 min for rust removal
2. Water rinse
3. Water rinse
4. Ultrasonic bath with alkaline degreaser at 60 °C
5. Water rinse
6. Manual cleaning with a cloth
7. Water rinse
7. Activation acidic dip before plating
Sometimes, using the tools I have available, to improve cleaning of difficult parts I use our chrome removal bath as an electrocleaner. It is made of 100 g/L NaOH, working with anodic voltage at 6 V and a stainless steel vessel as counter electrode. To some extent it is helping cleaning the parts but not always and I can't use it every time since this bath is not inserted in the plating line. I would appreciate some suggestions of how to improve our cleaning procedure in order to ask the bosses for some changes to the line.
Thank you.
Filipe Monteiro
Nickel plater - Aveiro, Portugal
---
January 28, 2019
Q. Thank you for the quick reply. When you mentioned a change from 60 °C to 82 °C, are you referring to the ultrasonic bath or the electrocleaner?
Filipe Monteiro
[returning]
- Aveiro, Portugal
---
January 28, 2019
Q. Indeed, before my time at the company, we used to have a vapour degreaser made of trichloroethylene, prior to the HCl bath. However, due to safety regulations in my country regarding the use of TRI in closed spaces, we had to give up this step. No alternatives were implemented. Are there any substitutes more "environmental friendly" that we can put in the vapour degreaser?
Filipe Monteiro
- Aveiro, Portugal
---
January 29, 2019
Q. I will have to ask management if it is possible to make alterations in the line. Indeed we need changes because some material is still grease stained even after going to the chrome removal bath. I have photos showing this issue.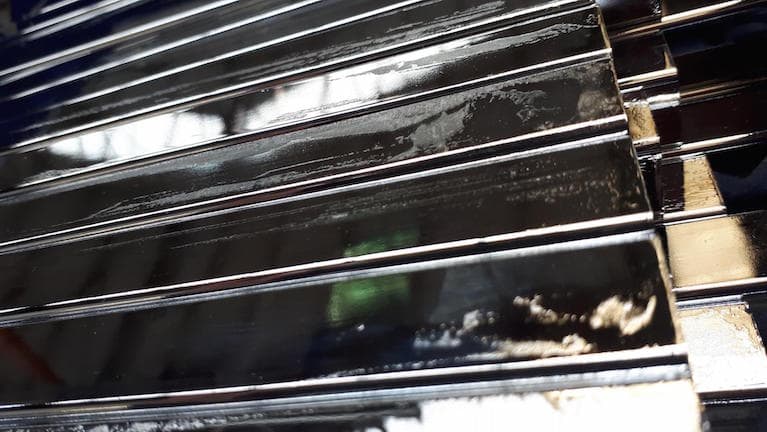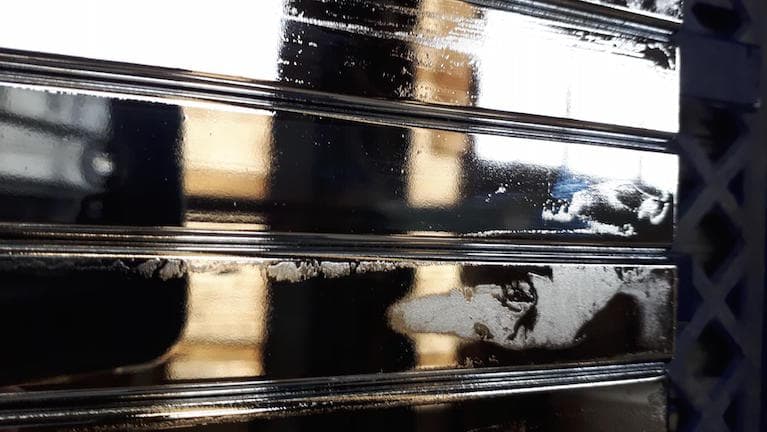 Filipe Monteiro
- Aveiro, Portugal