Serious Education ... plus the most fun you can have in metal finishing.

Strip (remove) Copper Plating
A discussion started in 2004 and continuing through 2017 . . .
(2004)
Q. I am looking for chemical or chemicals to strip 1 microns of copper plating from a nickel alloy material (Ni(70%), C(0.05),Si (0.15%), Mo (4.0%)) without affecting or etching the surface. I do not wish to use cyanide or a cyanide based chemical. Please recommend me the best way to solve this problem.
Fong
Fong Lean Guik
- Singapore
---
(2004)
A. Immersion in ammonium hydroxide (ammonia water) will dissolve copper in a short time and will not affect the nickel alloy. Odor is very strong and irritating, and disposal must be done in accordance with your local laws.
Guillermo Marrufo
Monterrey, NL, Mexico
---
(2004)
Q. Mr. Marrufo,
Seems like it doesn't strip the copper plating even using 28% concentrated ammonia water (without adding addition water). Any other ways to strip copper on nickel alloy without using cyanide.
Thanks
Fong Lean Guik
- Singapore
---
(2004)

A. Try adding about 2-4% of 35% hydrogen peroxide.

Jeffrey Holmes, CEF


Spartanburg,
South Carolina



---

(2004)

A. One micron of copper should be no problem to ammonia (should remove it in less than one hour). If it is not working then it is not copper or has something else on top of it. Another possibility is to use anodic treatment part is (+) stainless steel is (-), 6 volts and 30% alkali in water (sodium or potassium hydroxide) but again this may not work if ammonium didn't.

Guillermo Marrufo




Monterrey, NL, Mexico



---
(2004)
A. You can use 150 gm sodium sulphide/15 gm sulphur/1 lit water solution (20 C temp.)!
Good luck!
Goran Budija
- Zagreb, Croatia
---
(2004)
A. Sodium or Ammonium persulfate will work very well.
Lee Kremer
Stellar Solutions, Inc.
McHenry, Illinois
---
October 31, 2009
A. Your supplier can suggest a safe copper stripper. Or as Mr. Lee mentioned you can use persulphate as it etches copper. Or you can also go for mild hydrochloric acid with ferric chloride for slow stripping, but be careful since it is highly corrosive mixture.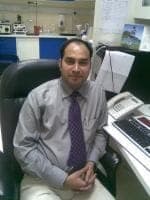 Shafiuddin A. Mohammed
metal coating shop
Dubai, United Arab Emirates
---
---
December 27, 2016
Q. I have used a solution of ammonia with 10% hydrogen peroxide to strip copper alloy from steel parts. The solution turns blue and loses its effectiveness. Is there an easy way to remove the metals and reuse the solution? I've never worked in the industry, I'm only just learning how to brass plate.
Mike Dunn
- Rochester, New York USA
---
---
February 3, 2017
-- this entry appended to this thread by editor in lieu of spawning a duplicative thread
Q. Hey, I've been a plater for quite awhile now. Here's the question. I was derusting my motorcycle gas tank. I used vinegar and copper plated copperhead BBs. Now that all the rust has been removed the vinegar stripped the copper off the BBs and now I have copper immersion inside the whole tank. what's the best way to remove this without destroying the tank? What will strip the copper out of the tank with out compromising the inside surface area? Thank you.
Jesse Drum
12 yrs in the industry - Minneapolis, Minnesota
---
February 2017
A. Hi Jesse. We added your inquiry to a thread where stripping of copper plating is discussed. We have several other threads on the same subject if you use the search engine. In reviewing those other threads, note that nitric acid was proposed for stainless steel, not for steel. You probably know it, but as a warning to others, you never expose steel to nitric acid (choking NOx fumes).
Regards,
Ted Mooney, P.E. RET
finishing.com
Pine Beach, New Jersey
---

February 3, 2017

Q. Ok so could I drain and remove current solution of BBs and vinegar. Rinse well fill with some steel BBs or nuts and washers along with hydrogen peroxide. Agitate for a while drain and neutralize? It's a very small deposit of copper I can almost rub it off with finger light touch of scotch bright immediately removes it but I have no way of getting inside the tank with anything.

Jesse Drum

[returning]




- Mpls Minnesota





---

February 3, 2017

A. Looking at the various options suggested in this thread over its lifetime, I think the persulfate option is still the least hazardous. (It ships hazmat due to being an oxidizer but isn't noxious to work with.)

(Adv.)
Please feel free to contact me if you are interested in a source for this.

Ray Kremer

Stellar Solutions, Inc.

McHenry, Illinois




----
Ed. note: Closely related threads which may interest readers of this one include:
Letter 13105 "Removing brass plating and replacing with bronze"
Letter 59452 "Strip Brass Plating from low carbon steel substrate"