Live! From beautiful Pine Beach New Jersey: Welcome to the world's most popular metal finishing website
topic 32766
What conducts heat quicker copper or nickel?
A discussion started in 2004 but continuing through 2018
2004
Q. My name is Michael and I am in the sixth grade and I have to turn in a science project, and I need to find out what conducts heat faster... copper (penny) or nickel (nickel)?
I tried doing it at home, but the heat became too intense before I noticed the difference.
Please help, it is worth 14 grades.
Clueless in Miami ...
Michael D.
student - Miami, Florida, USA
---
2004
A. The property you are talking about is called 'thermal conductivity', Michael. Copper has excellent thermal conductivity, so many kitchen pots and pans have a copper bottom or a copper core sandwiched inside them.
Ted Mooney, P.E.
finishing.com
Pine Beach, New Jersey
---
2004
A. Hello Michael!
The other problems with the experiment is that pennies are not generally made of copper, nor are nickels made of nickel. US pennies, since 1983, are a zinc core with a thin (0.0005 inch thick) coating of copper, while nickels are a copper-nickel alloy. You can use pre-2003 Canadian pennies if you want copper: but nickel is harder to find.
Another problem is that your pieces- the nickel and the penny- are different sizes, and you're not going to be able to factor that into a home experiment.
You know, if you want a simple science project, why don't you do it on heat capacity rather than heat conduction? Take a bunch of pennies, weigh them on a home kitchen scale, boil them in water while in a strainer, then dump them quickly into a glass measuring cup of water, where you have a thermometer taped to the side. See how much the water temperature rises. Repeat it with the same weight of nickels, or quarters, or little rocks that you found in your yard, or shells from the seashore- most anything will do. Or do it on a volume basis- so long as you are comparing the same weight, or same size, it's a nice experiment that teachers will like. Repeat the experiments to ensure you get the same results time and again- it should be pretty fast to do that. Just make sure you don't burn yourself on the boiling water!
Good luck!

Lee Gearhart
metallurgist
---
2004

Lee,
Great response!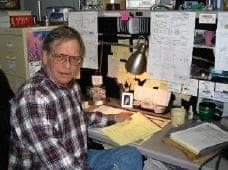 Jeffrey Holmes, CEF
Spartanburg, South Carolina
---
2004

I'll second that!
Ted Mooney, P.E.
finishing.com
Pine Beach, New Jersey
---
2004
A. Copper conducts better than nickel. Trawl the Internet and get the thermal conductivity coefficients for both metals - that should impress the teacher.

Trevor Crichton
R&D practical scientist
Chesham, Bucks, UK
---
---
June 14, 2018
Q. My situation: Hi I am a student in Grade 7 and I have to write this lab for an experiment I have done. Why does copper conduct heat better than nickel? Thank You!
PJ Jawandha
Student - Calgary, Canada
---
June 15, 2018
A. Hi P J!

Thermal conductivity in metals is due (and carried) by free electrons. Copper, silver and gold are metals with only one valence electron, and this valence electron is free to go anywhere and repels any other electron because all electrons in a copper crystal are the same spin.

The last s orbitals (they are probability fields to "find" an electron) are big and symmetrical, and bigger if they are half full and the highest in energy (as all noble metals are). So, they are very little attracted by the nucleus, and free to go anywhere.

Many s orbitals in the copper crystal combine to make a "road" to electrons to move. As s orbitals have this properties above, and ONLY in noble metals this only s electron is the highest in energy, these metals have the highest electrical conductivity and thermal, too.

Best of luck in your project :)
Daniel Montanes
TEL - N FERRARIS - Canuelas, Buenos Aires, Argentina


If you have a question in mind which seems off topic, please Search the Site