60,000 Q&A topics -- Education, Aloha, & Fun
topic 32665
Can you use mild steel instead of spring steel?
2004
My name is Helen, a second year BBS student. I have a query relating to the theoretical minimum no. of parts used in assembly of, what I can no better describe as a thingy (plate, bearing housing, 2 washers, 2 nuts and 2 screws). All parts are mild steel bar the plate, which is spring steel.
Is there any reason why the plate (1.5 thick, 60 in diameter) must be of a different material then the others? Does it have a particular property which makes it more, well, usable (for want of better words).
Thats about it,
Thanking you kindly,
Helen
Helen L.
student - Cork, Co. Cork, Ireland
---
2004
Unfortunately, I am ignorant of your school system, Helen, so I don't know what age a 2nd year BBS student is, or what grade that is equivalent to in the USA; that makes it difficult to answer appropriately.
I recall a definition of a pea as being an object which, if you had 28 quadrillion of them, would cover the earth to a depth of two feet. Your project seems to be of the type that creates such definitions. Spring steel provides a function, it springs. Whether that functionality is essential, optional, troublesome, or unacceptable to a thingy is, at best, difficult to speculate about.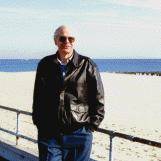 Ted Mooney, P.E.
finishing.com - Pine Beach, New Jersey
Striving to live Aloha
---
2004
When I bend a piece of steel a small amount and let it go, it springs back. If I bend it more, it'll spring back a little, but not all the way. We say it "takes a set". The point at which it takes a set, or more precisely where we go from elastic to plastic deformation, is related to the yield strength of the material.
"Spring steel" is a generic term for steel that has been processed, usually but not always by cold working, to achieve a really high yield strength. Hence it will be able to resist "taking a set" when you load it heavily- or at least more so, by a wide margin, than mild steel.
The downside of spring steel is that it will be less formable, less machinable, more brittle, than it's mild steel cousin.
Good luck on your studies!

Lee Gearhart
metallurgist - E. Aurora, New York
---
---
Heating zinc plated hook screws in order to bend the hooks
March 31, 2020
Q. My wife wants a rack to lift the back tire of her bicycle so she can use it as a stationary bike. I want to try to make one myself.

Part of my idea is to take two zinc-plated lag thread screw hooks and open the curve of the hooks so the rear of the bicycle frame can rest on them. Can I heat them in order to bend them? Will I make the metal weaker? Is there danger of chemical exposure or something else I should know about?

Thank you for this website.

Sincerely,
Brian Miller
hobbyist - Parma, Ohio, US
---
April 2020
A. Hi Brian.
Hardware and big-box stores have such hooks in many large sizes including with plastisol coating over them. So the way I see it is you have existing U-bolts and you'd prefer to spring them open a bit if you can rather than buy new ones of a better shape ...
Yours might be mild steel or they might be a hardened heat treated steel that can only be bent by heating to an annealing temperature first, but you don't really know. And the necessary heat may destroy the zinc plating or chromate conversion coating or release zinc oxide fumes into the air. And when you're done you don't know how to heat treat and quench the U-bolts to restore them anyway.
So my approach would be: if they break so be it, I can buy new anyway ... so I'd just just assume they are not hardened (but wear goggles just in case) ... and bend them cold. Good luck.
Regards,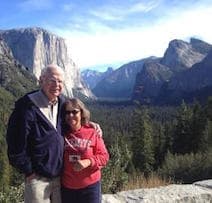 Ted Mooney, P.E. RET
finishing.com - Pine Beach, New Jersey
Aloha -- an idea worth spreading
---
April 2, 2020
Q. Hr Mr. Mooney,

First of all, that's a beautiful picture of the two of you. Second, I'll admit I'm a bit of a cheapskate, but I did shell out the money at a big-box store and bought them.

Just to clarify the description of the hooks I bought: if you hold the hook horizontally, the hook part goes downward at a 45-degree angle, loops, then goes back up at a 45-degree angle. At this store, I didn't see any where the hook part goes straight down then straight up. If you know of any stores that have hooks like that, I'd be glad to hear from you. If you're not allowed to give the names of stores, I get it. Thanks for helping. Please try to stay healthy with this coronavirus crisis.

God bless,
Brian Miller
[returning]
- Parma, Ohio, US
---
April 2020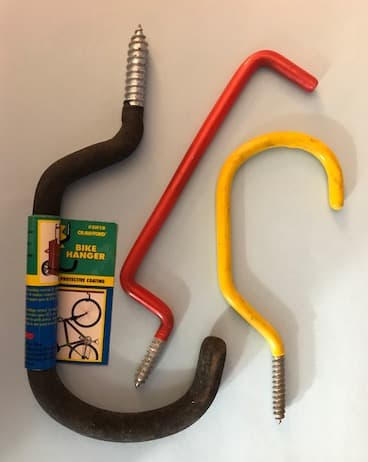 Hi again Brian.
Here's a pic of what I have in my junk drawer. The large black one is made for hanging bikes, but by their wheels rather than the frame. I don't remember whether they came from Home Depot or Loews. Bending steel cold probably requires a good vice, and a length of pipe or a heavy sledge hammer or maul, but I still think cold is easier than hot.
We lived in Middleburg Heights & Bay Village '74-'81; I remember with happiness the Western suburbs of Cleveland.
As for the pic of my wife and I, it's a roadside scenic stop and my favorite picture of us. We were trying a selfie when a kind stranger said "let me do that [click] here ya go". Without having our phone in her hands a total of 2 seconds, she knew exactly where to stand and hold the phone to capture the grandeur of Yosemite for us. I hope she stumbles across this site some day, because people don't realize the value of their simplest small kindnesses :-)
Regards,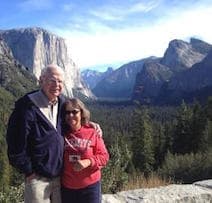 Ted Mooney, P.E. RET
finishing.com - Pine Beach, New Jersey
Aloha -- an idea worth spreading