topic 32456
Heat Treating a 4140 axle shaft
A discussion started in 2004 but continuing through 2017
2004
Q. Hi. I am a college student living in Alaska, where we don't have trouble heat treating most steels in air. ;) Just kidding.
I've taken metallurgy in college and have studied it on the side for a few months now. I am trying to make an axle shaft for a full floating axle (the shaft will only have torsion and will be splined on both ends). I want a hardness of 40-45 in the shaft.
Is a non oxygen atmosphere as important with 4140 as it is with 4340 during heat treating? We don't have the best equipment in the world at the local university, so would packing the shaft in some high carbon content material help eliminate decarburization? (if any?)
To best suit the cooling curve I've read that oil should be used. I've read on other sites over the net that ATF or deep fry oil can be used. I don't want to overquench the bar, but I don't want to use a quenchant that does not take advantage of 4140's hardenability.
At the school we have a sectioning saw, polishing stations, rockwell hardness testers, diamond point hardness tester, etc. I have already sectioned one stock truck axle shaft and will be testing two more today to obtain a base point. As long as my replacement shaft is stronger than all 3 stock shafts (hopefully by a healthy margin!) I will be happy. ;)
Lastly, something I am wondering but have done no research on yet, is how to approximate the tensile strength of a material with a hardness that changes with depth. The stock shaft appeared to be induction hardened and made of a material with somewhat of a low hardenability. About .125" of the radius changed in hardness greatly from 1/16th to the next, but then it stabilized at about 27RC (the last .625" of the radius). Not doing any studying myself on this topic yet, I hope it isn't an incredibly stupid sounding question. ;) Would I calculate the strength of the shaft as a bunch of tubes with different thickness and hardnesses?
Here is picture of the shaft RC tests: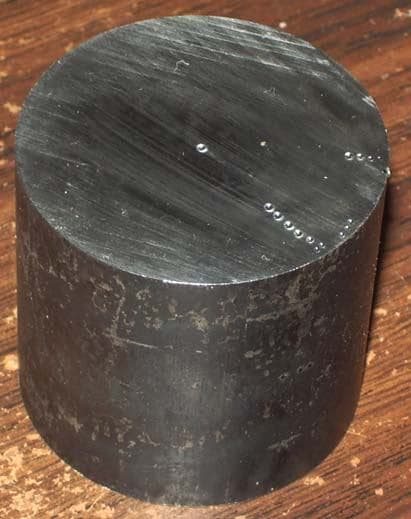 Note: The camera flash makes it look like the surface of the bar changed color, I guarantee its uniformly grey cut by the sectioning saw. Maybe I'm just paranoid, and a little heat wouldn't affect anything but an acid etch evaluation. Just shows how new I am to this stuff. ;-)
Thanks for your time reading my questions. Keep in mind that while I have access to a lot of nice equipment, in some areas I might have to "get by". Reading is one thing, but practical experiments with an end application excite me. ;)
Grant Stockly
Student - Anchorage, Alaska, USA
---
2004

Q. I am considering using 4340 instead of 4140. I feel more comfortable with 4140 because its cheaper, available in state, and I've worked with it before...but I feel that it may be a compromise over 4340.

I have found much more information on the internet about 4140. Should I order some 4340, heat treat in used vegetable / deep fry oil, temper, turn down the decarburized surface, and then spline it? When I wrote the first letter I had not tested the two remaining shafts mentioned above. One was nearly identical in the hardenability, however the shaft out of a Corporate 14 bolt 1 ton chevy axle had a HRC55 for about .6" of the radius until it tapered off to 43. That shaft diameter was approximately 1.38", where as my replacement will be 1.45-1.5". I am considering a heat treat / temper process of 1650F soak, deep fry quench (filtered), and a 210C temper. Any thoughts? I might spline the first shaft before heat treating (it would be MUCH easier anealed). I'm just worried about the decarburization killing my dimensions or causing something bad to happen. :(

Thanks for your time,

Grant Stockly

[returning]




- Anchorage, Alaska, USA





---

2004

A. It can be done in air if you leave about 0.020 per side to grind off the oxide layer.

One method of preventing decarborization is to put a heavy copper plate on it before bake. This would be for critical parts. Packing the part in bone meal will actually carburize the outer few thousands. Another method would be to wrap the part in a stainless foil that is made for heat treating parts. If you were to pass some nitrogen thru the baggie prior to sealing , it would additinally reduce the oxidation. Used motor oil is a cheap material to quench in. A major problem is to lower this shaft absolutely vertically into the oil, ot is will cool faster on one side than the other causing problems and possibly cracking.

Once you start into the oil, insert the rest of the part rapidly without splashing. Have a cover ready incase it catches the oil on fire. It is a sooty mess if you do not. room temp oil is fine, but not cold.

James Watts




- Navarre, Florida




---
2004
Q. Are there any dip/spray coatings I should look for that would protect against deoxidation? I dip the splined end in liquid copper a few times I guess, thats the only dimensionally critical part and I would prefer to machine the shaft unhardened.
A professor at the university suggested the foil wrap, but wasn't sure if it would need to be removed before quenching. It doesn't sound very fun, trying to get foil off a shaft that is at 1500F. ;)
I had thought about a 40 gallon quench tank made out of an oil drum cut in half on its length. I could make a cover with a slot, just roll the shaft into the slot and it would fall in.
One concern I have over the atmospheric process is the material flaking that occurs in the oven. I assume that attempting to quench with that stuff on the shaft will reduce the hardness achieved. Are there any shops that heat treat items in an oxygen atmosphere?
Thanks for your help!
Grant Stockly
[returning]
- Anchorage, Alaska, USA
---
2005
A. THE REASON THE CENTER IS SOFTER THAN THE SURFACE IS BECAUSE OF CASE HARDENING. ONLY THE OUTSIDE OF THE SHAFT WAS HEATED WITH INDUCTION HEATING. THE CORE NEVER GOT HOT ENOUGH TO PHASE CHANGE, WHEN QUENCHED.

BE PREPARED TO ANNEAL/TEMPER AFTER THE HEAT TREATING. THE OIL QUENCH CAN MAKE 4140 GO INTO THE 50-60 HRc, RANGE.
TO BRITTLE FOR SERVICE.

BY TAKING THE PART TO AN ELEVATED TEMPERATURE AT A GIVEN TIME, YOU CAN DRAW HARDNESS FROM THE PART. ie. 400 DEGREES FOR 8 HOURS, 600 DEGREES 2 HOURS, WILL REDUCE HARDNESS BY A FEW POINTS (CONSULT A GOOD HEAT TREATING TABLE TO GET EXACT TEMPS. AND TIMES AND ANNEAL RESULTS).
D Whitacre
- Bixby, Oklahoma
---
---
2007
Q. A friend of mine gave me a shaft that he thinks is 4140 to be hardened and tempered. He tried to harden it himself with a torch! Anyway now, I am attempting to fix his mistake, I measured the hardness to be between 79-90 HRC depending and where it is tested. I am thinking that 4140 shouldn't get this hard. So now I am questioning if it is 4140 and can I re-harden it/quench and temper it. I was gonna heat at 1500F, quench it in oil and temper it at 625F. Will this work for 4140? Or is the material a different grade?
Steve Steele
Hobbyist - St. John's Newfoundland, Canada
---
May 16, 2012
A. Steve,

I don't think that hardness is at all likely, as most steel won't get over 60 HRC and even carbide tool tips measure out at ~72 HRC.

I suspect it may be some other hardness grading as a large shaft would be near impossible to heat, soak and quench at the required temps

You would truly need commercial HT with their full sized furnaces

Regards
Lang
SA
Lang W
[last name deleted for privacy by Editor]
- Jhb, South Africa
---
---
October 18, 2017
Q. I have an involute splined shaft where the splines run out onto a shaft diameter that is the same as the spline major diameter. Perhaps not the greatest design, but it is necessitated by the need for placement of other components. How far should the induction heat treat go along the spline? It seems to make sense that the heat treat should run the full spline length to just past where the hob runs out to avoid a potential stress riser where the material hardness changes. I would appreciate your thoughts/opinions/experience. Shaft diameter is 1.181 in. and spline is 21 T, 20/40 pitch and 1.250 in. long full depth. Material is A311 steel.

Thanks,

Mike

Mike Boyajian
Warfield Electric Co., Inc. - Frankfort, Illinois,USA


If you have a question in mind which seems off topic, please Search the Site