Live! From beautiful Pine Beach New Jersey: Welcome to the world's most popular metal finishing website
topic 32350
Removing ammonium ion in effluent
2004
Ammonia in effluent I have seen reference to the use of sodium hypochlorite in removing Ammonium from effluent. Is this effective, how much is needed or is there any alternative?
Geoffrey Whitelaw
- Port Melbourne, Australia
---
2004
Geoff,
Don't try it! Google "dangers of ammonia and bleach" or go to http://www.bbc.co.uk/dna/h2g2/classic/A795611 for more information. It will remove ammonia from effluent but the byproducts are worse than the ammonia. I'd dig a little deeper before trying this one.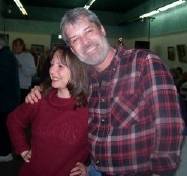 Trent Kaufman
electroplater
Galva, Illinois
---
2004
Actually, the use of super chlorination is an effective, but expensive, method to treat ammonium ions in water. Trent is correct - the mixture of ammonia and bleach can be downright deadly, but we are looking at water borne concentrations that will not typically gas, and you have to use pH control to keep the ammonium ion as NH3, not NH4.
I think that you will find there are much better ways to treat this, depending on the amount of ammonia present, any applicable air discharge regulations (for one technology), and also alternate technologies. We had a client that we put an advanced oxidation technology into for ammonia removal a few years back coming off his CN treatment system after the POTW applied a most stringent free ammonia limit to his effluent. A combination of ozone/UV at the proper pH worked quite well, and was also highly cost effective compared to the super chlorination approach.
Tom Baker
wastewater treatment specialist
Warminster, Pennsylvania
---
2004
One way to remove ammonia from water is to us zeolites as an ion exchange media. Clinoptilolite, a naturally mined clay material is particularly effective and is available in granular form. Ammonia can also be regenerated back off of the zeolite in a concentrated form using brine or mild caustic.
If the quantity of ammonia is small enough, then one time use of the zeolite may be practical,since it is fairly inexpensive. Typical capacities are over 0.25 lbs of ammonia per cubic foot of media, and removal to < 1 mg/L is possible.
If you want to test this, you could try using Cat Litter (non clumping) [linked by editor to product info at Amazon], since it is primarily a similar type of zeolite.
For optimum results, the ammonia needs to be in the NH4+ form,which requires a pH of 7 or a little lower.
Lyle Kirman
consultant - Cleveland, Ohio


If you have a question in mind which seems off topic, please Search the Site