Live! From Pine Beach NJ: The world's most popular metal finishing website, and the internet's friendliest corner
topic 32321
Refinishing motorcycle spokes?
A discussion continuing through 2018 but started in 2004
2002
Q. MOTORCYCLE SPOKES ARE ZINC PLATED + PASSIVATED + LACQUERED. IS IT NECESSARY TO TREAT THE SPOKES FOR HYDROGEN DE-EMBRITTLEMENT ? IF IT IS NECESSARY THEN AT WHAT STAGE IT SHOULD BE DONE - AFTER PLATING OR AFTER LACQUERING ? IF NOT TREATED, IS THE FATIGUE LIFE REDUCED?
SACHIN BHAMBURE
- PUNE, MAHARASHTRA, INDIA
---
2002
A. Hello, Sachin.
Any steel over about Rc40 definitely requires embrittlement relief as soon as possible after plating (preferably within 2 hours, and definitely before lacquering). I don't know how hard motorcycle spokes are, but I'm confident they're not softer than that. Good luck.
Regards,
Ted Mooney, P.E.
finishing.com
Pine Beach, New Jersey
We need "Aloha" now more than ever
---
2003
A. Dear Mr. Bhambure,
Studied your question about hydrogen de-embrittlement treatment for spokes of Motorcycles. Please note that it is very much required to subject spokes for hydrogen de embrittlement treatment since it is hard material. It is prudent to give hydrogen de embrittlement treatment before lacquer. Otherwise it will lose the aesthetic value.
Sudhakar N Shelke
- Aurangabad
---
---
Clearcoating of zinc plated spokes
2003
Q. Please suggest a right type of clear resin coat on bright zinc plated automotive spokes which should give a salt spray life of minimum 125 hours (white rust).
Sunil Kathuria
- New Delhi, New Delhi, India
---
2003
A. I believe that even a clear chromate and topcoat can yield 125 hours to white rust, so any clearcoat at all ought to have no trouble passing in 125 hours. I don't know exactly what you mean by "automotive spokes", but if you mean spokes for automobile wheels, I don't think I'd knowingly buy any zinc plated ones :-)
Ted Mooney, P.E.
finishing.com
Pine Beach, New Jersey
We need "Aloha" now more than ever
---
2003
A. Spokes for motorcycle wheel rims? You can try giving a coat of electrophoretic clear lacquer and cure with IR. But each spoke will have to be jigged!
Gurvin Singh
Coatec India

Mohali, Punjab, India
---
2003
A. Sunil ji,
The answer to your need is to use a topcoat sealant which is NOT a lacquer (hence not prohibitively costly). It will provide up to 125 hours after application and 24 hours of storage to allow the coat to cure.
Regards,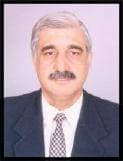 Asif Nurie
- New Delhi, India

With deep regret we
sadly advise that
Asif passed away
on Jan 24, 2016
---
A. Hi. Although Mr. Nurie is extremely knowledgeable and has offered good advice as always, you are not restricted to topcoat sealants. Long ago I was with a supplier who led the transition from nickel-chrome plated bicycle rims & spokes to bright acid zinc plating of them -- and we definitely employed clear coats to get as close to the luster of nickel-chrome as we could :-)
Regards,
Ted Mooney, P.E.
finishing.com
Pine Beach, New Jersey
We need "Aloha" now more than ever
---
---
2004
Q. I am trying to work on restoring a 1972 Honda CB 350 motorcycle. My question relates to the metal spokes. First, I know very little about refinishing metal. The original spokes appear to be anodized steel (assuming anodized means coated with a very light rust preventative (possibly zinc?) and not shiny like chrome - the coating has turned yellowish and chalky with some light rust.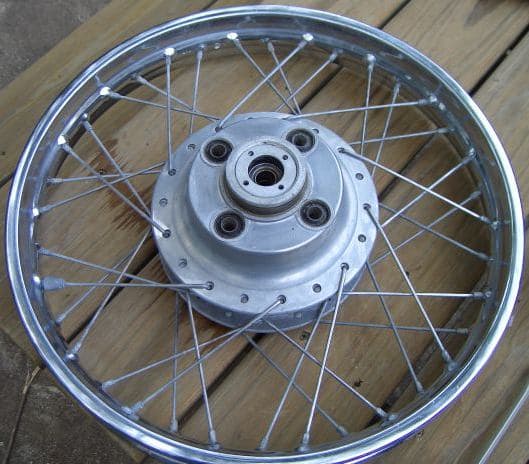 At first, I tried to simply polish the spokes with metal polish - with little result. I removed the spokes and continued to try to polish and then finally decided that I would see if I could remove the coating altogether. I soaked them in "metal prep" (phosphoric acid) and they came very clean. However, with no coating the steel immediately starts to tarnish and rust. As I see it my choices in refinishing them are as follows:
1. Polish and clear coat - not particularly durable, but close to the original look, inexpensive and easy to touch-up. Paint may not get into the threaded female nipple end and/or may scrape off the threaded male spoke end and, thus, rust.
2. Chrome - I am concerned about how the chrome will affect the fit of the threaded end of the spoke and the threaded female nipple. Also expensive.
3. Paint with "silver" or "chrome" paint and then possibly clear coat. Maybe somewhat more durable than just clear coat, but not a great look and still the issue of rust on the threads.
4. Find some way to re-anodize (if such a thing is possible and if I am saying this correctly) - this would seem to provide the best long-term results and is in keeping with the original. Is this possible and how?
Carl Mastronardi
hobbyist - Rockwall, Texas
---
2004
A. From your description, the spokes were probably zinc electroplated (not anodized; that is a process for aluminum). A job shop which does zinc plating can fix them for you, but it will probably cost more than simply buying new spokes. You should be careful using phosphoric acid on them. It can cause hydrogen embrittlement, and you could have a catastrophic failure at speed.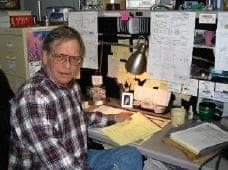 Jeffrey Holmes, CEF
Spartanburg, South Carolina
---
---
Hydrogen embrittlement of motorcycle spokes
August 8, 2009
Q. I have used Muriatic Acid [linked by editor to product info at Amazon] to remove the plating (zinc) from my motorcycle hardware. Several of these pieces are axles. Would the use of muriatic acid cause HYDROGEN EMBRITTLEMENT? I plan on using these bikes in racing competition and don't want to face a failure.
Tim Eastin
- Independence, Missouri
---
August 9, 2009
A. Hi, Tim. If the axles are hard steel, which I'd strongly suspect they are, they are very subject to hydrogen embrittlement. If they are soft steel, it is of no concern. Do you happen to have an idea of the hardness of this steel?
Regards,
Ted Mooney, P.E.
finishing.com
Pine Beach, New Jersey
We need "Aloha" now more than ever
---
---
December 17, 2010
Q. What is the process for treating/removing any H2 from a hardened steel part? I see that baking is recommended, but no info on at what temp and for how long can be found.

Thanks,
Rob
Rob Sigond
- Voorheesville, New York, USA
---
December 18, 2010
A. Hi, Rob.
The temperature is 375° F. ± 25° F.; the minimum baking time after the parts have reached temperature is 3 hours, but could be as much as 24 hours for critical components. Letters 43822 and 14537 would probably be interesting to you.
We'd prefer to point you in general directions for study, and to try to answer specific limited questions rather than to say that such and such "is the process for treating/removing any H2 from a hardened steel part" because replies in a public forum are invariably highly abbreviated, lacking the important background info found in books and specifications, so it is dangerous to assume what a reader may and may not already know. Good luck.
Regards,
Ted Mooney, P.E.
finishing.com
Pine Beach, New Jersey
We need "Aloha" now more than ever
---
---
February 23, 2018
Q. Instead of trying to repair spokes I should just buy new spokes? Or is buying a rim a better alternative?
leo colantuono
- fort pierce florida
---
A. Hi Leo. It's probably okay to clean spokes or repaint them, but when you say "repair" you may be into the area of trying to straighten them or other potentially dangerous areas.
It's hard to say at what point replacing a wheel is more practical than replacing spokes. It's probably more cost effective to replace one or two spokes than a wheel; but if you're going to replace all of the spokes, replacing the wheel is probably more sensible. Good luck.
Regards,
Ted Mooney, P.E. RET
finishing.com
Pine Beach, New Jersey
We need "Aloha" now more than ever
---
---
Yellow Passivation for Spokes & Nipples
July 7, 2018
Q. We are a manufacturer of Motorcycle spokes and nipples. For nipple plating & yellow passivation please advise me the proper chemical and procedure.
Haroon Mushtaq
- Pakistan
---
July 2018
Digital version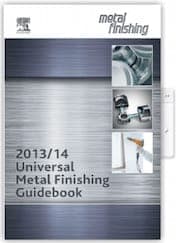 (No longer published, but Elsevier hasn't yet de-commissioned the online version of the Guidebook)
Download it before it disappears.
A. Hi Haroon. The proper procedure for spokes and their nipples is probably to acid zinc plate, hydrogen de-embrittle, and apply proprietary trivalent chromate conversion coating and topcoat as mentioned by Mr. Nurie. Please review the applicable chapters in the Metal Finishing Guidebook and get back to us with any specific questions. Best of luck.
Regards,
Ted Mooney, P.E. RET
finishing.com
Pine Beach, New Jersey
We need "Aloha" now more than ever


If you have a question in mind which seems off topic, please Search the Site