Where the world gathers for
plating, anodizing, & finishing Q&As since 1989
-----
Markings indicating real gold on jewelry
TUTORIAL:
(to help readers more quickly understand the Q&A's)
Gold jewelry can come in various purities, and the system which is used pretty much universally and worldwide to describe that purity is karat (K). The K indicates how many parts out of 24 are actually real gold. If you have 24K gold, it's 24 parts out of 24, i.e., pure gold. Although simple jewelry can be made of 24K gold it is quite soft which can be a problem sometimes -- for example making tines to reliably hold a diamond out of 24K gold may not be workable.
If gold is 12K it is 12/24 pure gold, with 12/24 parts of silver, copper, and/or other less expensive materials. Thus 14K gold will be slightly more expensive than 12K, and 18K more expensive still because there's more actual gold in it.
Not all "gold" jewelry is "karat gold"; much of it is gold plated, which means it is made of a less expensive metal covered with a thin coating of gold. In this case it will not have a K designation. But you'll probably see a few exceptions you need to understand, such as maybe "1/20 14K GF" which means 'gold filled' -- coated with such a heavy layer of 14K gold that it constitutes 1/20 of the weight of the piece.
Please don't use this particular page for inquiring about hallmarks though. Instead, please
search the site
. There are tens of thousands, maybe hundreds of thousands of hallmarks and we have numerous threads about hallmarks.
Q. I am not that familiar with the hammer head and the face silhouette. Can anyone please chime in?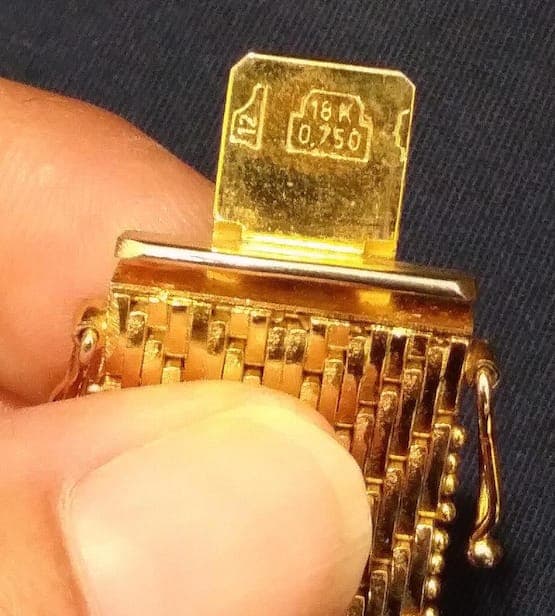 Pamela Vidales
nurse - Yuma, Arizona
October 10, 2018



A. Hi Pamela. 18K means the composition is 18/24 gold, or 0.750, so my guess is that your bracelet is real 18 kt gold and probably quite valuable. A "We Buy Gold" store can confirm quickly.
But as for the maker's marks like the face in profile, that's something you might have to spend some serious time going through a number of hallmarking books to trying to research. We've posted thousands of requests to identify jewelry markings but only about a dozen answers -- and we're not special: every other site I visit on the subject says they can't answer questions due to the volume either. The human condition is that countless millions of people have jewelry they are curious about, but most of us are quite disinterested in the markings on other people's jewelry :-)
Regards,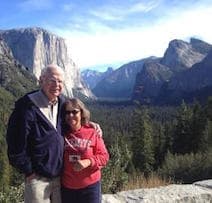 Ted Mooney
, P.E. RET
Striving to live Aloha
finishing.com - Pine Beach, New Jersey
Q. Hi Pamela,
Did you ever find out any more about your bracelet, I have just purchased identical with same hallmark.
Many thanks, Karen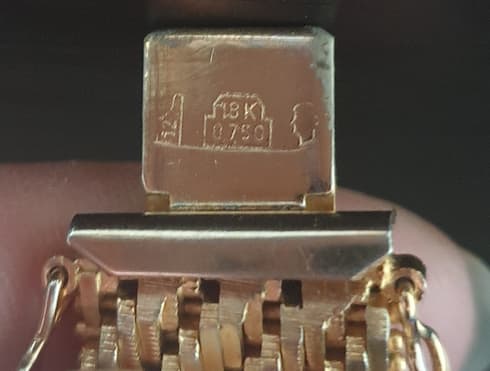 Karen Williams
- Warrington [England]
July 12, 2021
Q. Hey did either of you find out anything about the bracelets? I inherited a ring with the same mark. Is your bracelet solid gold?
Lydia kennedy
- NYC New York
April 26, 2023
Ed. note: Their bracelets are marked as solid 18 karat gold.
---
---
↓ Closely related postings, oldest first ↓
---
---
"Hallmarks and Date Letters on Silver, Gold and Platinum"
by Eric Bruton
from Abe Books
or

Affil. Link
Your purchases make finishing.com possible
Q. What solvent can be purchased to determine if a piece of jewelry is in fact real gold or has been plated? Or what other methods can be used to determine if an item is real gold?
Kenneth Davis
the body sculptor - Washington, DC, USA
2004
A. Gold is pretty inert, so to find a solvent that will dissolve it is not easy. I would suggest you check its density. Pure gold is pretty dense (19.3g/cm3) and there aren't many cheap metals near that.

Trevor Crichton
R&D practical scientist
Chesham, Bucks, UK
"Jackson's Hallmarks"
by Ian Pickford
from Abe Books
or

Affil. Link
Your purchases make finishing.com possible
A. Testing Gold, please be careful, wear rubber glovesProtective Gloves [affil link] and pay attention to the caution labels.
With a small file make a scratch in an inconspicuous spot. While wearing rubber gloves use a wooden, glass or plastic stick to apply a drop of nitric acid to this spot. Observe the reaction. When done, rinse everything well in running water.
-No reaction...................it's gold
-Bright green..................it's base metal
-Green in scratch..............gold layer over base metal
-Milky in scratch..............gold over silver

Marc Banks
- Elizabeth City, North Carolina
---
---
Q. Is a gold ring marked 14k pc real?
toby condit
- duncan, oklahoma
November 25, 2014
A. Hi Toby. If it's marked 14k it legally has to be 14k, i.e., it's 14/24ths pure gold. It may be very difficult to figure out what 'pc' means though :-)
Regards,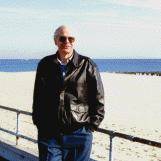 Ted Mooney
, P.E.
Striving to live Aloha
finishing.com - Pine Beach, New Jersey
---