Not a lecture hall but a roundtable with a seat for you!
60,000 topics spanning 36 years. Education, Aloha, & Fun
topic 32107
Fix frozen zipper stuck from salt spray or corrosion
Current question and answers:
October 4, 2020
Q. Assalamoalykum.
Titleist backpack Zipper jammed with Oxide corrosion.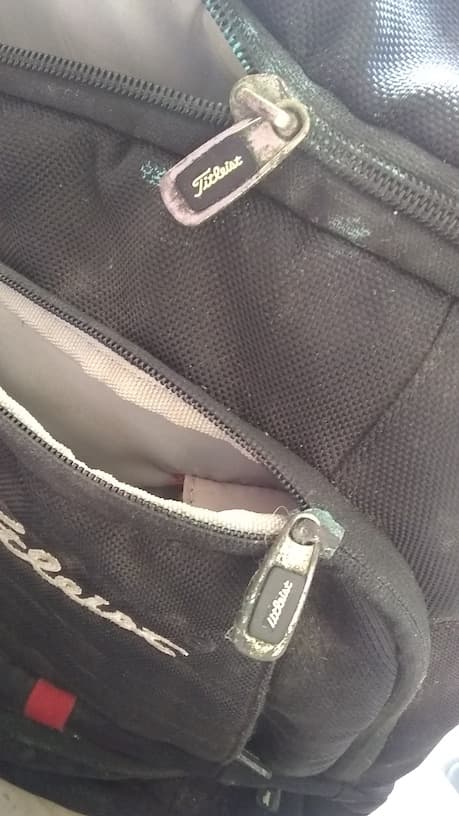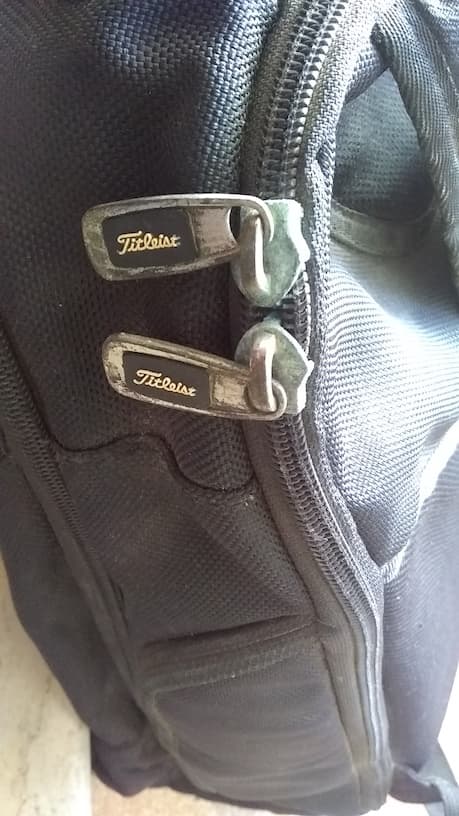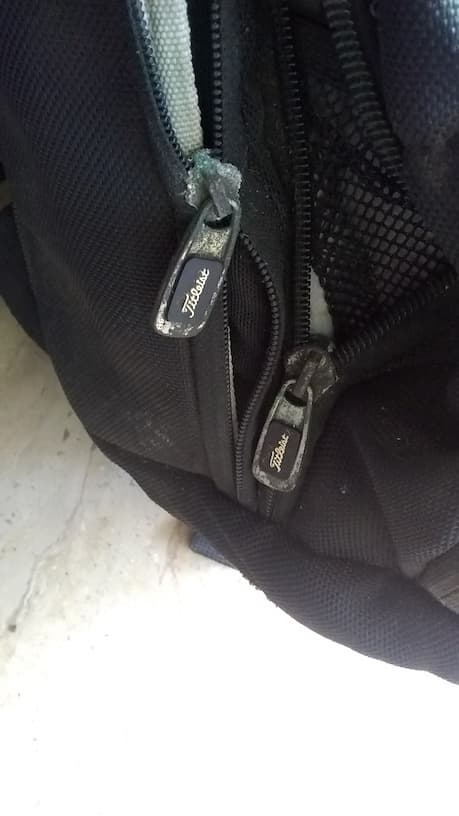 I hope that this issue is going to solve my problem. I have a backpack which was stored for couple of years and I suddenly found a need of it. But then as indicated in the query all the zippers were jammed with oxide corrosion. Pls help me resolve and restore the backpack.

Regards
Azher
Syed Shazli
- Karachi Pakistan
---
---
---
Previous closely related Q&A's starting in 2004:
2004
Q. I am having great difficulty dissolving crystallized salt spray from the inside of the zippers of my boat bimini top. The zip-in side curtains have never been used and, therefore, have six years worth of weathering. The zipper itself is plastic and in fine condition, but the zipper "pull" is metal and "seized" from the salt air/spray.
Any suggestions would be greatly appreciated.
Thanks
Richard Garnett
Personal/Boater - Jackson, New Jersey
---
2004
Q. I have a frozen zipper as well, corroded by sea salt. How does one fix this?
cd
Curt Dommeyer
- Manhattan Beach, California
---
July 31, 2009

WD-40 [affil. link to info/product on Amazon]and heat gun or hair dryer. Worked great THANK YOU! ! !
Ron Brown
- Redondo Beach, California
---
May 30, 2015

Great results! I read all the above responses, and started experimenting on my husbands dive equipment bag that had every zipper solidly frozen.

I used water, a tooth brush, and all had was apple cider vinegar, but I gave it a shot. I first used water to dissolve as much as possible right around the metal zipper pulls on the plastic zipper. I used a pin to take off chunks. I then poured the vinegar around the areas. I just hoped for the best while expecting little while waiting as one response had said--overnight.

My husband approached me when I least expected it, saying that all zippers now opened easily! No WD-40 needed, which he had not wanted due to the oily nature.

The water and vinegar solved the problem amazingly!!! I probably would have cut the bag to get the equipment and bought a new bag had it not been for this site!
Linda Simpson
- Laguna Beach, California
---
---
January 23, 2018
Q. I have aluminium zippers on my Caravan. The pull tab is aluminum and the zipper teeth are plastic and the pull tab has got aluminium oxide build up between the pull tab and the plastic teeth I have tried silicon spray WD-40 and still the zippers wont budge before when we got the van they jammed up and I managed to free them as there was not that much aluminium oxide build up on them so after freeing the sippers last time I rubbed candle wax all over the zipper and the worked fine but after leaving them for awhile they have corroded up again this time they will not budge as per everything I done in my description above we do not live by the sea we live inland boiling hot in summer and freezing cold in winter can anybody suggest something on how I can free up the zippers please.
Brian Stocks
- Willow Tree N.S.W. Australia