Live! From beautiful Pine Beach New Jersey: Welcome to the world's most popular metal finishing website
topic 32103
Steel vs. Aluminum for Autos
2004
Hi All,
I don't understand a basic phenomenon involved in choosing a material for cars or for bikes. We always go for economical aspect -- steel being the favorite for the last two decades and still leading in the market. Some cyclists and motorists tend to divert to aluminum, why is that? Steel is almost the best material already available to us, why do we need to divert to aluminum, steel has outstanding properties best suited for light structures and etc.
And car manufactures prefer steel: easier (cheaper) to weld, easier (cheaper) to deform, higher stiffness, higher yield strength (> 1300 MPa), higher tensile strength (up to 3500 MPa) (therefore perfect for light weight structures), better creep resistance, usable at temperatures above 660° C, hardenable (1000 HV), heat treatable ...
These are reasons why most cars and industrial structures and, of course, tools are made out of steel. Preferring Aluminum because it is not rusting simply doesn't meet most requirements. Can somebody make me understand this fundamental approach. Actually I am doing a comprehensive research and I think you can answer me. I sincerely hope for a swift reply.
Shehzad Saleem
GKSS Research Centre - Hamburg, Germany
---
2004
Hi Shehzad,
I can only agree with your assumptions! Steel 'seems' to be the better choice. However, why not ask AUDI why some of their cars use a lot of aluminum? ... or ask JAGUAR why their XK series use structural Aluminium and claim a) higher strength i.e. stiffness and b) lower weight .... in fact on their XJR series, they no longer are charged with a super tax due to excessive gas mileage!
Sonst kann ich Ihnen nicht helfen ... Sie schreiben doch ganz gutes Englisch ! ... aber eine Antwort von der Reeperbahn werden Sie niemals kriegen !
Freeman Newton
White Rock, British Columbia, Canada
(It is our sad duty to
advise that Freeman passed away
April 21, 2012. R.I.P. old friend).
---
2004
All that you say is true however you are separating the design and the material.
Aluminium is well suited to processes such as bonding, rivet bonding or weld bonding. These processes by spreading the load over large jointed areas provide for a stiffer lighter structure. As you say spot welding on Aluminium is poor but construction differing construction methods allow for very different designs.
Look at the following link:
autozine.kyul.net/technical_school/chassis/tech_chassis2.htm
Or look up any articles on the Lotus elise chassis to see that the direct comparison is problematic.
Ciaron Murphy
- UK
---
2004
Hy All,
I am a student and working on Magnesium, Aluminium alloys at a research centre , I am quite perplexed by the current situation in the automobile industry.
Steel is rapidly becoming a story of the past now; since cost may be higher for Mg & Al, decisions to select light metals must be justified on the basis of improved functionality. Steel is the best suited for our needs; with appropriate construction, any steel can beat most of the Al alloys without problems, it's a perfect material for light weight constructions. And the different ULSAB projects already proved that a decade ago. (ULSAB: ultra light steel auto body) They showed that structures can be made saving approx. 40-50 % in weight when they are made out of steel. They already reached for structures the same weight as Al structures but have better impact behaviour, in general a better performance compared to Al.
I want to know that if the above said is true then why are we replacing steel with Al & Mg? What are the technical aspects behind this change?
Shehzad Saleem
GKSS Research Centre - Geesthact, Hamburg, Germany
---
2004
Shehzad,
You are discovering that complex things like an automobile are indeed complex. First, your statement that steel is "rapidly becoming a story of the past" is not correct. Steel is still the most commonly used material in the automotive industry, and will continue to be at the top until there is a significant change in the price of fuel. Even in Europe where gasoline costs 2-3 times as much as it does in the US, steel is still used far more frequently than aluminum or magnesium.
Next, look at the types of components for which aluminum and magnesium have been used successfully. Most are complex castings (engine blocks/heads, road wheels, steering wheels, steering column housings, etc.) where steel really is not suitable for reasons of geometry, thermal properties, etc.
However, steel and aluminum do compete for body structure and chassis applications, and here is where things become more complex. Steel has a wide range of available properties including excellent formability and high strength, but it is also quite dense. Also, high strength usually comes at the expense of good formability. Aluminum and magnesium can be competitive with steel in a number of situations, such as the following:
1. When components are loaded in bending. Stresses are inversely proportional to the thickness squared and stiffness is proportional to the thickness cubed in sheet applications. This means low density is more favorable.
2. When several components or functions can be consolidated into 1 part such as a high pressure die casting, which requires multiple steel parts that then must be assembled, painted, etc.
Keep in mind that applications that require high strength in a small volume like springs, crankshafts, gears, etc. favor steel (or titanium) over aluminum and magnesium. Your curiosity is a good thing, and you should continue to explore this topic in more detail. Go to the library, visit websites, and talk to some of your colleagues at GKSS to find more information.
Toby Padfield
Automotive module supplier - Michigan
---
2004
Stress calculations for Mg, Al, and steel
Dear All,
1. I have three rectangular beams: one made of Magnesium, one made of aluminium and the other made out of Steel. Now I just have to find the deflection of the particular strip -- whath is the exact formula available for that? Please suggest a formula which satisfies my available knowns. These are all cantilevered beams but rectangular in geometry.
2. As it can be seen in the adjoining picture I have to calculate stresses in this irregular shaped object. What is one possible way or formula to find stresses at an individual point, please explain in detail. Thanks.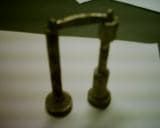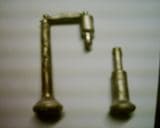 Shehzad Saleem
GKSS Research Centre - Geesthact, Hamburg, Germany
---
2004
1. What is your level of engineering training at this point, Shezad? The deflection of rectangular cantilever beams is derived in mechanics of materials texts, and reprinted as a simple formula in structures books and in Machinery's Handbook. But if you are unfamiliar with concepts like neutral axis, moment of inertia, and Young's modulus, the formulas won't do you much good :-(
... and if you are, then you would be in a position to know where to look for beam deflection formulas :-)
But try to study Young's modulus first, and you may get a quick answer to your question.
2. The best answer to all stress investigations is finite element analysis, but it can be very laborious to set up such problems, even with good computer software; and it is so easy to make fundamental mistakes that you really need a pretty good understanding of engineering before the results can be trusted to represent anything beyond a multicolored ink blob.
Ted Mooney, P.E.
finishing.com
Pine Beach, New Jersey
Striving to live "Aloha"
---
2004
Dear gentlemen:
I am student of the last course of the MDes, master of product development imparted in the University of Coventry, United Kingdom. In this last course we work developing new products for the industry. In our case my team project approaches the problem related with the tractors cab and how they could be changed for different application.
According to the existing vehicle chassis Metric grade 8.8 is the standard automotive grade with a tensile strength of approx. 120,000 psi. I would like to introduce plastic material in the structure but I find impossible to support that tensile strength with any of them because of the lack of strength.
It is for it that I go to you requesting information about the possible new feasible materials to substitute the stainless steel in the chassis.
I greet them sincerely, looking forward to your reply:
Javier Domínguez Fernández.
General engineer.
Industrial Designer.
Javier Dominguez
Coventry University - Coventry, England, United Kingdom
---
October 20, 2009
Hi, Javier. Look into carbon fiber bolts. Expensive but quite strong. Probably not applicable as a direct replacement for hardened steel bolts, but if cost isn't an object, somewhat larger carbon fiber bolts might do what you need.
Regards,
Ted Mooney, P.E.
finishing.com
Pine Beach, New Jersey
Striving to live "Aloha"


If you have a question in mind which seems off topic, please Search the Site