Where the world gathers for
plating, anodizing, & finishing Q&As since 1989
-----
Bluish green discoloration of nickel plated aluminum
2004
Q. A have been testing a nickel plated alumimum pump chamber (for ia laser resonator) with the following parameters:
1) H20 temp=65degree C
2) exposed to broad band flashlamp @ 2.0K joules for 5.05 million flashes
The result is a bluish-green discoloration of nickel plated Alumumim.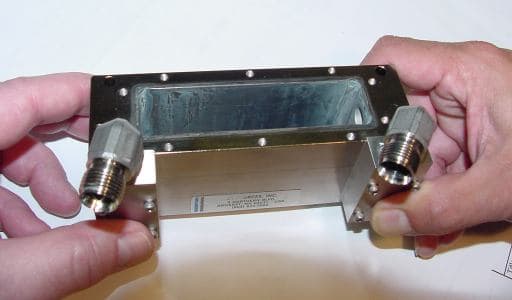 Is this a standard type of corosive effect.
Addison Zukeran
Cynosure - Chelmsford, Massachusetts
---
2004
A. Since there are still no responses; A remote possibility is a cyano-bacteria or an algae. Please let us know what you find.
Tom Gallant
- Long Beach, California, USA
---
2004
A. After another look at your photo, I see tubing fittings. If you are using Copper tubing in the fluid circuit the blue-green could be electrolytically deposited Copper.
Tom Gallant
- Long Beach, California, USA
---
December 12, 2008
A. I have seen similar discolorations in my work with nickel catalyst dispersed on an alumina substrate. The blue / green color you see is due to the oxidation of the nickel and its bonding with the aluminum.
Nick Def
- Portland, Oregon, USA
---
---
Q. Large Aluminum Casting with Nickel Plating.
Problem: water on casting leaving discoloration (staining). Tried wiping off water, only to find the dried area has a white stain or even a blue-ish stain.
Did several spills of water on the casting; with time cycle the water stayed on the Aluminum casting each time. In some cases the water evaporated, leaving this staining effect. Staining by this water is causing the problem.
The staining is a cosmetic issue at this time, not certain if the nickel plating is being compromised. Also tried tap water and DI water: same problem.
Any help would be appreciated.
Tom Schmitt
- Wilton, Connecticut, USA
June 11, 2013
---
June 14, 2013
A. The first thing to mind is that the nickel solution is in the pores of the coarse casting and the water keeps leaching it out. Try up/down/up/down. in/out/in/out, hot/cold/hot/cold water.

Robert H Probert
Robert H Probert Technical Services

Garner, North Carolina