Where the world gathers for
plating, anodizing, & finishing Q&As since 1989
-----
Chemical corrosion experiments on on stainless steel
2004
Hi,
I am 2nd year chemical engineering student at Wits University (South Africa). We have a lab to prepare on the effects of corrosion on different materials. I've been given the tast of investigating the effects of chemical corrosion on stainless steel. What I want to know is what types of chemical solutions should I use as immersion solutions. I'm planning on using some chlorides but I'd like to know if there are other solutions which can be used to better illustrate the results of corrosion on stainless steel. By the way these solutions should be easy to prepare in the lab because I have to prepare them myself.
Thanx
Sbu Nxumalo
student - Johannesburg, Guateng, South Africa
---
2004
As you have found yourself, most corrosion on SS has to do with chlorides. A mixture of kitchensalt and water will start corrosion on SS.You could also try seawater.Lots of cleaning and disinfectingproducts contain chlorides.When you play with the concentration and the temperature,you will see how quick corrosion starts. When using HCL, corrosion will start immediately. Another corrosionstarter on SS is iron or carbon steel.When you scratch SS with iron and moisture it,it will start rusting.
The surface situation of the SS will play an important role in the corrosion(resistance).The smoother the surface, the more SS will resist corrosion. For example, electropolished SS will resist very good to corrosion because the SS is extremely good passivated by electropolishing.
Marc Quaghebeur
- Brugge, Belgium
---
2004
Hi Sbu !
As Marc said, most corrosion on s.s. is due to chlorides ... but consider, too, something else.
What happens to welded areas? Ask yourself, are they as 'pure' as the base material? Have they changed the structure at all? Also, there are various grades of stainless ... and those with less nickel in them will tend to corrode much faster.... which is why they cost more, too.
See # 19760 in the archives. This might give you some ideas.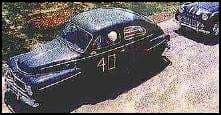 Freeman Newton
[deceased]
(It is our sad duty to advise that Freeman passed away
April 21, 2012. R.I.P. old friend).