Where the world gathers for
plating, anodizing, & finishing Q&As since 1989
-----
What is cold mill banding in 3003-0 Aluminum?
2004
What is cold mill banding in 3003-0 Aluminum? And how does it effect the finishing process when the part is dull clear color anodized?
The parts are a "drawn" aluminum .025" thick material 3003-0. The "drawn" part is approx. .75" deep.
I have been having a problem with parts coming back with grey-black color grain lines showing up in dull clear anodized parts. The lines definitely follow the grain pattern of the Aluminum.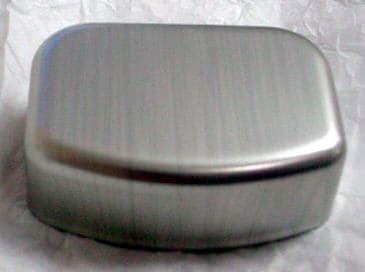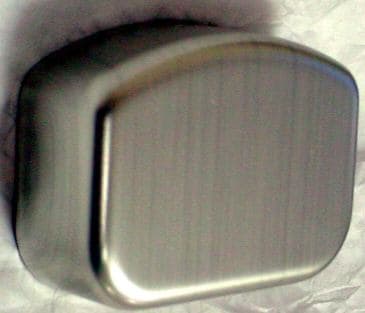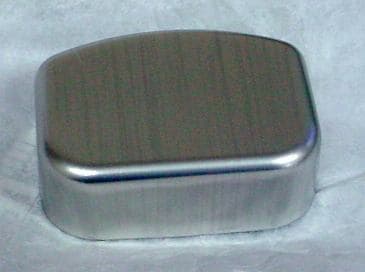 The material supplier says nothing is wrong with the material. The anodizer says it is in the material and the problem is cold mill banding. I can find no information on cold mill banding on the internet, appreciate any information you can provide me.
M Balda'
- Prophetstown, Illinois, USA
---
2004
Anyone able to help me on this or should I repost it with a different title/description, maybe something like can someone tell me what these black bands in my parts are? Thanks!
Michael Balda
- Prophetstown, Illinois, USA
---
First of two simultaneous responses -- 2004

I cannot help you with "cold mill banding"
Properly anodized 3003 will always be slightly gray to brown due to the Manganese and the magnesium in the alloy. The color will be darker with higher current density, lower temperature, and lower acid concentration. All anodizing exaggerates the starting finish, which in your case is the rolling mill marks. These rolling mill marks are enlarged when the surface is converted to aluminum oxide.
Apparently, from your pictures, you are getting a very good functional coating.
If you want it to look better, then etch more, raise the anodizing temperature, lower the current density, and raise the acid concentration. It will always be slightly gray to brown on 3003.

Robert H Probert
Robert H Probert Technical Services

Garner, North Carolina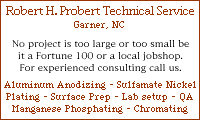 ---
Second of two simultaneous responses -- 2004

Let me take a guess. It looks like marks from the rolling process. The aggressive etch that you are using to hide manufacturing marks will bring out or highlight these lines that typically can not be seen prior to the etch. You can buy material with a better surface finish-Look at a roll of tin foil- but it will cost you more. You can go to a less aggressive etch cycle and it will not show as much. But, more of your manufacturing marks will show. Structurally, there is nothing wrong with your part. Cosmetically, it could be a huge problem with your customers.
James Watts
- Navarre, Florida